About the Internal Funding Initiatives grant program
Examples of successful proposals (HawkID required)
Current IFI Awardees
December 2015 Awardees
September 2015 Awardees
Arts & Humanities Initiative (AHI) Awardees
IFI Archives
The Office of the Vice President for Research and Economic Development is proud to present the September 2014 IFI Awardees:
 
Clar Baldus, Clinical Associate Professor, Teaching & LearningMajor Project Grant 
Creativity and Aging: Preserving Iowa's Artistic Legacy

The Research Center for Arts and Culture (RCAC) at the National Center for Creative Aging (NCCA) ArtCart offers a unique opportunity to bring a nationally recognized, self-sustaining, publicly engaged, arts initiative to the State of Iowa. The project connects aging visual artists with interdisciplinary groups of students from areas such as art, rhetoric, education, social work, nursing and other areas of interest, who collaborate in the challenge of documenting the artists' work and creating an oral history, a process necessary for preserving the legacy of creative output. This interdisciplinary initiative offers expanded opportunities for Iowan artists and inspires innovations in the arts. This project, with its connections to the UI cluster hires in aging and mission of outreach for the Iowa community, has enormous ramifications for the university and artistic community in Iowa. Our proposal will adapt the ArtCart model to fit the needs of The University of Iowa and larger Iowa community. This adaptation will include a two course program. The first course being an introductory course (and prerequisite for the second course) open to a wide range of students. The second course being a fellowship program with the specific intent to professionalize students who wish to learn about the aging process by assisting elderly artists to create inventories of their studio works and oral histories of their lives.
 ArtCart is a nationally based program connecting aging artists with interdisciplinary teams of students who work with the artists to document their life's work. The goal of recording the works of aging artists in Iowa, with the support of the National Center for Creative Aging, provides an opportunity not only to train students in a variety of disciplines but to forge new links between UI and the larger community as well as to position UI as a leader in this process. This intergenerational collaboration benefits artists, students, the University of Iowa and the larger Iowa community. Beyond the impact to The University of Iowa community, with the exchange of important skills, the creative legacy of artists in Iowa will be preserved and its artistic value enhanced on a national level.
Andrew Forbes, Assistant Professor, Biology
Major Project Grant
A genome-wide analysis of the effect of sexual reproduction on the rate of molecular evolution
The purpose of this proposal is to generate whole genome sequences for two closely related insect lineages, one sexual lineage and one that has recently become asexual, and then to use those genomes to understand the consequences of asexuality for genome evolution. What changes occur in the genome when sex is lost? Where are differences most dramatic? What reciprocal consequences do changes in patterns of genome evolution have for the organism? In particular, we are interested in asking whether the rate of molecular change slows down when organisms become asexual, a hypothesis that, if supported, would have wide-ranging implications for evolutionary biology. 
We have identified an insect system that promises to be ideal for studying how organisms successfully "switch" between sexual and asexual reproductive modes. Our previous data suggest that such a switch to asexuality is associated with a significant slowdown in the rate of molecular evolution, an event that may increase the fitness of an asexual species because it delays an otherwise rapid accumulation of harmful mutations. If these patterns are consistent across a larger genomic dataset, this would be a very exciting discovery—it would provide a cogent explanation for how some asexual species avoid rapid extinction. We propose to evaluate changes in rates of molecular evolution across genomes of sexual and asexual insects that share a recent common ancestor. This is a valuable example of basic science which may impact our general understanding of DNA repair, mutation rate variation, and meiotic function.
Jennifer Kayle, Associate Professor, Dance
​Arts & Humanities Initiative Standard Grant
Paint Your House Green
Paint Your House Green, an evening-length choreography, supported by original music, set installation, and digital art, will premiere as a featured event by invitation of the Obermann Center Symposium "Energy Cultures in the Age of the Anthropocene," on Saturday, March 7, at The Englert Theatre. AHI seed money is sought to support creation and production costs, allowing subsequent funding, and national performance venues to be secured. Paint Your House Green takes-up primarily two themes of the symposium: "the unequal social impacts of human-altered and fossil-fueled environments," and "the indeterminate boundary between what is "natural" and "man-made." As a dance performance, the human body will be revealed as the site of contestation, shown as both a genesis of environmental and ecological impact, and the place where that impact is felt. The interaction of individual bodies with each other, with a built environment on the stage, and with technology, will materialize and elaborate on project themes by performing complex relationships between social/political/ communal structures, individual action, and culture change. As a project that keeps questions of social justice at the center of its work, diverse voices, communities, and perspectives are considered in the creative research in order to erode the hierarchy of whose experience "counts" more in the conversation. Seen in the context of the Symposium, its significance as an artistic product will be to have a poetic interaction with the scholarly and scientific research that is presented, each lending a framework for perceiving the other. Unto itself, the significance of the work is both intrinsic as an aesthetic experience, and extrinsic as it stokes the imagination toward culture change, and adds to a mounting body of political art, both in my own canon, and in that of the contemporary dance field. 
Rebekah Kowal, Associate Professor, Dance
Arts and Humanities Initiative Grant Standard Grant
Dancing the World Smaller: Importing Dance in Mid-Century America
Dancing the World Smaller: Importing Dance in Mid-Century America seeks to understand the significance of foreign dance performances on the development of United States concert dance forms, such as ballet and modern dance, and in the broader cultural contexts of domestic race relations, federal Indian, immigration, and trade policies, and American foreign relations. The project takes a global perspective on embodied cultural difference, contributing to research in dance and music studies on how performing arts shape socio-cultural perceptions of international, interracial, and multicultural relations in and of the United States. 
This scholarly book will contribute to the fields of dance, performance, and American studies by showcasing the role of mid 20th-centuryinternational dance performance in the evolution of American cultural and racial identity. At the present time, Oxford University Press is considering the project for publication in the highly respected "Oxford Studies in Dance Theory" series edited by Professor Mark Franko. An AHIaward to fund travel will allow me to complete archival research necessary to finishing the project. At present, I am awaiting the result of my application for an NEH Fellowship, which would support research toward this end during the calendar year 2015. I will also apply for numerous grants and fellowships this Fall, again to support the conclusion of my research.
Ricardo Mantilla, Assistant Professor, Civil and Environmental Engineering 
Major Project Grant
Novel Big Data Analytics for Rainfall and Flash-Flood Forecasting
Anticipating flash-floods timely and accurately can save lives and reduce the risk of damage to sensitive infrastructure. The aim of the current proposal is to bring novel ideas in the research fields of Big Data and Machine Learning into the difficult problem of short-term rainfall forecasting to increase the accuracy and lead times of flash flood warnings. Flash flooding is the leading cause of weather-related deaths in the US, more DEADLY than tornadoes and hurricanes combined. In addition, the thirty-year average of flood-related damage in the US is $8.20 billion. Numerical weather prediction models used by the National Weather Service (NWS) cannot make detailed predictions because the computational time needed to solve the equations grows exponentially when the size of the computing grid is refined, which only allows for real-time prediction of larger atmospheric patterns. 
Human forecasters have a demonstrated ability to anticipate the movement of storms improving weather forecasts. We expect that Machine Learning algorithms will be capable to replicate the success of human forecasters by identifying patterns in the large datasets of radar-derived rainfall that have been collected of the last 15 years. A real synergy between the two research groups (Iowa Flood Center and the Iowa Informatics Initiative) will be created in order to make significant advancements in the involved fields. The results of this collaborative project will enable Professors Mantilla and Lendasse to present a convincing proof of concept and therefore apply for larger funding from NSF, NOAA and other state and federal agencies. 
In this project, we ask a simple question: "Can a human or a computer predict the next frames of a movie which is depicting the movement of a storm as it sweeps over Iowa?" Try yourself by visiting this youtube link (https://www.youtube.com/watch?v=oq3-iOaWHtk) showing an animation of storms that swept across Iowa during the spring of 2013 and brought heavy flooding to the state of Iowa (see for example storms in minute 14:40).
Ibrahim Ozbolat, Assistant Professor, Industrial Engineering
Major Project Grant
In-situ Bioprinting of Bone Tissue
In this project, The University of Iowa's Biomanufacturing Laboratory proposes a groundbreaking technology that will enable in-situ bioprinting of bone tissue directly into the defects in surgical settings. Direct bioprinting into defect sites will open up great venues in medicine, where the great success achieved with this effort will pioneer the translation of the bioprinter technologies into clinical settings. In collaboration with Drs. Salem Aliasger and Liu Hong, the PI proposes a highly innovative approach in bioprinting bone tissue directly into multiple defects on a rat model using a next generation Multi-Arm BioPrinter with the capability of printing on angled-surfaces, which will enable rapid fabrication of multiple tissue analogues in tandem for enhanced bone tissue regeneration. In this project, we will first develop a novel bioink and understand its printability. Then, we will print bone marrow stem cells and genes to the defect site using the Multi-Arm BioPrinter, in which cells will differentiate and form the bone tissue. Finally, we will evaluate and characterize the bone tissue formation. If successful, we will pioneer the development of in-situ bioprinting that could lead to a new technology in tissue engineering and regenerative medicine. 
Glenn Penny, Professor, History
Arts & Humanities Initiative Standard Grant
Networked Spaces: German Schools in Latin America since the 1880s
This project has two central goals: 1) it uses the history of German schools in Latin America from the middle of the nineteenth century through the Cold War to broaden the focus of German history beyond the borders of the nation state; 2) it is also meant to provide scholars in the humanities with a model for studies of cultural shifts and diaspora. This project explains how the thousands of schools established by German immigrants in Latin America not only played fundamental roles in the creation and persistence of German communities across the continent but also in the "translocal" connections that linked these disparate German communities across multiple state borders and benefited Germans and others on both sides of the Atlantic for over a century. While most studies of modern Latin American encounters with foreign powers focus on states (especially Great Britain during the nineteenth century and the United States during the twentieth) this project shifts the focus to persistent connections among foreign communities across Latin America, illuminating the complex cultural, economic, political, and social interconnections that grounded German diasporic communities by nurturing hybrid identities (e. g. German-Chilean, German-Argentine, or German-Guatemalan). The implications are great: Illuminating those processes could fundamentally change our understanding of modern Latin American encounters with foreign actors. It will also challenge historians to rethink the ways in which they fashion their narratives of German history (and by implications other histories). The primary result of this work, based on extensive archival research in Germany, the United States, as well as Argentina, Chile, and Guatemala, will be an accessible scholarly monograph on these translocal communities in Latin America. That monograph will bring German and Latin American historiographies into dialog and contest the ways in which historians narrate cultural history within national parameters. The research in Germany and the United States is complete. This application is for support to travel to Latin America in the summer of 2015.
Jeff Rich, Assistant Professor, Art & Art History
Arts & Humanities Initiative Standard Grant
The Watershed Project: The Tennessee River
A common misconception of a watershed is that it's all about the water. While water does play a large part, the land plays an even larger role by directing the water to a common point, such as a river or ocean. Thus, human impact on the land of a watershed directly affects the water that runs over it. In many ways a watershed can be thought of as an ecosystem: a dynamic environment, defined by the multitude of interactions among its components. The Watershed project highlights the relationship between land, water, and man within the Mississippi River watershed, the largest watershed in North America. 
Every watershed is made up of smaller watersheds or basins, and the Southern portion of the Mississippi Watershed is made up of three major river basins, The French Broad, The Tennessee and The Mississippi. Each of these basins forms a phase of the Watershed project. Each phase of the Watershed project is intended as it's own touring exhibition and accompanying monograph. 
In 2012 the first phase of The Watershed Project, The French Broad River, was completed as a touring exhibition and published monograph. I am now working on the second phase, The Tennessee River, which examines the heavily controlled and harnessed rivers of the Tennessee River Basin after 80 years of the Tennessee Valley Authority's (TVA) policies. 
Watershed: The Tennessee River is a project that examines the complicated effects of large-scale modernization in the Tennessee Watershed. The project documents the TVA at a turning point, as they move away from Coal and towards Natural Gas and a greater use of Nuclear Power. This is accomplished through the use of archival photographs from the early history of the TVA as well as my own documentary images of TVA sites and the residents of the watershed. The final form of the work would consist of three parts:
A touring exhibit of large format photographs
A monograph
A web site: watershed-project.com 
The completion of this project will contribute greatly to the understanding of the relationship between large-scale modernization projects, and their long-term effects on river basins.
Markus Wohlgenannt, Associate Professor, Physics & Astronomy
Major Project Grant
Ultrahigh magnetoresistance in molecular wires
In this proposal we seek funding to establish a new research collaboration (Wohlgenannt/Physics, Larsen and Tivanski/Chemistry), build up the required know-how and initial results to successfully compete for federal funding, and to supplement existing equipment to be able to conduct this research. Our goal is fabricating molecular wires that very recent research indicates can be used to build exceptionally sensitive magnetic field sensors. This team combines the necessary expertise for this research. Wohlgenannt has conducted extensive research in molecular "organic" semiconductor devices, Larsen's expertise includes zeolite synthesis (these will be used as templates for the molecular wires), and Tivanski will provide the atomic-force-microscopy know-how required to make electrical connection to the nanometer-sized molecular wires. The proposed work requires this highly interdisciplinary and synergistic collaboration and could not be accomplished without the research team because of their complementary expertise. We will first give an introduction to the topics relating to this proposal.
The main activities will include the synthesis of zeolites (effort lead by Larsen), infiltration of the zeolite pores with organic semiconducting molecules (effort lead by Wohlgenannt), and magnetoelectrical measurements using an atomic-force microscope (effort lead by Tivanski).
Zeolites are microporous, crystalline aluminosilicates that are widely used as catalysts in petroleum refining and as cation exchangers in water softeners. Zeolites can be synthesized with varying pore topologies, pore sizes and elemental compositions. The pores will be used as templates for molecular wires (a one-dimensional conducting wire only one molecule in thickness).
Organic semiconductors are electrically conducting polymer chains.
The basic idea of a conducting probe atomic force microscope utilizes a very sharp needle (tens of nanometers is size) that is used to scan the sample, locate the region of interest (individual molecular wire), and then measure electrical current as a function of applied voltage.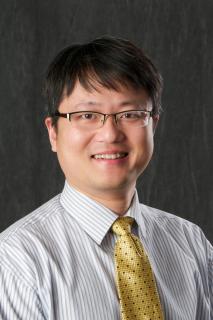 Junyi Xia, Assistant Professor, Radiation Oncology
Major Project Grant
Development of a novel Low-Energy Intraoperative Radiation Therapy System for Pancreatic Cancer
Intraoperative radiation therapy (IORT) can be used to deliver high radiation doses in a single fraction to the pancreatic tumor bed during the surgical procedure, reducing the radiation dose to the neighboring radiosensitive structures. However, conventional IORT systems are rarely used in pancreatic cancer treatment because these machines can only deliver a uniform-intensity circular radiation dose to a surface and lack the capability of delivering conformal radiation doses to irregular targets. Moreover, conventional IORT systems have large physical size and have to be installed in a dedicated, expensive, shielded operating room. Recent studies indicate that low-energy x-rays have a 20%-50% increase in relative biological effectiveness relative to high-energy x-ray or electron that is used in the conventional IORT systems. This project is to develop a novel IORT prototype, a patent-pending compact intraoperative low-energy radiation therapy system (LexRT) with the capability of delivering non-uniform, conformal doses to varying depths in unshielded operating rooms. This initial prototype development will involve LexRT mechanical design and construction, algorithm development for radiation dose calculation, and radiation dose measurement to demonstrate the system performance. We believe the proposed work is highly innovative because it is the first IORT treatment system that enables physicians to deliver desired non-uniform, conformal radiation doses to the treated surface as well as variable depths below the surface. LexRT can change the clinical practice of resectable pancreatic patients in the next 4-6 years because it could deliver large radiation doses to the tumor bed on the same day as surgery while avoiding neighboring healthy tissues and reduce the number of treatment fractions needed for adjuvant radiotherapy. LexRT therefore minimizes the probability of complications and can also reduce healthcare costs. Besides pancreatic cancer, LexRT may have more broad IORT applications in a variety of other cancer types including head and neck cancer, sarcoma, and lung cancer.
Mark Yorek, Professor, Internal Medicine
Major Project Grant
Rehabilitation of Diabetic Neuropathy and Retinopathy with P7C3-S243
Peripheral neuropathy afflicts over 50% of diabetic population, often with deleterious consequences. Diabetic retinopathy is the leading cause of visual loss. The only accredited treatment for diabetic peripheral neuropathy is maintenance of goodglycemic control which does not fully protect from diabetic neuropathy development and progression. Accordingly, there is a significant unmet need for an effective and safe treatment of diabetic neuropathy and retinopathy.
In this proposal we will test a new and novel treatment for diabetic neuropathy and retinopathy. PC7C3-S243 is a member of a class of compounds known as aminopropyl carbazoles. It has been demonstrated that these compounds are neuroprotective and readily cross the blood-brain and blood-retinal barriers, but have not yet been tested as a treatment for diabetic neuropathy. We hypothesize that initiation of treatment with PC7C3-S243, a highly active variant, which preserves levels of nicotinamide adenine dinucleotide at the onset of hyperglycemia will result in efficacious neuroprotection. We further predict that we can rehabilitate neurodegeneration and diabetic peripheral neuropathy and retinopathy when treatment with P7C3-S243 is initiated after the onset of hyperglycemic-related neural damage.  
These studies will be performed using a novel type 2 diabetic mouse model that we recently characterized. C57Bl/6J mice will be fed a high fat diet for 8 weeks followed by low dose treatment of streptozotocin that destroys only a fraction of the ßcells rendering the mouse diabetic due to the inability to produce enough insulin to overcome the insulin resistance caused by the high fat diet. Diabetic mice will be treated at the onset of hyperglycemia (prevention) or after ~ 12 weeks of hyperglycemia (intervention) after which standard clinically guided endpoints related to the development and progression of diabetic neuropathy and retinopathy will be examined.  
Identification of an efficacious treatment for diabetic neural and retinal damage that can be implemented after the onset of symptoms would represent a major advancement for treatment of diabetes, reduce diabetes-related complications and lead to better quality of life for affected patient populations.
Previous Awardees
Please note the revised comprehensive program above incorporates the Arts & Humanities Initiative and the Digital Studio for the Public Humanities programs and replaces the Biological Sciences Funding Program (BSFP), Math & Physical Sciences Funding Program (MPSFP), and the Social Sciences Funding Program (SSFP) shown below. 
Arts & Humanities Initiative
2013-2014 Award Recipients 
2010-2012 Award Recipients
Biological Sciences Funding Program
2013-2014 Award Recipients 
2010-2012 Award Recipients
Digital Studio for the Public Humanities
2013-2014 Award Recipients
2012-2013 Award Recipients
Math & Physical Sciences Funding Program
2013-2014 Award Recipients 
2010-2012 Award Recipients
Social Sciences Funding Program