Monday, February 29, 2016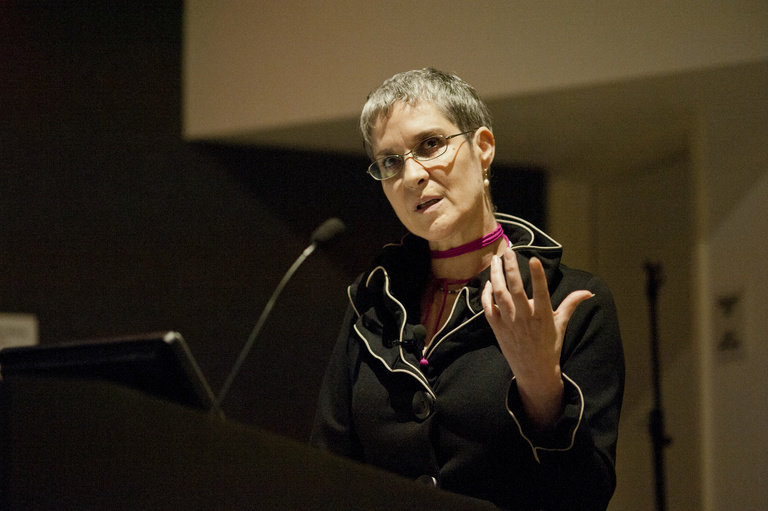 "Who would have thought that from this simple feminine craft, you would find links between doilies, coral, and the cosmos?" Margaret Wertheim asked at her lecture on "The Poetic Enchantments of Science" on Feb. 11, speaking on the impact of her Crochet Coral Reef project. "All these things are interlinked. There is a yarn, a narrative thread that links these disciplines that are normally thought of as very far apart."
Wertheim is a science writer, curator, and the founder and director of the Institute For Figuring (IFF), an organization in Los Angeles "dedicated to the poetic and aesthetic dimensions of science, mathematics and engineering."
The IFF is a sort of "play tank" for creative engagement with topics ranging from geometry and topology, to physics, computation, and biological form. Through simple activities like cutting and folding paper, IFF's visitors can play with abstract ideas through their physical embodiment.
The largest of the IFF's projects is the Crochet Coral Reef project, which Wertheim started with her twin sister 10 years ago. The two were using a formula to crochet hyperbolic geometric forms, and one day, Wertheim's sister decided she would no longer stick to the perfect mathematical formula. Through her deviations, the yarn creations began to look decidedly more organic—like coral.
"We could crochet a coral reef," Wertheim's sister said, and so it began. The project is now the largest participatory science and art project in the world, with exhibits that have been on display at the Andy Warhol Museum, the Science Gallery in Dublin, New York University Abu Dhabi in the United Arab Emirates, and elsewhere.
In addition to yarn, Wertheim's sister has crocheted coral creations out of cut up plastic bags and videotape, to draw attention to the pollution damaging the health and well-being of many coral populations and other marine life.
The coral reef models serve multiple purposes, letting audiences visualize hyperbolic geometry in a way mathematicians thought was impossible for many years, while breaking away from pure mathematics to mirror the endless variations in nature.
"Nature has at its heart a DNA code," Wertheim said. "As the code complexifies over time, you get the gradual emergence of a tree of life, and one day you wake up, and you've got peacocks and giraffes. Just as there is a never ending tree of life, so too there is a never ending crochet tree of life."
To view the full lecture, visit https://www.youtube.com/watch?v=AgVS-EUVPHs&feature=youtu.be.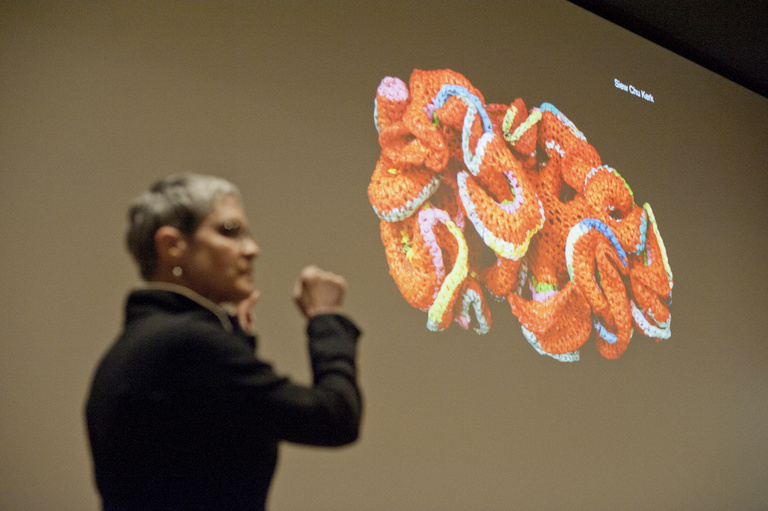 The Creative Matters lecture series seeks to demonstrate that creativity is not only at the core of all research and discovery, but is also central to our human experience. The lineup of invited speakers includes artists, thinkers, builders, and doers who challenge conventional thinking about creativity, science, and artistic expression, borrowing from a range of influences and disciplines in their work.
The series is sponsored by the Office of the Vice President for Research and Economic Development, which provides resources and support to researchers and scholars at the University of Iowa and to businesses across Iowa with the goal of forging new frontiers of discovery and innovation and promoting a culture of creativity that benefits the campus, the state, and the world. More at http://research.uiowa.edu, and on Twitter: @DaretoDiscover.