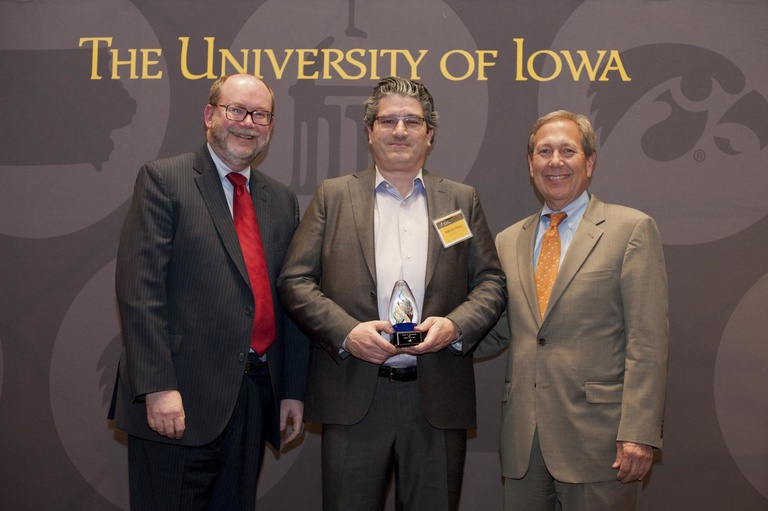 Twitching during sleep was once believed to be a byproduct of dreaming, but according to research by Mark Blumberg, University of Iowa F. Wendell Miller Distinguished Professor of Psychological & Brain Sciences, twitching during REM sleep actually helps the development of the brain in young organisms.
Blumberg has received a $5 million MERIT Award from the National Institutes of Health for his work and was recognized as the Scholar of the Year at the Office of the Vice President for Research and Economic Development's Discovery and Innovation Awards event in April.
Blumberg said we usually think of sleep as the time when we stop doing things. We're resting, isolated from our environments, and in our own worlds.
"You would think that when animals are asleep, they're not going to have that much brain activity, and then when they wake up, the activity will be really robust, because they're awake," he said. "You would think the brain would reflect the behavior. But we've seen exactly the opposite."
Blumberg and his team have proven that information coming from a twitching limb during sleep activates many different areas of the brain, but when the animal wakes up, that information is suppressed.
"When we're awake, we're actually not getting a lot of information from our limbs," Blumberg said. "But during twitching, we're getting tons of information back in. That raises some very interesting questions about how we process sensory information from our limbs."
Blumberg's research could be important in understanding neurodevelopment disorders, such as autism and schizophrenia, which begin as motor disorders, and his lab has received support from the Gates Foundation for research on human infants, to investigate twitching and how it changes across the lifespan. It is possible that sleep disorders may contribute to disorders of sensorimotor processing.
"At the very least, twitching can give us insight into the development of these problems," Blumberg said. "There are lots of reasons to believe there will be interactions between deficits in sleep and twitching and the development of neurodevelopment disorders."
The research could also be used to help people who have suffered from strokes or amputations to regain control of their nervous system as their brain restructures itself.
"Since twitching plays such an important role in structuring the nervous system in the body to begin with, we think maybe there could be a way to use twitching to help remap the brain after injury," Blumberg said.
Blumberg is also the director of the DeLTA Center, an interdisciplinary group of researchers on campus dedicated to discovering new facts about basic developmental processes and translating those facts into application for improving education.
"What the center functions to do is not only be an intellectually stimulating environment but also to generate interactions that might not otherwise happen, so that we end up with a truly interdisciplinary approach to a lot of the problems we're interested in," he said.
Blumberg works with about 13 students, including undergraduates, graduate students, and a postdoc. His own love for doing science in a lab has never grown old for him, and he said it's gratifying to train students to be scientists, or better scientists, and see their own ideas turn into projects and papers.
His advice for young researchers is to not let outside forces influence their research interests.
"Just follow what you find interesting." Blumberg said. "If you think something is worthy of your attention and effort, go for it. Figure out how to make that happen."