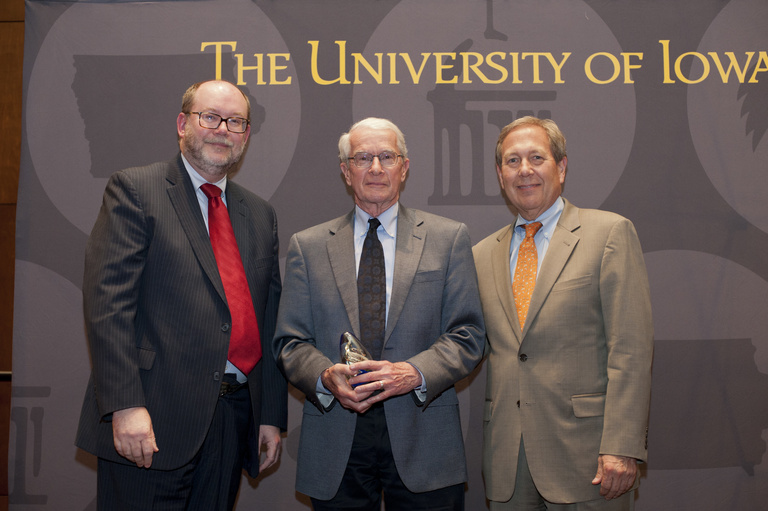 Donald Heistad, Professor of Internal Medicine and Pharmacology in the Carver College of Medicine, says he loves training young people in the lab.
"They don't know something can't be done, so they go ahead and do it. I had wonderful mentoring here, so I want to give back what I've received," he says.
Heistad, who was recognized for Leadership in Research at the Office of the Vice President for Research and Economic Development's Discovery and Innovation Awards event in April, has been a researcher and clinician at the University of Iowa for more than 40 years.
Of all the studies Heistad has been involved with over the course of his career, one with the most impact was research that generated a better understanding of atherosclerosis and encouraged the development of medicine to lower cholesterol. At the time, atherosclerosis was believed to be an end-stage disease that could not be corrected. Heistad collaborated with researcher Mark Armstrong to show that lowering cholesterol improves the lining of blood vessels and corrects a number of abnormalities.
"It has just had enormous impact on how we treat patients with high cholesterol," Heistad said.
Research was something Heistad always wanted to do in high school and college, but during medical school he says he had terrible experiences and failed in two experiments.
"I thought I could never do research," Heistad said. "Then I came here and met Frank Abboud, and he changed my mind. Where I had failed miserably before there, I succeeded right away here."
Heistad says Abboud, UI Professor of Internal Medicine and Associate Vice President for Research in the Carver College of Medicine, made a difference because he not only taught Heistad the principles of research but guided him and gave advice for developing as a scientist.
Since then, Heistad has mentored countless students of his own and mirrors that same support he was given. He advises young researchers to get the best training they can, find a great mentor, and focus on one area of research. As a mentor, he says it is important to know when to let go and to "never, ever belittle an idea."
"Listen to people's ideas, because the idea itself may be good, or it could be molded into something that's good," Heistad said.
Heistad praises the research environment at the University of Iowa, where faculty are willing to collaborate, take on new, high-risk studies, and are open with each other about their work.
"I think it's important to have not only a mentor but colleagues you can talk to and commiserate with and enjoy," he said. "This environment is unusual in that people try new things, and at a very early stage, people will say what they're working on. They don't keep secrets. Then we can work together on a related study, but in our area of expertise."
Another part of what Heistad loves about the University of Iowa is that it's possible to be a clinician and a researcher at the same time. Early in his career, he spent time doing research in England, where physicians generally have to make a choice to do research or see patients, but not both.
Heistad believes training physician scientists is very important and says his own research focus is shaped by his clinical experience.
"Atherosclerosis, hypertension, stroke, aortic valve disease—I see patients with those problems," he said. "As I think about them, I realize that there are some really fundamental, simple, important questions that need to be answered."
Currently, Heistad studies aortic stenosis—when the aortic valve becomes very narrow and needs replacement. The aortic valve is the main valve in the heart, and its replacement is the second most common heart operation in the country.
Heistad and his team are trying to determine what causes aortic stenosis and discover drugs to slow its development. Like all research, it will take time, but Heistad hopes his current studies will have the same level of impact as his work on high cholesterol.
He enjoys how research allows him to answer questions, often in ways that are completely the opposite of what he expects, and he loves working with young people who come up with ideas that are unheard of.
Heistad compared research endeavors to a quote from a hero of his, the late South African President Nelson Mandela, who said, "It always seems impossible until it is done."