Wednesday, September 21, 2016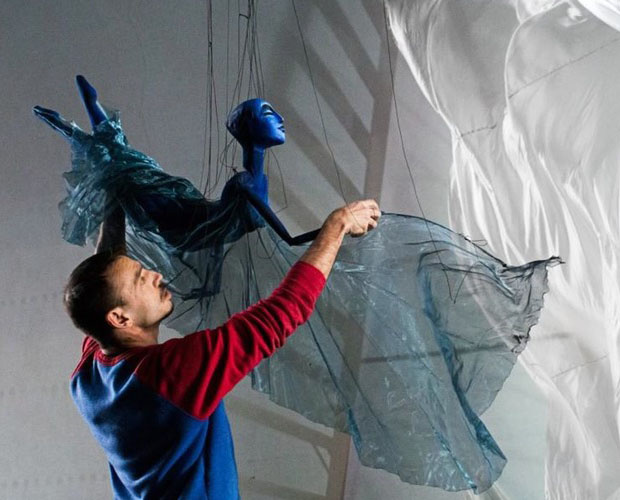 Acclaimed puppeteer and theatre artist Basil Twist will give a lecture/demonstration on the nature of creativity at 5:30 p.m., Thursday, Sept. 29 in the UI Art Building West.
His talk is part of the Creative Matters lecture series sponsored by the UI Office of Research and Economic Development in collaboration with the UI Arts Advancement Committee.
Iowans will have a special opportunity to see Twist's work this December. He is part of the creative team reimagining The Nutcracker for the Chicago-based Joffrey Ballet, which will preview first performances at Hancher Auditorium, Dec. 1-4.
Twist is the recipient of a 2015 MacArthur Foundation "Genius Grant," given to U.S. residents in recognition of exceptional creative work. His creative career ranges from productions of classic stories to abstract visualizations of orchestral music and are informed by puppetry traditions from around the world. He was the underwater puppetry consultant on the film Harry Potter and the Prisoner of Azkaban, and his maverick Rite of Spring–a ballet without dancers–made its world premiere in 2013.
Perhaps his best-known work, Symphonie Fantastique, uses a complex choreography of fabric, feathers, tinsel, and cutouts in a 500-gallon tank of water to evoke human characteristics and emotions and illuminate Berlioz's score in unexpected ways. 
The Sept. 29 talk is free and open to the public. Seating is available on a first-come, first-served basis. To RSVP visit https://creativematters.research.uiowa.edu/.
The Creative Matters lecture series seeks to demonstrate that creativity is not only at the core of all research and discovery, but is also central to our human experience. The lineup of invited speakers includes artists, thinkers, builders, and doers who challenge conventional thinking about creativity, science, and artistic expression, borrowing from a range of influences and disciplines in their work.
The Office of the Vice President for Research and Economic Development provides resources and support to researchers and scholars at the University of Iowa and to businesses across Iowa with the goal of forging new frontiers of discovery and innovation and promoting a culture of creativity that benefits the campus, the state, and the world. More at http://research.uiowa.edu, and on Twitter: @DaretoDiscover.