John Keller, dean of the Graduate College and associate provost, has been serving as interim vice president for research and economic development (OVPR&ED) since Oct. 1, 2017, replacing Dan Reed, who stepped down to focus on national research and competitiveness policy and to develop new approaches to computational science. One month into the new role he shares some initial thoughts.
Taking on interim positions, especially at the level of vice president, can be a bit of a baptism by fire. How are things going since you took the reins of OVPR&ED?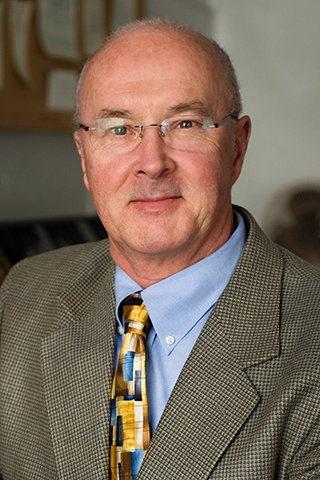 They're going really well. Although I already knew a lot about the research enterprise, I'm continuing to get my arms around this organization, putting names to faces, and learning about the many important and good things OVPR&ED does to support research and scholarship. I'm also working to balance my new responsibilities with my ongoing job as dean of the Graduate College and associate provost. Thankfully, both offices have extremely competent, reliable, leadership and staff. And the truth is, our two organizations have more in common than some people might realize. When I first started at the university, the Graduate College and research administration were combined. Duane Spriestersbach served as dean of the Graduate College from 1965 to 1989 and as vice president both for research and educational research and development. When the research enterprise was split off, we were across from each other in Gilmore Hall. So we've kind of come full circle with me in the interim position.  
What has been the most interesting or surprising thing you've learned since taking on this responsibility?
I'm enjoying learning more about the economic development side of the house. Again, I was somewhat aware of those activities, but I'm getting to see them up close and learning about everything from the UI Research Foundation to the UI Research Park. I didn't fully appreciate how connected the tech transfer activities were to research administration. And I'm finding lots of connections to graduate education, too. A number of graduate students have started businesses based on intellectual property they've developed while in school.
What are your plans for the organization in the interim period, and what's next in the search for a permanent vice president?
I have no plans to make sweeping changes as interim vice president because there is a lot going on that will inform next steps for the organization. These include the Academic Organizational Structure 2020 Task Force of which I'm a part and which is looking at how to optimize academics across campus, and two University Shared Services Review Committees whose scope includes parts of OVPR&ED. Additionally, UI President Bruce Harreld has tasked David Gier, director of the School of Music, and Aliasger Salem, division head for Pharmaceutics and Translational Therapeutics and professor in the colleges of Pharmacy, Engineering, and the Carver College of Medicine, to use this interim period to look deeply at the organization—including its strengths and its challenges—and determine the best path forward before developing a job description for my replacement here. My hope is that the path will become clearer by spring. In the meantime, I plan to work with OVPR&ED's leadership to move forward in a positive fashion and position the organization for whatever comes next so that we can continue advocating for research and scholarship.
While it's unlikely you have much free time these days, what do you like to do outside of work?
I'm a big sports fan, so I follow the Hawkeyes, of course, especially football and wrestling. And I've recently begun following Iowa tennis. Although I was born in Long Island, N.Y., my family moved to Chicago when I was 5, so I'm a huge Cubs as well. Beyond sports, I really like being outdoors and I garden when the weather's cooperative. I read a lot, too, especially Tom Clancy, Nelson DeMille, and the Jack Reacher novels by Lee Child. I also like books on leadership, including Lincoln on Leadership: Executive Strategies for Tough Times by Donald Phillips.
Anything else you'd like to say to the OVPR&ED "community"?
I really appreciate the warm welcome I've gotten from everyone in OVPR&ED, and I'm grateful for their patience as I get acclimated. I also look forward to meeting with the units that report this office, and we're in the process of scheduling those meetings now. In the meantime, although it's a bit of a cliché, my door is always open for anyone who wants to stop in and talk.