Liz Crooks, communications coordinator for the University of Iowa Pentacrest Museums (UIPM), will become the museums' interim director, effective June 5.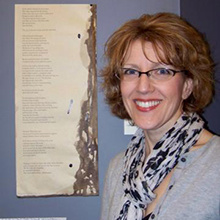 Crooks will take over the role from Trina Roberts, who is stepping down to take a position as Associate Vice President for Collections at the Natural History Museum of Los Angeles County.
John Keller, interim Vice President for Research and Economic Development, praised Roberts's work as museums director, a position she's held since 2015.
"We're grateful for Trina's capable leadership over the years and wish her great success in her new role," he said. "I'm confident the museums are in good hands as Liz takes over the reins."
Crooks, who has managed communications for the Pentacrest Museums since 2016, holds a Bachelor's degree and Graduate Certificate in Book Arts from the University of Iowa, and a Master of Arts degree in Museum Studies from Western Illinois University.
In her current capacity, she manages communications, publicity, marketing, and external relations for the museums. Crooks has previously served in two administrative positions with the UIPM.
From 2012-2016, Crooks was project manager in the UI Graduate College, from 2005-2012 she held a position with the UI Center for Human Rights, and in 2010 she was endowment campaign coordinator for the Figge Art Museum.