Monday, September 10, 2018
The Communicating Ideas workshop, now in its sixth year, helps researchers frame and focus their messages with a non-expert audience in mind.
The newest cohort of nine faculty members from a wide variety of disciplines took part in the workshop on July 20, 2018.
"Researchers at the University of Iowa do a tremendous amount of work in their laboratories and offices that contributes to significant progress in their disciplines. They frequently present this work to other researchers at conference around the world," said John Keller, Interim Vice President for Research and Dean of the Graduate College. "After completing this workshop, we hope that researchers have more tools to share this work with a broader audience."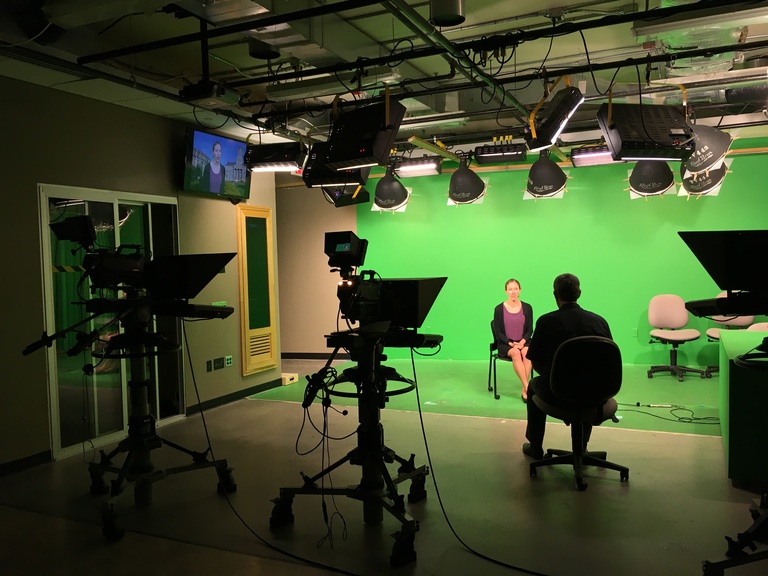 The full-day workshop includes a panel discussion with media representatives from print, radio, and broadcast media outlets.
Charles Munro, Lecturer in the School of Journalism and Mass Communications, and Julie Kraft, Chief Strategy Officer at the Kraft Co, both of whom are former broadcast journalists, lead the training.
At the end of the day, each researcher works with a communications coach. Together, they practice crafting messages for someone that might not speak the same technical language.
The result is a one-minute video, recorded in the studio, about a current research project. Watch the videos on the Office of Research and Economic Development's YouTube Channel.
The Office of the Vice President for Research and Economic Development sponsors the workshop, with support from the Office of Strategic Communication and School of Journalism and Mass Communication.
The Office of the Vice President for Research and Economic Development provides resources and support to researchers and scholars at the University of Iowa and to businesses across Iowa with the goal of forging new frontiers of discovery and innovation and promoting a culture of creativity that benefits the campus, the state, and the world. More at http://research.uiowa.edu, and on Twitter: @DaretoDiscover.