Grants and other funding that support University of Iowa research and scholarship reached an all-time high in FY19, bolstered in part by increased support from the Department of Defense (DOD) and the National Science Foundation (NSF).
[Related: Record funding used to aid veterans, improve STEM education]
Research funding from July 1, 2018, to June 30, 2019, rose 7%, or $32.4 million, to $467 million. Total external funding to the UI increased 6%, or $34.8 million, to an unprecedented $588.8 million.
External funding includes grants, contracts, gifts, and cooperative agreements from federal, state, and local governments, as well as from private industry, foundations, and other universities.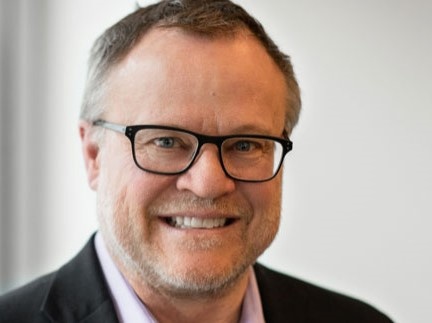 UI Vice President for Research Marty Scholtz credits the research funding increases in DOD and NSF support to ongoing efforts by the university to diversify its research portfolio beyond funding from the National Institutes of Health (NIH), which at $171.6 million in FY19 continues to represent the majority of overall research funding.
"Our faculty and staff are some of the hardest-working people in academic research and scholarship," Scholtz says. "Their success in spite of these challenging economic times is a testament to their dedication, vision, and hard work."
[Register now for Oct. 25 Write Winning Grant Proposals seminar]
One particularly important and emerging area of collaborative research at Iowa: health and medical research that seeks to benefit military personnel (though its applications extend far beyond that population.) The College of Nursing received a $673,800 grant from the NIH in FY19 that will help Professor Barbara Rakel investigate ways to reduce veterans' risk of persistent pain and prolonged opioid use after surgery.
"A large number of veterans suffer from distress-based conditions, such as anxiety and depression, putting them at high risk of experiencing persistent pain and prolonged opioid use following surgery," Rakel writes in the proposal's abstract. "These connections are based on strong and consistent evidence from the literature and our preliminary data."
Another example of UI efforts to help veterans is a $10 million Focused Program Award to the Roy J. and Lucille A. Carver College of Medicine's Department of Orthopedics and Rehabilitation. The grant, from the DOD's Congressionally Directed Medical Research Program, seeks to advance the department's investigations into preventing, delaying, or mitigating the onset of arthritis after joint injuries. 
Orthopedic surgeon Joseph A. Buckwalter IV, a world-renowned arthritis expert and principal investigator of the study, says the research could especially benefit active young people and military personnel, as certain injuries that the researchers are focusing on can lead to chronic pain and decreased function that compromises quality of life. The type of arthritis being studied makes up 14% of all severe cases and is the most common cause of permanent disability among military personnel, costing $15 billion in medical expenses annually in the United States.
"Our ultimate goal is to prevent this crippling disease," says Buckwalter, whose team has been studying it for 20 years.
Part of the NSF's funding increase to UI in FY19—$750,000—went to Ned Bowden, professor in the College of Liberal Arts and Sciences' (CLAS) Department of Chemistry, to develop a new fertilizer that is expected to improve the harvest yields of corn and soybeans, helping farmers in Iowa and beyond.
Bowden's team, which includes co-principal investigators Erin Irish, associate professor of biology in CLAS, and Aliasger Salem, Bighley Chair and Professor of Pharmaceutical Sciences and head of the Division of Pharmaceutics and Translational Therapeutic in the College of Pharmacy, predict the resulting fertilizer could increase soybean and corn yields by 10—25%. The team intends to launch a start-up company to commercialize the new fertilizer.  
The FY19 funding data does not include a $115 million award from the National Aeronautics and Space Administration to Iowa physicist Craig Kletzing, the single largest externally funded research project in UI history. The university anticipates it will receive some of that funding in FY20 and will include it in that year's end-year report.
| Primary Investigator | College | FY19 Award | Sponsor | Title |
| --- | --- | --- | --- | --- |
| Josephn Buckwalter | Medicine | $9,999,762 | U.S. Department of Defense | Translating Metabolic Responses to Mechanical Insult into Early Interventions to Prevent PTOA |
| Jason Wilken | Medicine | $2,437,788 | U.S. Department of Defense | Comparative Effect of Commercially Available Custom Dynamic Orthoses (CDOs) |
| Joseph Cullen | Medicine | $1,939,848 | U.S. Department of Health & Human Services, National Institutes of Health | Exploiting Redox Metabolism Using Pharmacological Ascorbate for Cancer Therapy |
| Stefan Strack | Medicine | $1,732,115 | Regents of the University of California Davis | Generation and characterization of mouse models of Jordan's Syndrome |
| Jun Wang | Engineering | $1,615,297 | U.S. Department of Agriculture | An Integrated and Smart System for Irrigation Management in Rural Communities |
| Anne Skinstad | Public Health | $1,500,000 | U.S. Department of Health & Human Services | American Indian & Alaska Native Support Center |
| Brian Hand | Education | $1,438,104 | National Science Foundation | Moving beyond pedagogy: Developing elementary teachers' adaptive expertise in using the epistemic complexity of science |
| Dae Hong | Education | $1,233,606 | National Science Foundation | Recruiting and Training Community College and University Students to Become Culturally Responsive and Proficient Mathematics Teachers in Iowa |
| Balaji Manicassamy | Medicine | $890,083 | U.S. Department of Health & Human Services, National Institutes of Health | Endothelial Cell Tropism in the Pathogensis and Host Reponse Against Influenza Viruses |
| Wendy Maury | Medicine | $772,250 | U.S. Department of Health & Human Services, National Institutes of Health | Modeling Filovirus  Infection of and Trafficking through Skin |
Funding data is tracked by the Division of Sponsored Programs, part of the Office of the Vice President for Research, which provides researchers and scholars with resources, guidance, and inspiration to secure funding, collaborate, innovate, and forge frontiers of discovery that benefit everyone. More at research.uiowa.edu, and on Twitter: @DaretoDiscover.