Thursday, December 12, 2019
In a joint venture with the Graduate College, the University of Iowa Research Foundation (UIRF), which helps campus inventors and creators protect and commercially license intellectual property (IP), has hired its first-ever post-doctoral student to support the office while acquiring first-hand experience of a potential and unique career path for new scientists.
Sarah Sapouckey, who has a Ph.D. in molecular and cellular biology from the UI, began her position with UIRF on Dec. 6, was hired through a pilot program approved by the UI's Budget Review Board (BRB). The BRB reviews proposals for novel initiatives in academics, research and other areas across the university. Earlier this year it approved funding of a Graduate College initiative that will allow the UIRF to hire three post-docs for two years each.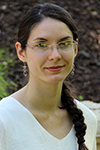 UIRF Executive Director Marie Kerbeshian, who is also an assistant vice president in the Office of the Vice President for Research, said Sapouckey will work with the office's associate directors to learn about—and help support—tech transfer activities, which include helping faculty, staff, and students with invention disclosures, patent applications, and licensing agreements that allow third parties to use or further develop research at the UI for commercial use.
"Many graduate students who are getting their Ph.D. in science disciplines may not want to go into academia, but they have limited exposure to—or experience with—alternative careers for scientists," Kerbeshian said.  "Working with UIRF, the post-docs will be well-placed to find positions within university technology transfer offices and make connections that will allow them to take their experience to an industry setting."
At the same time, Kerbeshian said Sapouckey will help UIRF serve the needs of UI researchers.
"Post-docs, especially those who were graduate students at the UI, are able to reach out to faculty, other post-docs, and graduate students to help identify innovative research that might be ready for commercialization," she said. "The post-docs can also help with tasks to get researchers involved in the technology transfer process, like assisting in filling out invention disclosure forms."
A native of Granby, Mass., Sapouckey is interested in biomedical research, particularly the neuronal control of metabolic rate and energy homeostasis. In addition to her doctorate, she has a Bachelor of Science degree in biochemistry and molecular biology from the University of Massachusetts-Amherst, and an Associate of Science degree in animal science from Holyoke Community College.
"I'm passionate about transitioning research into technology for the public," Sapouckey said. "I love leaning about different fields of research and I think it is important that these discoveries are developed into usable technology."
The UI Research Foundation is part of the University of Iowa Office of the Vice President for Research, which provides researchers and scholars with resources, guidance, and inspiration to secure funding, collaborate, innovate, and forge frontiers of discovery that benefit everyone. More at http://research.uiowa.edu, and on Twitter: @DaretoDiscover.