Several University of Iowa groups are coming together in February to encourage more undergraduate students to get hands-on experience conducting research and scholarship.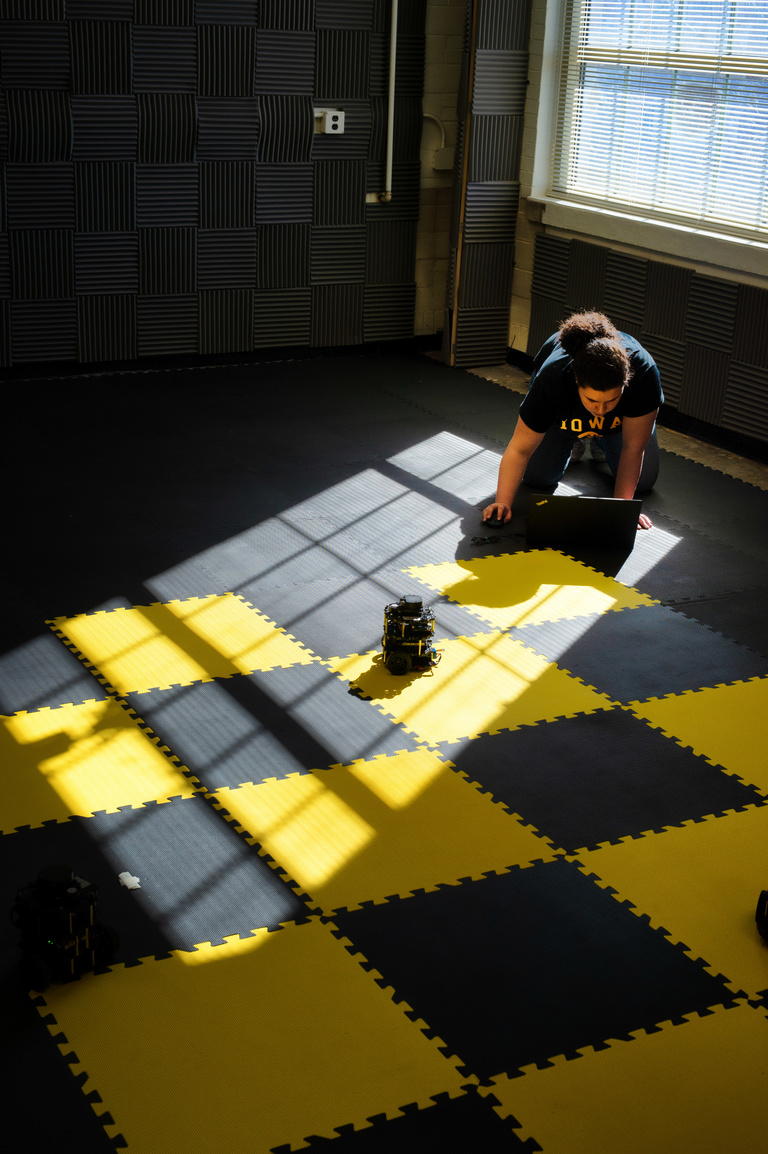 Led by the UI Student Government (UISG), the Fall in Love with Research campaign kicks off its weeklong celebration of the university's commitment to undergraduate research on Monday, Feb. 10. The five-day campaign will feature student social media profiles and videos, an open house at the new office of the Iowa Center for Research for Undergraduates (ICRU), and an open forum for students to discuss research opportunities with other undergraduate researchers and faculty mentors.
The campaign, which will use the #FallInLoveWithResearch tag, is being supported by ICRU, the Office of the Vice President for Research (OVPR), the College of Liberal Arts and Sciences (CLAS) Latham Fellows Program, and other campus partners.
UISG Senator Guowei Qi, an undergraduate student researcher studying biochemistry, mathematics, and computer science, said undergraduate research helps students develop critical thinking skills and apply that knowledge in the classroom. The campaign, he said, is part of a broader campus effort to increase research involvement among undergraduates from the current 30 percent to 40 percent.
"The ultimate goal of Fall in Love with Research Week is to help students realize the availability of research in their own areas of study—from STEM to social sciences to the humanities—and be inspired to conduct impactful research of their own," Qi said. 
UI Vice President for Research Marty Scholtz said that as an undergraduate student studying chemistry at the University of Nebraska–Lincoln in the 1980s, he benefited immensely from the opportunity to work in a research lab alongside leading faculty.
"Classroom instruction is critical for researchers and scholars in any field, but nothing channels and grows curiosity like 'doing the stuff' on a benchtop, in a library, or out in the field under the guidance of an experienced faculty member," Scholtz said. "Every student should have the opportunity to get this kind of hands-on experience."
The campaign will play out through several social media channels, including UISG's on Facebook, Twitter, and Instagram, ICRU's Facebook, Twitter, and Instagram pages, and OVPR's Twitter handle @DaretoDiscover.
The Office of the Vice President for Research provides researchers and scholars with resources, guidance, and inspiration to secure funding, collaborate, innovate, and forge frontiers of discovery that benefit everyone. More at http://research.uiowa.edu, and on Twitter: @DaretoDiscover.
Photo: Undergraduate student Camilla Tabasso works on a project in the College of Engineering's Cooperative Autonomous Systems (CAS) Lab. Under the direction of Assistant Professor Venanzio Cichella, Tabasso and other students in CAS-Lab work on the development, implementation, and testing of cooperative planning and control strategies for the safe execution of multiple autonomous vehicles missions in real-world environment. Tabasso will graduate in spring 2020 with a bachelor's degree in mechanical engineering. Credit: Justin Torner.