The State Hygienic Laboratory at the University of Iowa (SHL) is cross-training staff and operating 24 hours a day, seven days a week to meet testing demands.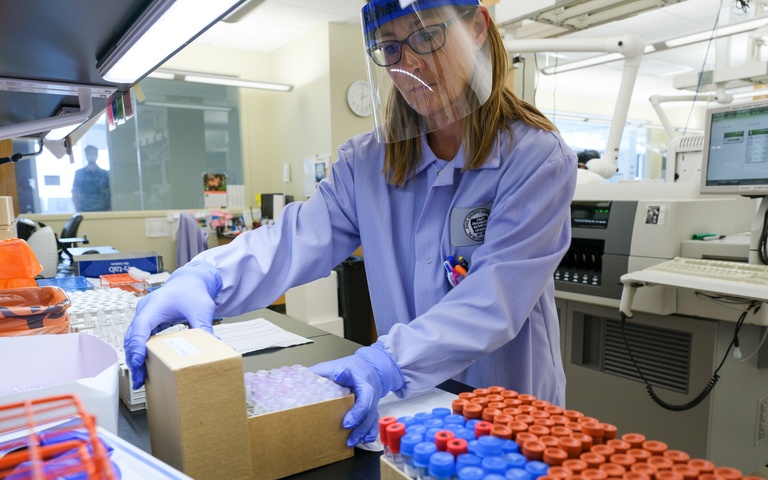 Since March, the scientists and administrators at the SHL have overcome numerous challenges to provide rapid, high-volume testing to slow the spread of COVID-19 in Iowa.
The lab needed to rapidly ramp up its staffing, navigate shifting guidance from the scientific community, and contend with major supply chain shortages in order to adequately meet the challenge. Each time that it appeared as though they wouldn't have the materials, technology, or staff that they needed, they found a way—with help from Iowa Gov. Kim Reynolds, the state legislature, the University of Iowa, and the ISU Vet Diagnostic Lab—to continue to provide high-quality testing in under 24 hours, on average, from the time the sample enters the laboratory.
"The scale of this pandemic, and the response required to meet the clinical testing needs, has never been experienced by anyone currently alive and working in the public health laboratories," said Michael Schueller, environmental health division associate director at the State Hygienic Lab. "This is unchartered territory for us. The last time something of this magnitude occurred was in 1918."
The Spanish flu, also known as the 1918 flu pandemic, was an unusually deadly influenza pandemic caused by the H1N1 influenza A virus. Lasting February 1918 to April 1920, it infected 500 million people–about a third of the world's population at the time–in four successive waves, resulting in hundreds of thousands of deaths.
While the course the coronavirus will take is still uncertain, it requires public health officials to rapidly deliver testing and results, especially to protect the health and safety of vulnerable populations such as nursing home residents. To meet this need, SHL staff at their three lab locations in Iowa – Coralville, Ankeny, and Milford – worked round-the-clock to distribute test kits and receive, process, and report test results for the novel coronavirus.
"SHL's laboratory scientists worked hard to evaluate numerous testing platforms as they became available in the United States," said Wade Aldous, diagnostic and clinical associate director at the State Hygienic Lab.  "They validated and implemented multiple methods to ensure SHL could continue to provide accurate and timely tests for the state during periods of supply shortages."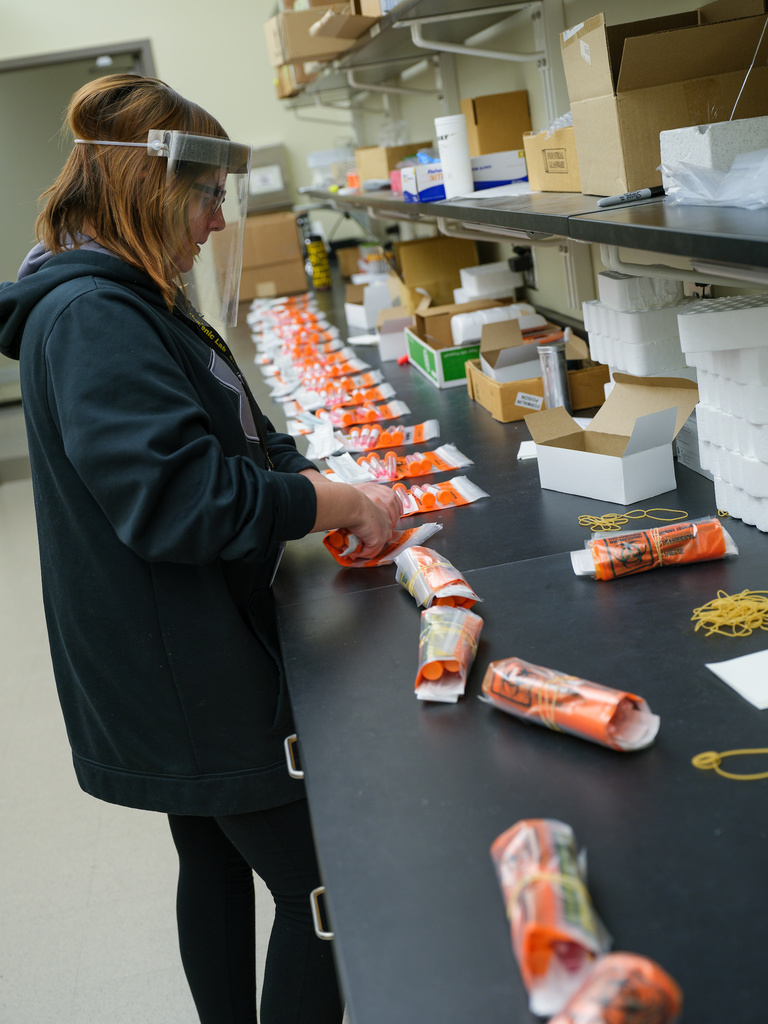 In some cases, administrative and finance staff cross-trained to help receive samples and process data entry.  Scientists from the SHL Environmental Health Division, and other areas of the university, stepped in to help complete the tests and respond to questions about COVID-19 on a SHL hotline set up especially for this pandemic. Five thousand people have called in to the hotline to date.
"We were faced with a rapidly changing environment, politically and scientifically, at a local, national, and global level. Our team has responded to these unprecedented challenges by repeatedly reassessing our operations and innovating," said Alyssa Mattson, administrative specialist at SHL. "All of this is possible because every single person on this team is committed to serving the public."
In the first four months since the COVID-19 outbreak reached Iowa, the staff at the SHL has completed more than 180,000 tests and assembled 206,000 test kits for nearly 600 unique clients. The testing volume for COVID-19 alone during this period is already 149% higher than all of the clinical tests completed in fiscal year 2019. Their average turnaround time between receiving the test and reporting the result is 23.5 hours. The median time just under 16 hours, meaning that half of their test results are available in less than 16 hours.
[ Related story: SHL Helps Test Iowa Reach 100,000 Milestone ]
"Our staff are truly dedicated to our mission to protect and improve public health here in Iowa," said SHL Director Michael Pentella. "We need all hands on deck to cover everything during this high-stress and high-stakes period. People have been so flexible doing things they never thought they'd be doing." 
When the lab staff realized that there was a critical shortage of viral transport media, which is the solution that the test swab is suspended in until it gets to the lab, SHL began to produce it in-house. "The media reagent lab made enough for 32,000 vials in the month of April when there was literally no more available in the supply chain," said Kevin Singleman, SHL supply chain coordinator. "They truly carried the weight of our testing operation on their shoulders. Without them, our testing would have halted."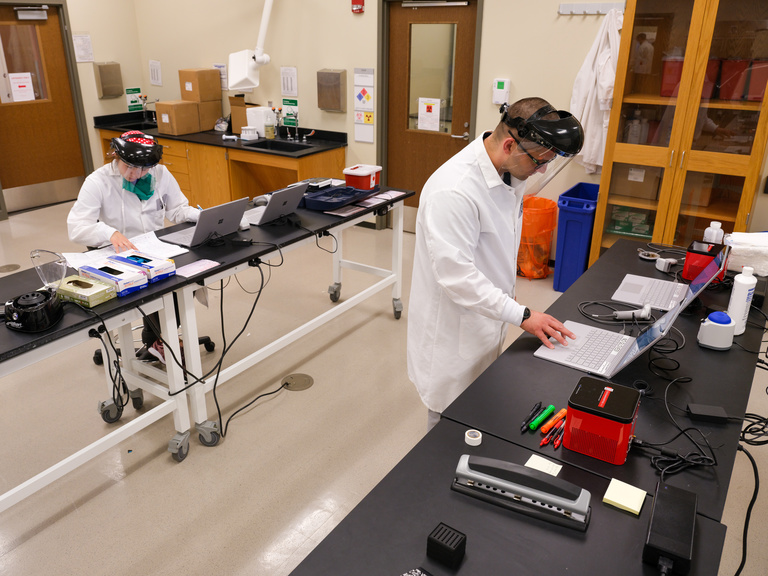 When it became clear that their team didn't have enough hands to complete the work required, the SHL Human Resources staff tapped into the UI Labor Pool to quickly hire temporary staff, which included UI scientists who were unable to work at their regular jobs due to the COVID outbreak. In one day alone, they hired, onboarded, and began training 30 new employees, which required them to bring them in small groups every hour on the hour in order to maintain social distancing during the training process. Existing SHL staff also worked thousands of hours of overtime and adjusted their schedules so testing could be completed 24 hours a day, seven days a week.
Early in the outbreak, when the staff learned about a sample that needed to be tested rapidly in western Iowa, they arranged for it to be driven from the patient's location to their Coralville lab by three staff members after regular business hours, who each drove it one third of its journey across the state. SHL scientists were there to meet it at 11 p.m. to begin testing.
"This is how dedicated they are to the work that happens here. It's easy to think about these as samples, but our staff are good about understanding that these are people. We are a critical part of the first response of the healthcare system," said SHL Administrative Services Manager Shari Heick.
Before COVID-19, when SHL was focused on testing for a wide range of health and environmental vectors, it directed nursing homes to work through healthcare clinics to gather samples and deliver results. But when it became evident early during the pandemic that business as usual could lead to critical delays in testing and communications, the lab built and launched a new online ordering tool that enables skilled nursing facilities to submit tests and receive results directly from SHL.
This is one of many examples of how COVID-19 will shape their work moving forward. "This pandemic has given us clear insight about how to make things more efficient, especially with our client relationships to get specimens from them rapidly and get reports back to them rapidly," said Mattson.
In an effort to help doctors and scientists treat severe COVID patients, SHL started conducting antibody testing for blood donor centers to identify potential COVID convalescent plasma donors. "This testing allows us to identify individuals who've recovered from COVID and demonstrate an antibody response, who may be able to donate their plasma to treat very ill individuals," said Aldous. "There have been many cases of people who responded well to this therapy.
When this pandemic is over, and the sooner the better, I know that SHL will have met its mission by providing testing for the citizens of Iowa, and most importantly, that the dedicated service of this staff has saved lives," said Pentella.