Thursday, September 24, 2020
The State Hygienic Laboratory (SHL) has been in the spotlight since the beginning of the COVD-19 pandemic.
It's won widespread praise—including from Iowa Gov. Kim Reynolds and the Iowa Board of Regents—for the dedication of its staff as it's expanded its capabilities to meet explosive demand for testing. The lab is fast approaching having conducted half a million COVID-19 tests since February and currently averages 5,000 tests per day: 2,000 in its molecular lab and more than 3,000 in its Test Iowa lab.
One group that's been overlooked, however, is a small army of temporarily reassigned University of Iowa employees who helped fill critical roles in the testing process over the summer.
Ryan Jepson, SHL's microbiology lab supervisor, assembled a team of about seven temporary staff from all sectors of campus, all with medical and scientific research backgrounds.
"These individuals have continued to work in Test Iowa outside of their normal work hours and on weekends," Jepson said. "They have been essential to keeping testing moving at night and even training new staff."
He said the team members have become essential staff during their time with SHL, and that he's sorry to see them return to their regular positions at the end of this month.
Three of those unsung heroes include Mallory Stroik, Lisa Hancox, and Sterling Ortega, all of whom have helped with analyzing COVID-19 test results.
"Mallory, Lisa, and Sterling helped create a solid foundation for evening testing," Jepson said. "They are able to troubleshoot a wide variety of testing issues and communicate problems to me and lab leadership when problems arise. We wouldn't be where we are without them."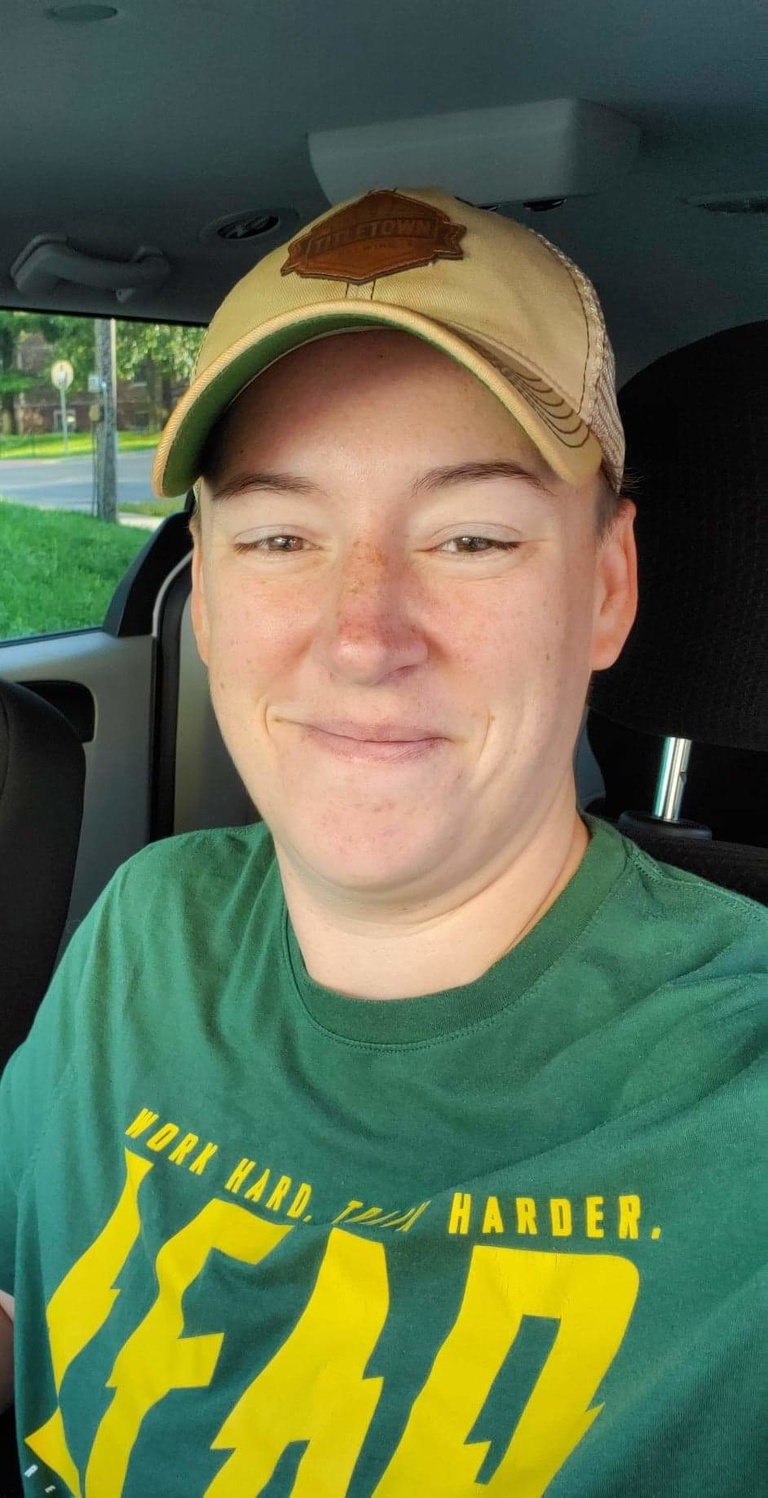 Stroik is a research associate in the Carver College of Medicine (CCOM) Department of Internal Medicine under Dr. David Stoltz, M.D., Ph.D. A native of Columbia Heights, Minn., she has a Bachelor of Science degree in genetics and biotechnology from the UI and has worked at the UI since graduating in 2010.
She said that early in the pandemic, she—like nearly all UI employees—were told to stay home to prevent the spread of the virus.
"It felt like such a waste to be sitting at home with a skillset that I knew was needed for COVID testing," she said. "I wanted to help in any way that I could. So when I received an email looking for help with testing, I jumped on it right away. I had never worked with SHL before but I was eager to help."
She's worked at SHL since April, primarily in the evenings, running test samples, analyzing the results, and then reporting them out.
"My experience with SHL has been awesome and I have loved working with all of the great people that work there," she said. "We worked as a team to take a program that didn't exist and built a lab from scratch in a short amount of time. There aren't many places with that ability."
Hancox, a Cornell College graduate currently living in Cedar Rapids, normally works as a research specialist/lab manager in CCOM's Department of Pathology under John Harty, Ph.D., the Pathology Endowed Chair in Microbial Immunology Research. While she'd never worked for SHL before the pandemic, she did work at the UI Research Park campus (where SHL's main office is based) for about 14 years and was familiar with the lab's work.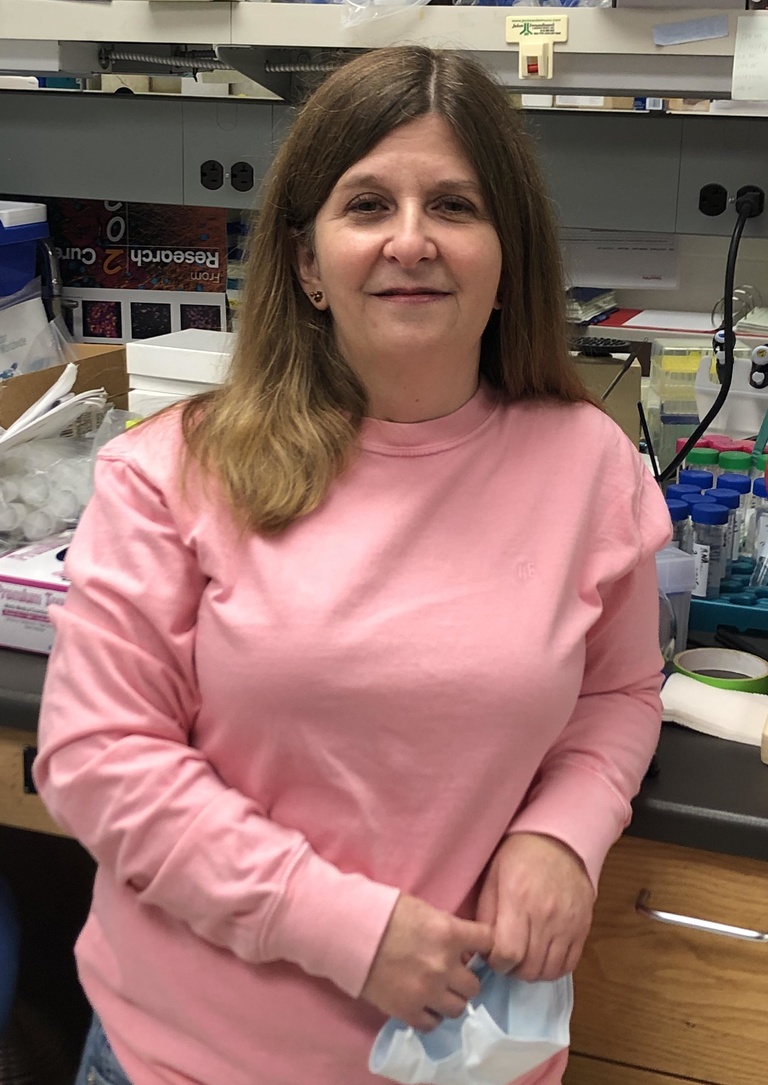 In March, when research labs shut down, she initially helped provide animal care assistance to the Office of Animal Resources (which, like SHL, is part of the Office of the Vice President for Research). But the rest of the time, in the interest of safety, she was required to work from home.
"Working from home is not as fulfilling as working in a lab," she said. So when the UI sent out its call for help, she responded.
She's been working in SHL's Test Iowa lab three to four days a week since May.
"It's actually been a lot of fun as I had never worked in a clinical lab setting," Hancox said. "My main lab position is in basic research, which can be quite different.  It has made for some very long days since I continued working my normal UI job during this time, but I have really enjoyed the work and the people there."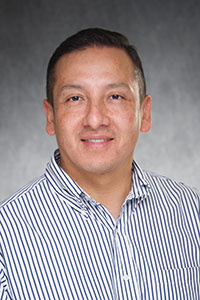 Ortega joined CCOM's Department of Pathology two years ago, after completing postdoctoral training at the University of Texas Southwestern Medical Center in Dallas. As an associate, his primary focus is determining the immune system's role during stroke recovery. He also collaborates on campus to explore the immune system's role in Multiple Sclerosis and subarachnoid hemorrhage, bleeding in the space between the brain and the tissue covering the brain.
While he hadn't previously worked for SHL, Ortega says that before beginning his Ph.D. training he worked in several diagnostic labs and got extensive experience in testing for avian and human viruses. The call for help intrigued him.
"As my research at Iowa had been extensively curtailed due to pandemic mitigation procedures, I figured helping the State Hygienic Lab would be a great way to stay productive and contribute to the fight against COVID-19," he said.
He began working at SHL in June as a temporary clinical analyst. He called the experience enjoyable and enlightening.
"The folks at SHL are extraordinarily knowledgeable and helpful," he said. "Their No. 1 goal is to get the testing done as soon as possible with the highest quality assurance. Sometimes our shifts would end early in the evening, sometimes it would end around 1 or 2 in the morning. But no matter what, our shifts would only end when all the testing were complete and the results uploaded."
All three say the experience working with SHL has changed them and deepened their appreciation for the work done by the lab.
"I think the state of Iowa would be in rough shape without the testing capabilities of SHL," Stroik said. "I think the amount of testing done by SHL alone has allowed us to keep somewhat ahead of potential outbreaks."
Hancox said she appreciated the opportunity to contribute to something so important during what, for many, has been a once-in-a-lifetime global challenge.  
"I knew when the pandemic hit that I wanted and needed to be able to DO something to help out and make a difference," she said. "It's not often that something essentially falls into your lap where you are especially suited to help out in such an important capacity."
Ortega said the experience reminded him of the end goal of all science.
"In science, we develop new technologies so that others may ameliorate diseases," he said. "There are a few words written on a wall near the front entrance to Medical Education Research Facility that summarize this quite nicely: 'Seeking Knowledge For Healing.'
He added, "The future may hold new pandemics with new infectious agents, but I feel assured that the folks at SHL will meet the new challenge with the same intensity and focus."
The State Hygienic Laboratory is part of the Office of the Vice President for Research, which provides researchers and scholars with resources, guidance, and inspiration to secure funding, collaborate, innovate, and forge frontiers of discovery that benefit everyone. More at http://research.uiowa.edu, and on Twitter: @DaretoDiscover.