Thursday, September 24, 2020
A $222,327 grant to the University of Iowa will allow an expansion of the Stanley Museum of Art's Senior Living Communities Program, which brings art programming and interactive activities to seniors in long-term care facilities in Iowa.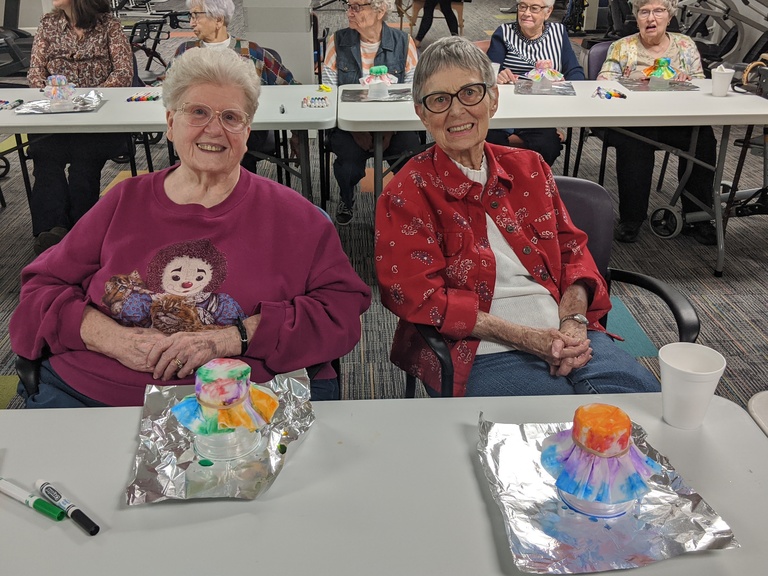 The grant is part of $13.8 million in funding under the Coronavirus Aid, Relief, and Economic Security (CARES) Act Grants for Museums and Libraries announced Sept. 24 by the Institute of Museum and Library Services to support the role of museums and libraries in responding to the coronavirus pandemic. Sixty-eight museum and library service projects were selected from among 1,701 applications.
The UI project, titled "Connected for Life: Object-based Digital Programming to Foster Active Minds for Senior Living Communities," will be jointly administered by the Stanley Museum of Art, Office of the State Archaeologist, UI Pentacrest Museums, and University Libraries.
"Our goal is to provide synchronous, virtual outreach programs for underserved Iowa populations who are especially vulnerable to COVID-19," said Stanley Museum Director Lauren Lessing. "We want to increase participants' sense of connection and well-being and help them feel less isolated."
The project team will develop a web portal that responsively adjusts to audience needs based on assessment data. Themed online modules will include scheduled live-streamed interactive video presentations, a library of pre-recorded videos, high-resolution images, collection guides, and activities for users to explore. Program topics will highlight art, archaeology, natural history, history, and archives from the university's library and museum collections.
State Archaeologist John Doershuk notes, "we're incredibly excited about this partnership and looking forward to expanding the Office of the State Archaeologist's reach to include Senior Living Communities while also increasing our capacity to do digital outreach."
The university will also preserve salaries for project staff whose jobs have been jeopardized by the pandemic.
"In addition to the impact this grant will have on Iowans, this grant represents a unique collaboration between cultural organizations across the University of Iowa," Pentacrest Museums Director Liz Crooks said. "Despite physical displacement, four UI museums and repositories are combining resources for the betterment of our state's seniors."
The Pentacrest Museums and Office of the State Archaeologist are part of the Office of the Vice President for Research, which provides researchers, scholars and creative artists with resources, guidance, and inspiration to secure funding, collaborate, innovate, and forge frontiers of discovery that benefit everyone. More at http://research.uiowa.edu, and on Twitter: @DaretoDiscover.