Tuesday, February 23, 2021
March 8 will mark one year since the State Hygienic Laboratory detected the first case of SARS-CoV-2, the virus that causes COVID-19, and the lab has processed more than one million samples since that fateful day.
As vaccines for COVID-19 work their way across the country, SHL isn't slowing down. In fact, it's continuing to work around the clock to improve testing and expanding the tools available for monitoring the virus and the growing number of variants emerging in the United States. It's also distributing test kits to clinics, long-term care facilities, and other healthcare providers to ensure that those who want a test can get one.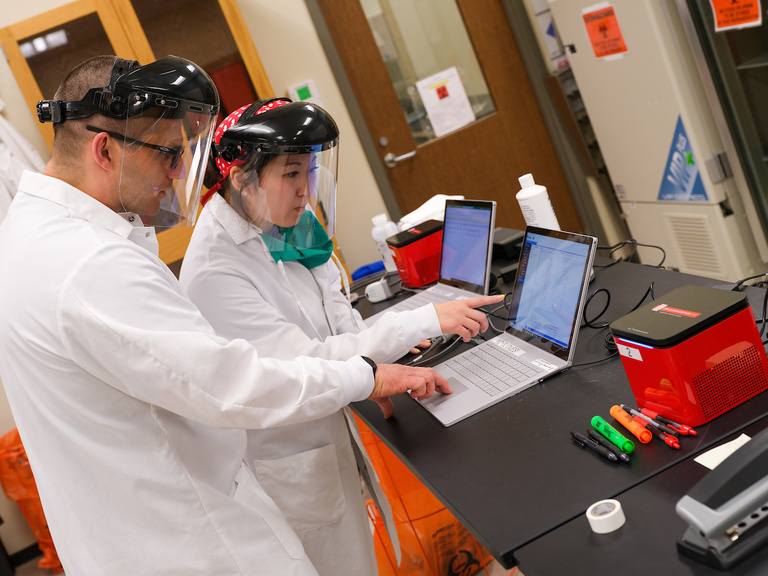 The lab, which serves Iowa's 99 counties, is leading—or partnering on—research and pilot projects intended to expand and enhance methods for testing for COVID-19, including saliva-based tests and wastewater testing to screen for the virus in populations housed or working together.
In January 2021, SHL began on-site sequencing to look for new variants of the virus, which in turn helps the state to search for the source of transmission and inform public health prevention measures.
SHL is working with the Iowa Department of Public Health (IDPH) to expand rapid testing across Iowa. It now has three different instrument platforms to conduct serology testing to look for antibodies and determine a patient's immunity level following infection with the virus itself or to determine if the patient might be able to donate plasma for use in COVID-19 Convalescent Plasma (CCP) treatment programs.
Additionally, SHL continues to honor and expand partnerships across the University of Iowa campus, and the state, including with UI Hospitals and Clinics, Iowa State University, the Mississippi Valley Regional Blood Center, and the LifeServe Blood Center.
It has also built up both its Test Iowa and molecular labs, each of which has processed more than 500,000 samples since last March.
"To say that I'm proud of the commitment and hard work of my team is an understatement," SHL Director Michael Pentella said. "Not only have they risen to meet an unprecedented challenge, but they've helped expand the lab's capabilities to further track and contain the spread of COVID-19 and protect the health and safety of all Iowans."
Pentella also credited ongoing support for the lab's work from the university, the state legislature, and Gov. Kim Reynolds' office. He said IDPH has been a particularly helpful partner throughout the pandemic.  
SHL and its staff has received considerable praise for its handling of COVID-19 testing over the past year, including being named in a resolution signed by the Board of Regents, state of Iowa, in July 2020 for its "remarkable work" and from The Gazette newspaper, which gave Pentella its Driver award for the innovation and dedication demonstrated by the lab throughout the pandemic.
While COVID-19 has consumed much of the lab's efforts and time this past year, he said SHL has continued its more traditional testing activities, including disease detection, environmental monitoring, and newborn and maternal screening.
As difficult as the past year has been, he said the pandemic has taught SHL valuable lessons.
"We know COVID-19 will eventually come under control," he said. "We also know this isn't the last pandemic Iowa will face. But because of this experience, we're better prepared than ever to deal with major public health threats in the future."
The State Hygienic Lab is part of the Office of the Vice President for Research, which provides researchers and scholars with resources, guidance, and inspiration to secure funding, collaborate, innovate, and forge frontiers of discovery that benefit everyone. More at http://research.uiowa.edu, and on Twitter: @DaretoDiscover