Boston Scientific Corp. has exercised its option to acquire the remaining shares of University of Iowa startup Farapulse Inc., which has developed a method for precisely and safely treating abnormal heart rhythms.
Last September, Boston Scientific signed an investment agreement with an option to acquire Farapulse (originally Iowa Approach), a company founded by UI Assistant Professor of Internal and Cardiovascular Medicine Steven Mickelsen, M.D. If development of Farapulse's technologies continued in a positive direction, Boston Scientific indicated it would buy the company.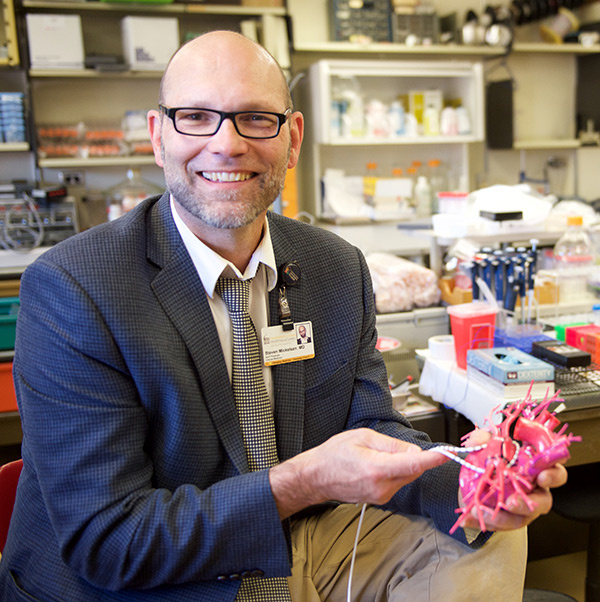 That purchase gives one of the world's leading medical device manufacturers full access to Farapulse's Pulsed Field Ablation (PFA) System, a non-thermal ablation system for the treatment of atrial fibrillation (AF) and other cardiac arrhythmias. 
Boston Scientific has been an investor in Farapulse since 2014 and holds an equity stake of approximately 27 percent, according to a news release issued by the company Friday. As a result, the transaction consists of an upfront payment of approximately $295 million for the 73 percent stake not yet owned, up to $92 million upon achievement of certain clinical and regulatory milestones, as well as additional revenue-based payments for the next three years.
"The emerging field of PFA has the potential to alter the future of ablation therapy and has shown the promise of improvements in both safety of cardiac ablations for patients and efficiency and ease-of-use of these procedures for physicians," Kenneth Stein, M.D., senior vice president and chief medical officer, Rhythm Management and Global Health Policy, Boston Scientific, said. "The Farapulse PFA System is intended to enable physicians to precisely ablate cardiac tissue while minimizing procedural complications, and real-world and clinical evidence from trials throughout Europe have demonstrated encouraging, positive results."
Mickelsen, the primary investigator in his Laboratory of Integrated Cardio-Neuro-Electrophysiology and an assistant professor in the University of Iowa Roy J. and Lucille A. Carver College of Medicine, started the company in 2012 to further develop novel approaches he invented to treat atrial fibrillation, an irregular heart rhythm caused by chaotic electrical signals sent by damaged or diseased tissue in the two upper chambers of the heart.
More than 200,000 people a year are diagnosed with atrial fibrillation and undergo a procedure to treat their tachycardia. The most effective medical procedure for treating AF is catheter ablation of the heart muscle involved in the initiation of the arrhythmia. Electrocautery and cryoablation are the most common technologies used, but they have significant limitations in safety and procedural time. 
The reemergence of PFA in cardiac applications promises substantial improvements in safety and procedural efficiency compared to current techniques. Mickelsen invented a PFA system and adapted catheters to deliver pulsed field electricity to the tissue for treating AF.  Early preclinical results showed this non-thermal method minimizes damage to the surrounding—and healthy—heart tissue, decrease surgery time and radiation exposure to patients, and potentially reduced the cost of the procedure.
"I am humbled by extraordinary success of Farapulse (Iowa Approach) and recognize the efforts and time so many people dedicated in bringing my original vision to fruition," Mickelsen said. "Right now cardiac electrophysiology is witnessing a paradigm shift in catheter ablation toward PFA."
UI Chief Innovation Officer Jon Darsee said the acquisition represents one of the largest deals in the space of cardiac ablation procedures. He congratulated Mickelsen, whom he described as "a physician and serial entrepreneur who consistently seeks ways to address unmet needs in the field of cardiac electrophysiology."
"This is an example where the ingenuity, creativity, and perseverance of a faculty member determined to translate research and clinical insights into patient care now has the potential to improve outcomes of thousands of patients worldwide suffering from cardiac arrhythmia," Darsee said.
The UI Research Foundation, part of the Office of the Vice President for Research, has played a significant role in bringing Farapulse's invention to market. UIRF began working with Mickelsen in 2012, assisting with the disclosure of two inventions related to atrial fibrillation treatment, both adaptations to the catheter used for treatment delivery (the second nicknamed the "ring of fire"). Faculty are required to inform UIRF when they've developed research with potential commercial value.
UIRF also provided Mickelsen with "gap" funding to further develop his work, guidance when he decided to form his own company, and help with attracting venture capital.
"UIRF's licensing relationship with Farapulse enabled Dr. Mickelsen to amplify the impact of his university research," UIRF Executive Director Marie Kerbeshian said. "Farapulse developed his discoveries into a commercially-viable product, and now Boston Scientific will ensure that his work will reach patients worldwide."