Despite the enormous hurdles presented by the pandemic, the University of Iowa secured its highest-ever level of external funding for research, scholarship, and creative activities last year—including research contributing to the development of effective COVID-19 vaccines and treatments.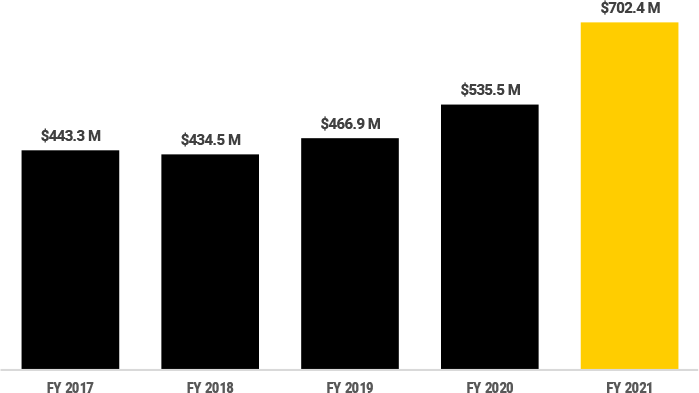 The UI saw a 31% increase in public and private research dollars compared to the previous year, and a 24% increase in funding from federal agencies. Research funding increased from $535.5 million in FY2020 to almost $702.4 million in FY2021, which ran from July 1, 2020 through June 30, 2021. Total external funding, which includes research funding, increased 23%, from $666.2 million in FY2020 to $818 million in FY2021.
The increase includes some federal relief and stimulus funding, a portion of which supported COVID-19 research. [FY2021 funding supports COVID-19 research and much more]
UI Vice President for Research Marty Scholtz said the record funding is a testament to the commitment and innovation of the university's faculty and staff. He said the funding not only supports research directly but also expands resources available to researchers and scholars and allows the university to leverage its expertise to help Iowa communities.
"The logistical challenges COVID-19 presented for conducting research and scholarship, particularly work involving human subjects, were enormous," Scholtz said. "In spite of that, our faculty and staff worked tirelessly day after day to continue developing medicines, explore space, create art, and expand our understanding of the world and our place in it.
"I'm incredibly proud of their collective accomplishment, which benefits Iowans and the world," he added.
FY21 Funding Highlights
23%
($151.9 million)
Increase in total external funding
31%
($166.9 million)
Increase in total research funding over FY20
288%
($26.5 million)
Increase in NASA funding
65%
($6.2 million)
Increase in National Science Foundation funding
The largest increases in federal research funding came from the National Aeronautics and Space Administration (NASA), which increased 288%, from $9.2 million in FY2020 to $35.7 million in FY2021; the National Science Foundation (NSF), up 65%, from $9.5 million to $15.8 million; and the National Institutes of Health (NIH), up 7%, from $187.3 million to $200.3 million.
The NASA increase is due in large part to UI Department of Physics and Astronomy Professor Craig Kletzing's Tandem Reconnection and Cusp Electrodynamics Reconnaissance Satellites (TRACERS) project, which is exploring the mysterious and powerful interactions between the magnetic fields of the sun and Earth, and the work of Kletzing's colleague and Assistant Professor David Miles on MAGnetometers for Innovation and Capability (MAGIC).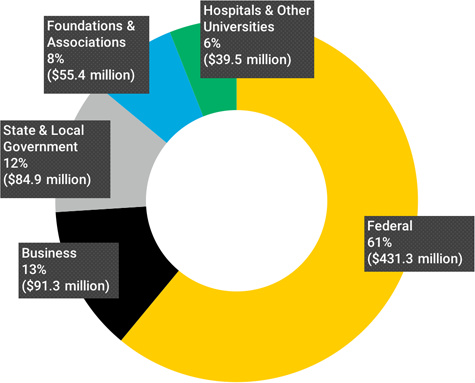 Much of the COVID-19-related research that was funded early in the pandemic, including clinical trials in the UI Roy J. and Lucille A. Carver College of Medicine with Pfizer, Inc. and BioNTech SE to study the effectiveness of messenger ribonucleic acid (mRNA) vaccines, received additional support in FY2021 to continue that work. But additional projects targeting the deadly virus behind COVID-19—along with research into a wide range of important areas across the disciplines–also were greenlighted last year.
Click here to read about some of the research, scholarship, and creative activities supported by external funding in FY2021.