Two companies co-founded by UI researchers have secured a combined $62 million in financing to advance disease therapies.
The companies, Carbon Biosciences and hC Bioscience, are based on foundational research by University of Iowa (UI) professors John Engelhardt, Ziying Yan, Chris Ahern, and colleagues at other institutions.
"The investments secured by these companies are among the largest initial rounds of funding in the history of UI-founded start-ups," said Jon Darsee, UI Chief Innovation Officer. "The amounts raised indicate that the investment community believes that the foundational research originating at the University of Iowa shows potential to address challenging disease states."
To translate their research into the marketplace, Engelhardt, Yan, and Ahern worked with the University of Iowa Research Foundation (UIRF) to protect their intellectual property and license the technology to the start-ups they co-founded.
"The UIRF is proud to work with faculty who are interested in translating their research to serve patients here in Iowa and beyond," said Marie Kerbeshian, assistant vice president for research and director of UIRF. "By creating strong patent protection for faculty inventions, the UIRF facilitates high-impact opportunities that lead to jobs, and which serve to enhance the reputation of inventors and the university."
Carbon Biosciences
Carbon Biosciences was co-founded by Engelhardt, UI professor and chair of anatomy and cell biology and the Roy J. Carver Chair in Molecular Medicine, and Yan, UI research associate professor of anatomy and cell biology in the University of Iowa Carver College of Medicine, and Jianming Qiu, professor at the University of Kansas, to build gene therapy programs for genetic disease. In June, the company announced that it had raised $38 million in series A financing to advance research and development.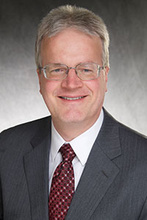 "Carbon Bioscience's gene therapies will have multiple therapeutic applications for various diseases, including lung and muscle disorders, liver, retinal and brain diseases, as well as other systemic and hematological conditions," said Engelhardt.
Gene therapy is a technique that modifies a person's genes to treat or cure disease. Gene therapies can work by several mechanisms, including introducing a new or modified gene into the body to help treat a disease.
Many such gene therapies utilize recombinant viruses, which are stripped of viral proteins that cause disease, as vectors to deliver new genetic material. "Similar to a shipping truck that can deliver packages or cargo, these recombinant viruses may be used to deliver new genes to targeted cells," said Engelhardt.
Through collaborative research projects that began at the UI in 2010, Engelhardt, Yan, and Qiu discovered a human virus, called human bocavirus (HBoV1), that expands the possibilities for existing gene therapies. This work to develop a new gene therapy delivery system using HBoV1 was funded by six grants from the National Institutes of Health and has resulted in 20 research articles and 13 U.S. and international patent applications and patents.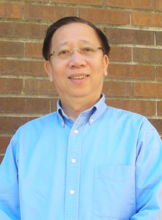 "To date, the recombinant virus widely used for gene therapies is adeno-associated virus (rAAV)," said Yan. "While rAAV has shown promise in clinical trials for certain inherited diseases, it suffers from its small size. We discovered that the human bocavirus naturally targets lung cells and can be used to package larger genes, expanding therapies to include disease where the gene of interest is too large for rAAV vectors, such as in cystic fibrosis."
Working with the UIRF and the University of Kansas, Engelhardt and Yan patented their bocavirus technology and finalized an option agreement with Carbon Biosciences in early 2022. UIRF and Carbon Biosciences are now negotiating final terms for the license agreement.
"UIRF's agreement with Carbon Biosciences is the culmination of many years' worth of effort by Dr. Engelhardt, Dr. Yan, and Dr. Qiu. When UIRF first received an invention disclosure from the team in 2013, the corporate world was not yet ready to embrace this technology. It is through their scientific insights, perseverance, and entrepreneurial spirit that this gene therapy vector is moving into commercial development," said Kerbeshian.
hC Bioscience
hC Bioscience was formed based on the research discoveries of Chris Ahern, professor of molecular physiology and biophysics in the Carver College of Medicine, and research associate John Lueck, now assistant professor at the University of Rochester.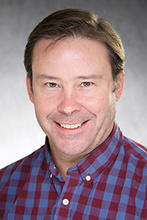 For nearly 20 years, Ahern has studied tRNA. "In my lab, we use these fascinating molecules to engineer many types of human proteins to study their basic functions," said Ahern. "Our work at hC Bioscience is a natural extension of this research program and demonstrates how translational discoveries can emerge from basic science."
The company, which announced that it had secured $24 million in series A financing in February, was cofounded by Ahern and Leslie J. Williams, president and chief executive officer.
"Leslie Williams, a serial biotech CEO who earned her nursing degree at Iowa, became an Entrepreneur in Residence in 2019 in order to give back to Iowa and support faculty interested in translating their research," says Darsee. "One visit to campus and several meetings with Chris Ahern later, Leslie decided to cofound hC Biosciences and become its full time CEO."
hC Bioscience is dedicated to improving the lives of patients with the development of first-in-class tRNA-based therapeutics targeting protein dysfunction. "Our efforts represent a new therapeutic approach to a variety of human diseases, including cancers and genetic diseases," said Ahern.
"Commercial applications were readily apparent for the technology invented by Professor Ahern and his colleagues to repair faulty genes and proteins," said Kerbeshian.
The UIRF, working with the Wistar Institute, optioned the technology to hC Biosciences in 2021.
"By partnering early with an experienced entrepreneur to found a company, Ahern can help guide the development of this technology to have the broadest impact on patients' lives," said Kerbeshian.
According to their website, hC Bioscience's innovative approach to precision protein editing has the potential to treat genetically defined conditions, which account for 10-15% of all human disease.