Meet the University of Iowa's rising research stars
Casey Harwood, assistant professor of mechanical engineering, is conducting research that he hopes will one day improve the safety of transportation by land, air, and sea.
Harwood is one of four University of Iowa investigators who secured prestigious CAREER awards from the National Science Foundation (NSF) in FY23. This ties the record of CAREER awards in a single fiscal year at Iowa.
With $604,000 in funding, Harwood is conducting research to better understand interactions between engineered structures and the fluids that surround them, such as air and water.
"Fluid-structure interactions are everywhere around us. Bridges, aircraft wings, and ship hulls — infrastructure that the world relies on — are constantly interacting with the fluids that surround them," said Harwood. "Engineers are skilled at designing around the potential hazards of these fluid-structural interactions, but the research community lacks rigorous methods to study and understand the mutual effects that these structures and fluids have on one another. That means we can't effectively predict new types of failures, nor can we realize the potential benefits of these interactions."
Through a series of experiments, Harwood and his research team will examine how the vibration of structures can produce small movements in the surrounding fluids that could increase the efficiency and safety of other engineered systems, perhaps making propellers less likely to stall or reducing drag on ship hulls or tractor trailers. The research team also will explore how natural occurrences underwater, such as bubbles, waves, or currents, may also affect submerged structures in ways that are not captured by existing experimental methods.
Harwood also will be developing open-access, low-cost laboratory modules for existing courses that will introduce engineering students to the concepts of fluid-structure interactions. He has also partnered with a rural West Coast high school to host a recurring STEM workshop on the science of ship design.
Read more about Harwood's project on the College of Engineering's website.
James Byrne, assistant professor of radiation oncology and biomedical engineering, secured a $1.2 million K08 award from the National Cancer Institute to explore the development of biofoams that may improve the effectiveness of chemotherapy and radiation therapy for rectal cancer.
Surgical resection of the rectum is associated with decreased quality of life and long-term challenges.  Byrne's research aims to identify new strategies to improve patients' response to chemotherapy and radiation therapy and therefore reduce the likelihood of surgery.
At low, non-toxic concentrations, carbon monoxide (CO) has been shown to inhibit inflammation and provide anti-tumor effects. Byrne and his team are developing new methods that can deliver CO directly through the gastrointestinal tract in the form of biofoams. This approach, an alternative to inhaling CO, may help overcome the challenges of inhaled CO while reducing normal tissue injury.
Read more about the work of Byrne's lab on the Carver College of Medicine's website.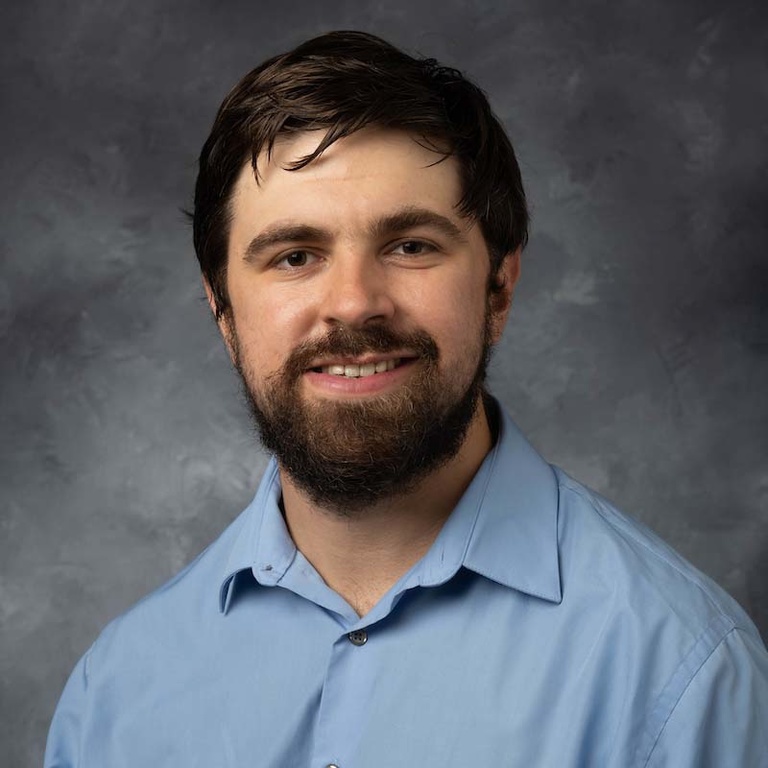 With a new NSF CAREER award, Tom Folland, assistant professor of physics and astronomy, will examine how certain classes of crystals can be used to control both the direction and orientation of light waves.
"This topic is of interest because the ability to control the properties of light is important for developing advanced optical technologies," said Folland. "Technologies such as laser imaging, optical biosensors, and quantum optics all use carefully prepared light waves to effectively measure or communicate with the world around us."
Folland's lab applies the knowledge gained about the optical properties of light towards the development of new technologies such as thermal cameras, infrared light sources and infrared gas and liquid sensors.  These can be used for applications such as measuring heat generation in domestic or commercial spaces, and measuring trace environmental pollutants, among other applications.
The $604,000 grant will also support the development of educational tools for middle-school students and undergraduate students, who typically receive limited education in the science and technological application of light particles and their effect on modern technologies.  The educational tools will be distributed online, which will allow instructors from across the country to access them.
Read more about Folland's project on the Department of Physics and Astronomy's website.
Creating space for creative writing
Donika Kelly, assistant professor of English, secured a $25,000 creative writing fellowship from the National Endowment for the Arts. She is one of 36 writers to receive the fellowship out of 1,900 applications in 2023. The award will support research for her next poetry collection.
"I'm grateful to have the support of the NEA in funding a year of research for my next poetry collection, and I've felt the borders of my imagination stretch toward further and new horizons," said Kelly.
Kelly, an accomplished poet, is the author of The Renunciations, winner of the Anisfield-Wolf book award in poetry, and Bestiary, the winner of the 2015 Cave Canem Poetry Prize, a Hurston/Wright Legacy Award, and a Kate Tufts Discovery Award.
Read more about Kelly's award on the website for the College of Liberal Arts and Sciences.
Building intelligent robots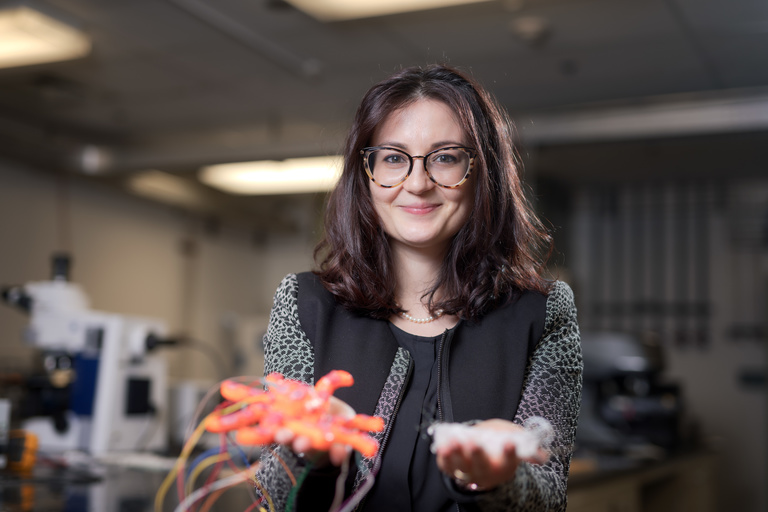 Caterina Lamuta, assistant professor of mechanical engineering, secured a $502,000 grant from the Office of Naval Research through the 2023 Young Investigator Program. The highly competitive program provides research funding that will benefit science and technology for the U.S. Navy and Marine Corps.
Lamuta's project is focused on the development of a soft underwater robot with the capabilities and form of an octopus. The "Softopus," an intelligent robot, will have the ability to move in the ocean, crawl on a surface, and grasp and move objects.
"This technology could have future applications for underwater rescue operations, monitoring, and assembly," said Lamuta. "Our hope is that it could also shed biofilms that could attach to and deteriorate submerged objects, such as equipment or vehicles."
Read more about Lamuta's research on the College of Engineering's website.
Examining the borderlands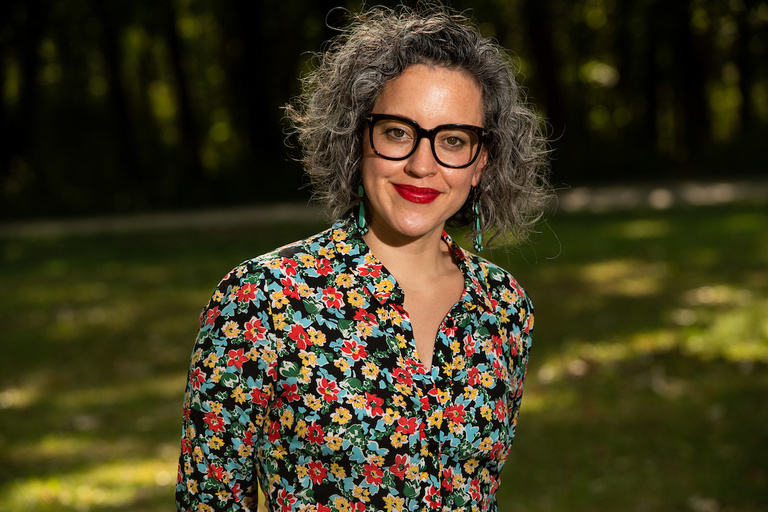 Lina-Maria Murillo, assistant professor of gender, women's and sexuality studies and history, was selected by the Office of the Vice President for Research as the UI's 2023 Early Career Scholar of the Year. The award honors assistant professors in tenure-track, research-track, or clinical-track positions at Iowa who are currently involved in research, scholarship, and/or creative activity and show promise of making a significant contribution to their field.
Murillo's specializations cover a range of topics, including borderlands, women's health and reproduction, reproductive justice, Latina/Latino/Latinx, and social justice movements. She is also the recipient of a prestigious Ford Foundation fellowship to finish her book, Fighting for Control: Reproductive Care, Race and Power in the U.S.-Mexico Borderlands, which will be published by University of North Carolina Press.
Enhancing 3D printing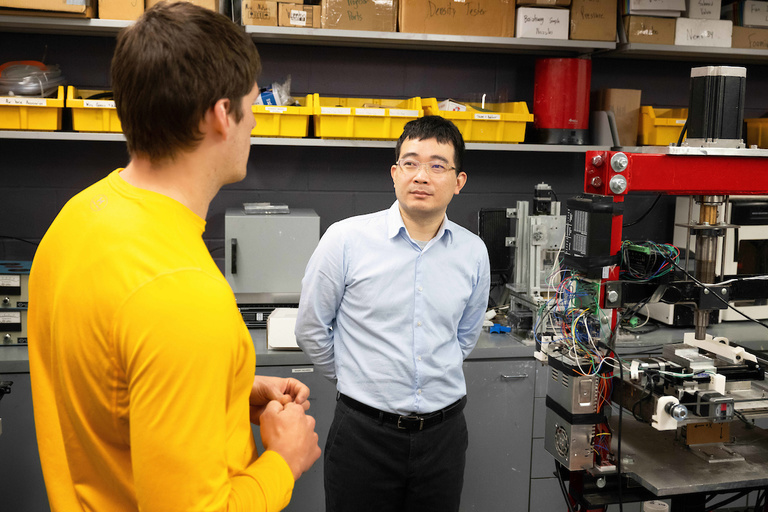 Xuan Song, associate professor of industrial and systems engineering, is conducting research to advance ceramic additive manufacturing. This technology, also known as 3D printing, could hold future benefits for various industries, including health care, defense, and energy.
"Additive manufacturing offers great potential to create complex ceramics used in specialty applications, including thermal insulators, armors, medical implants, and sensors," said Song. "Compared to traditional manufacturing methods, additive manufacturing can be more efficient, enable more design freedom, and result in superior properties."
 Song's $603,000 CAREER award will address specific challenges, such as cracking, related to manufacturing complex ceramic parts on an industrial scale. The addition of a water-based ink along with compression and mild heating will be tested as potential solutions. If successful, the research could establish new manufacturing capabilities that reduce production time, energy consumption, and other barriers to the widespread adoption of ceramic 3D printing in many industries.
Read more about Song's research on the College of Engineering website.
Reducing forever chemicals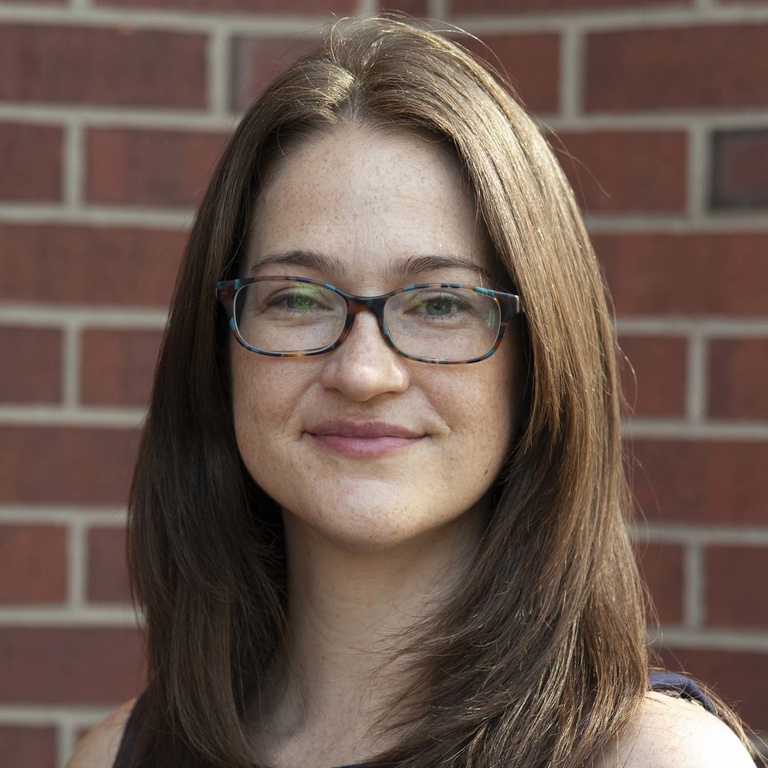 Florence Williams, assistant professor of chemistry, secured a $650,000 NSF CAREER award to study boron-containing reagents to deconstruct chemical compounds. One goal of the research is to determine if the reagents could play a role in tackling contemporary environmental challenges, including breaking down 'forever chemicals'
Boron-containing reagents degrade into non-toxic byproducts and are fairly inexpensive and accessible to a wide range of chemists. Williams' goal is to provide a collection of simple reactions that have broad applications, ranging from improved access to medicinal compounds to the remediation and chemical recycling of environmental pollutants such as plastics and polyfluorinated compounds.
"Per- and polyfluoroalkyl substances (PFAS) are used ubiquitously in modern society – from coatings on fast-food wrappers to being part of the fire-fighting foam used in airports and air force bases," said Williams. "PFAS seeps into ground water and remains in the environment without any meaningful degradation over time due to their strong carbon-fluorine bond, hence the term 'forever chemical.'"
One aim of Williams' research is to convert PFAS compounds into intermediate compounds that can be transformed with water into more benign materials.
Read more about Williams' project on the website for the College of Liberal Arts and Sciences.
Resources and Support
The Research Development Office offers professional development trainings and support to assist faculty in submitting competitive applications for external funding. All recent NSF CAREER awardees participated in the RDO's NSF CAREER Club, which connects faculty with a variety of services that include editing, graphic design, and proposal review.
These projects are supported by the National Science Foundation under Grant Numbers 2237542, 2239556, 2236807 and 2236905; National Cancer Institute under Grant Number 1K08CA276908; and Office of Naval Research under N00014-23-1-211. Any opinions, findings, and conclusions or recommendations expressed in this material are those of the authors and do not necessarily reflect the views of the National Science Foundation, National Institutes of Health, or Office of Naval Research.