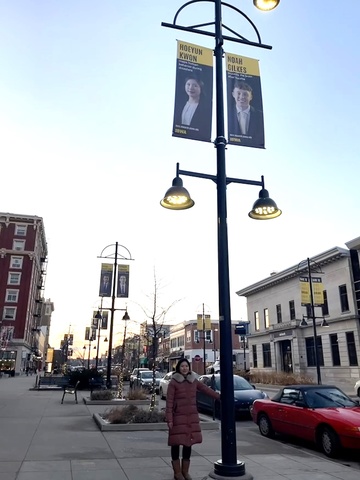 Now is the time to nominate a University of Iowa undergraduate, grad student, or postdoctoral researcher for the next Dare to Discover downtown banner campaign.
Since 2016, the banner campaign has promoted research, scholarship, and creative activities generated by outstanding students and postdocs. The 2023 campaign featured 70 researchers and scholars.
Nominations can be submitted via the form below until Tuesday, Sept. 12.
Early nominations of students and postdocs who are working on campus this summer are especially encouraged before Tuesday, June 20. Up to 20 individuals will be selected during this early nomination period.
Selected researchers will be notified by late September. The banners will be installed in January 2024 and remain in place through mid-March 2024.
Nominations of students and postdocs from diverse backgrounds and that represent a range of disciplines, especially the arts and humanities, are encouraged.
The Office of the Vice President for Research (OVPR) sponsors the project. For additional information, please contact Casey Westlake, communications manager.
Previous featured students with their banners