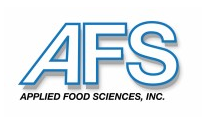 Austin, Texas-based
Applied Food Sciences Inc
. recently opened a new branch of its company at the University of Iowa's BioVentures Center in the UI Research Park. Applied Food Sciences is a natural ingredient supplier specializing in botanical extracts for food, beverages and supplements.
Iowa's central location puts the company closer to farmers, processors, and higher educational institutions like the UI, which offers the company a highly educated workforce and generate academic research critical to the company's goals of contributing to a nutritionally sound food supply, said Chris Fields, Vice President for Scientific Affairs at Applied Food Sciences
"Applied Food Sciences chose the BioVentures Center as the home for our Innovation Center for a number of reasons including its strong work culture, high level of professionalism, and culture of innovation in the areas of biotechnology and food science," said Fields. "But what made us the most excited was the opportunity to really collaborate with other innovative companies in the areas of food technology, merging this with life sciences."
The BioVentures Center in the UI Research Park is part of the Office of the Vice President for Research and Economic Development, which provides resources and support to researchers and scholars at the University of Iowa and to businesses across Iowa with the goal of forging new frontiers of discovery and innovation and promoting a culture of creativity that benefits the campus, the state, and the world. More at http://research.uiowa.edu, and on Twitter: @DaretoDiscover.