With federal funding from the Iowa Governor's Office, researchers at the University of Iowa are working to help create a nanovaccine that would protect against the virus that causes COVID-19 and be administered via nasal spray rather than a needle.
On Thursday, Iowa Gov. Kim Reynolds announced she has set aside $2 million in Coronavirus Aid, Relief, and Economic Security (or CARES) Act funding to support the development of a next-generation COVID-19 vaccine through a partnership between Iowa State University and the UI. The funding will be administered though the Iowa Economic Development Authority (IEDA).
The project builds on previous research and existing patents by ISU and UI researchers affiliated with ISU's Nanovaccine Institute based at Iowa State. The project is expected to be largely completed by the end of the year.
"This work showcases our strengths in research and innovation and serves as a model for collaboration with our colleagues at Iowa State," UI President Bruce Harreld said. "Our UI team will combine long-standing expertise in coronaviruses that is now invaluable in the fight against COVID-19, with advances in immunology to create a new inhalable vaccine technology. Collaboration is a hallmark of our success at the UI, and I'm confident this effort with Iowa State will greatly inform our strategy for fighting this deadly virus and bringing this global health crisis to an end."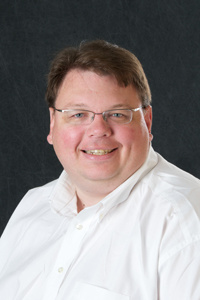 Kevin Legge, Ph.D., professor of pathology and of microbiology and immunology, and director of the Pathology Research Flow Cytometry Core in the UI Carver College of Medicine (CCOM), is leading the UI effort, along with co-investigators Stanley Perlman, Ph.D., M.D., the Mark Stinski Chair in Virology and professor of microbiology and immunology, and of pediatrics, in CCOM, and Thomas Waldschmidt, Ph.D., the Clement T. and Sylvia H. Hanson Chair in Immunology and a professor of pathology in CCOM.
"This important funding will build on our existing successful partnership between the University of Iowa and Iowa State University and greatly aid in our efforts to bring safe, effective, mucosal-based nanoparticle vaccines against respiratory virus infections to the community," Legge said. 
In her announcement about the collaboration, Reynolds said that there are hundreds of COVID-19 vaccine candidates under development around the world. But all require needles, multiple doses, and refrigeration, and there's no clear evidence yet that they'll provide long-term immunity.
By contrast, nanovaccines—which deliver treatment at a particularly vulnerable entry point for viruses, the nasal cavity—offer the promise of a far simpler and effective single dose that can kill the virus more directly. Previous studies of nanovaccine to treat seasonal influenza by the UI and ISU researchers has shown promise in animal models.
"Our prior work using these nanovaccines against influenza virus has shown that we are able to induce a broader and more sustained protective response which positions one's immunity at the sites of viral entry, therein speeding up the response time versus what occurs with current influenza vaccines," Legge said. "These funds will allow us to transfer the lessons learned on influenza vaccines toward the creation of a safe, effective and long-lasting mucosal vaccine against SARS-CoV2/COVID-19."
Reynolds said the collaboration between the two universities and industry partners will further cement the state's reputation as a biosciences epicenter. A 2017 report identified Iowa's competitive advantages in the biosciences, including vaccines and immunotherapeutics.
Several industry partners also are involved in the partnership, including Skroot Laboratory Inc., a wireless sensor startup based in Ames, Iowa; Zeteo Biomedical, a drug delivery device startup based in Austin, Texas; and Southwest Research Institute, a manufacturing-support nonprofit based in San Antonio, Texas. The project will also share equipment and expertise with vaccine companies with operations in Iowa.
"Today's announcement puts to use Iowa's unique assets and attributes in the fight against COVID-19 and fuels economic development by establishing the state as a hub for vaccine development and attracting new investments and companies," said IEDA Director Debi Durham.