Thursday, December 17, 2020
Research on faulty genetic material by University of Iowa (UI) Carver College of Medicine professor Christopher Ahern recently was licensed by Tevard Biosciences, a company that is seeking to treat certain forms of epilepsy. However, the innovative UI treatment approach being developed by Tevard holds the promise of becoming a platform with medical applications far beyond those for epilepsy.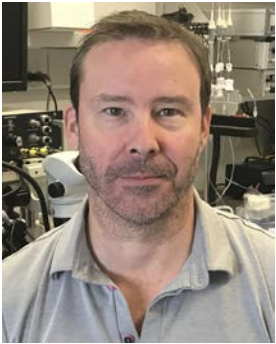 The University of Iowa Research Foundation and the Wistar Institute recently signed a licensing agreement with Cambridge, Massachusetts-based Tevard Biosciences to develop research into transfer RNA-based gene therapies created by Ahern, Ph.D., a professor of molecular physiology and biophysics and a University of Iowa Health Care Distinguished Scholar. Tevard, in turn, announced this month that it's partnering with Zogenix, a global biopharmaceutical company developing and commercializing rare disease therapies.
In a press release about its agreement with Zogenix, Tevard said the tRNA technology platforms under development "are designed to address underlying genetic mutations in a precise and regulated manner through the correction of nonsense mutations and the enhanced production of functional proteins. Together, these approaches hold promise to treat genetic disorders that are not well-suited to conventional gene replacement approaches."
About 30 million people in the United States have some form of disease caused by a mistake in their genes. In some cases, the mistakes may be thought of as a kind of typo that changes the meaning of the DNA. In other cases, it's more like a misplaced period in the middle of a sentence (or genetic sequence) that wrongly tells the body to stop making a protein midstream.  Traditional gene-therapy approaches seek to repair a mistake directly in the DNA, while new methods are more commonly using messenger RNA, or mRNA, to identify new therapies. By comparison,  tRNA are actually a specialized type of mRNA and represent an exciting new area of research.  
If mRNA rings a bell, it's likely because it's been in the news as the foundation of Moderna's next-generation COVID-19 vaccine, Ahern said: "The mRNA space for therapeutics is widely untapped and represents a rich vein for biological discovery and therapeutics alike."
The so-called "premature termination codons", or PTCs, afflict between 2.5 and 3 million people in the United States alone and are the cause of thousands of rare diseases, such as cystic fibrosis, muscular dystrophy, and genetic epilepsies, such as Dravet Syndrome. Dravet Syndrome is a rare, drug-resistant epilepsy that begins in the first year of life in an otherwise healthy infant, lasts its entire lifetime, and is marked by prolonged and debilitating seizures with fever that affects one side of the body.
Understanding the underlying genetic mutations responsible for Dravet Syndrome and other forms of "stop codon" diseases is critical to finding effective treatments. A codon is a sequence of three nucleotides, much like an individual word in a sentence, which together form a unit of genetic code in a DNA or RNA molecule. Using tRNA to fix the misplaced stop-codon essentially changes its meaning back to a healthy message. 
Ahern's lab developed a novel approach to these diseases after working with tRNA for the past 20 years to study protein function.  As part of the project, his former post-doctoral researcher, John Lueck, Ph.D., helped develop the method for the repair of genetic mistakes in the CFTR gene, which result in rare and currently untreatable forms of cystic fibrosis. Ahern has since investigated correcting PTC mutations associated with genetic forms of autism, developmental delay, and epilepsy.      
Ahern has continued working to expand the applications of his lab's discoveries through research partnerships with colleagues at The Wistar Institute, an independent institution based in Philadelphia and devoted to biomedical research and training.
"The path from academic discovery to company development for this platform technology is a prime example of how important collaboration is to the commercialization process," UIRF Associate Director Kellen Sensor said. "Professor Ahern's ongoing research with both the Wistar Institute and with Tevard will broaden the applications of his initial discovery. Likewise, Tevard's partnership with Zogenix will move the development of a therapy for Dravet Syndrome forward while Professor Ahern, Wistar, and Tevard continue to work on applications for other genetic diseases."
Ahern said his lab in the Carver College of Medicine and Iowa Neuroscience Institute seeks to better understand the body's electrical system, "a complex network of cells and signals which ultimately control movement, thought, and how we feel our environment."
"A long-standing focus of our group is to better understanding a family of proteins called 'sodium channels', which are essentially the cheetah of the nervous system—a blisteringly fast functioning protein," Ahern added. "Inherited mutations in brain sodium channels cause epilepsy and Dravet Syndrome. While we have the opportunity to improve the tRNA technology with Tevard Therapeutics, a company that was founded by parents of children with Dravet, I also can help to better tune the method to sodium channels. While there is a long way to go, we ultimately hope our work can improve the health of patients with any variety of PTC mediated rare disease."     
Under the collaboration with the UI, Tevard reported in its press release that the company will use two unique tRNA-based discovery platforms focused on mRNA Stabilization and Nonsense Codon Suppression to discover and advance novel drug candidates for the treatment of Dravet Syndrome and other genetic epilepsies. Zogenix will further develop the candidates through advanced preclinical studies and clinical development and will also be responsible for worldwide commercialization.
The University of Iowa Research Foundation is part of the University of Iowa Office of the Vice President,  which provides researchers and scholars with resources, guidance, and inspiration to secure funding, collaborate, innovate, and forge frontiers of discovery that benefit everyone. More at http://research.uiowa.edu, and on Twitter: @DaretoDiscover.