A growing number of Iowa-based companies trace their roots to federally funded University of Iowa research that helps them create jobs, generate wages, boost the local and state economy, and produce new knowledge, inventions, and services, according to a recent report by The Science Coalition (TSC).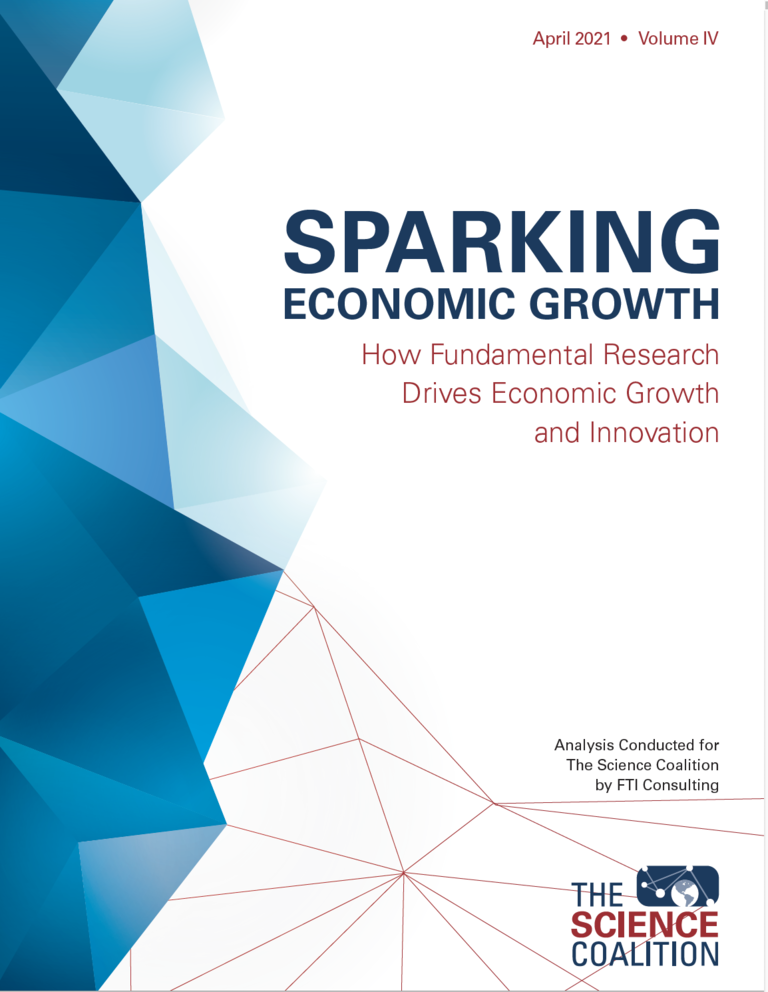 The report, "Sparking Economic Growth: How Fundamental Research Drives Economic Growth and Innovation", highlights 53 companies in 12 states—including 10 in Iowa—that span across industry, geography, and funding sources, illustrating the close ties between federal investment in fundamental research, job creation, and an innovation-based economy.
Collectively, the 53 companies contributed more than $700 million to the U.S. Gross Domestic Product (GDP) between 2015 and 2019, attracted more than $1.75 billion in publicly and privately funded research grants, and supported the creation of 9,300 jobs nationally that contribute $729 million to the U.S. GDP and pay $115.3 million in federal taxes and $42.9 million in state taxes.
The companies span industries, including science, technology, engineering, and math (STEM) fields like advanced manufacturing, as well as industries like education, language, energy, environmental remediation, and more.
The Iowa companies spotlighted in TSC's report include iota Motion, OmniLife, OscillaVent, Firefly Photonics, Synder Bio, RAMDO Solutions, Pani Clean, Spirovant Sciences, Theion Agriculture, LLC, and Senseion.
Founded in 2015 by otolaryngologists from the UI Carver College of Medicine, iota Motion is developing methods for remotely adjusting the position of cochlear implants to extend their life and effectiveness in helping people with hearing loss. The company, which has received $5.7 million in funding to develop its technology, directly employs five people and indirectly supports 24 positions.
"The support iotaMotion has received from the University of Iowa Research Foundation, the National Institutes of Health and the National Science Foundation, along with private investors, has enabled us to grow as a company and bring our robotic surgical technology to patients with hearing loss," said former UI otolaryngologist Chris Kaufmann, MD, president and CEO of iotaMotion Inc. 
RAMDO Solutions, another UI startup that has received $1.1 million in research funding, has developed an engineering software tool to enhance computer simulation models and directly or indirectly supports nine jobs.
"This reports shows a clear and compelling correlation between University of Iowa research activity and Iowa's economy and job market," UI Chief Innovation Officer Jon Darsee said. "Not only are these companies creating jobs and spending money for goods and services, but they bring myriad intangible benefits to the community by demonstrating that Iowa is a place where innovation and entrepreneurship can thrive."
Darsee said the companies featured in the report are just the tip of the iceberg. He said three other UI startups—Digital Diagnostics, ViewPoint Molecular, and Vida Diagnostics—have raised roughly $50 million in private funding over the past year.
UI Vice President for Research Marty Scholtz said the strides made in COVID-19-releated research at Iowa during the pandemic underscore how critical federal funding is not only to the nation's economy, but to its health and ability to maintain its global leadership in the sciences, humanities, and arts.
"Behind almost every technological device, medicine, and modern convenience is university-based research," Scholtz said. "It's imperative as we emerge from this public health crisis that federal support of the research being conducted by universities and the startup companies they inspire not only continue but accelerate."
Photo (above): Cover of  The Science Coalition's report, "Sparking Economic Growth: How Fundamental Research Drives Economic Growth and Innovation."
Teaser Photo Illustration by Riccardo Annandale on Unsplash.