Tuesday, November 16, 2021
Three Iowa legislators met with researchers and innovators engaged in COVID-19 testing, autonomous rural vehicles, and other areas of discovery during a visit to the University of Iowa Nov. 9 hosted by the UI Office for the Vice President for Research.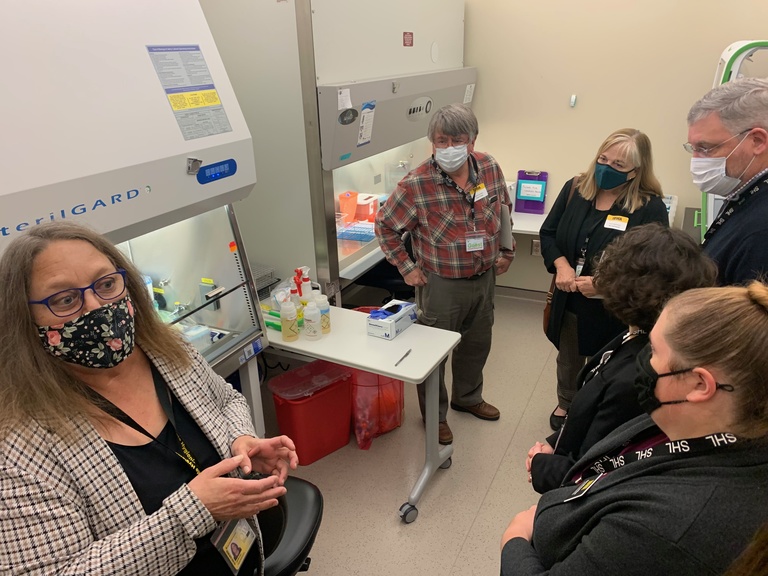 Led by UI Vice President for Research Marty Scholtz, Iowa Reps. Monica Kurth and Dean Fisher, toured the State Hygienic Laboratory (SHL) and the National Advanced Driving Simulator (NADS) before hearing presentations by undergraduate student researchers and executives with two startup companies. State Rep. Dave Jacoby also took part in a portion of the tour.
SHL Director Mike Pentella and other lab leaders told legislators about the SHL's efforts to keep pace with testing for COVID-19 since the start of the pandemic while also maintaining its commitment to other public health-related testing of water and air quality, newborn screening, and more.
At NADS, Director Dan McGehee gave an update on research using one of the world's largest driving simulators, as well as a new study involving automated passenger vehicles on rural Iowa roads. Legislators had an opportunity to take a short ride in one of the vehicles during their stop.
UI President Barbara Wilson welcomed legislators before three undergraduate students gave presentations about their research. The students, who work closely with the Iowa Center for Research by Undergraduates, were Evita Woolsey, Saul Ocampo Landa, and Amy Gottschalk.
UI Research Foundation Executive Director Marie Kerbeshian and UI Chief Innovation Officer Jon Darsee talked about their work to help researchers translate their findings into commercial ventures, medical devices, services, and in other ways to benefit the public. And legislators met with Viewpoint Molecular Targeting Chief Business Strategy Officer Amos Hedt, and Higher Learning Technologies Co-Founder and Chief Growth Officer Adam Keune.
The University of Iowa Office of the Vice President for Research provides researchers, scholars, and creative artists with resources, guidance, and inspiration to secure funding, collaborate, innovate, and forge frontiers of discovery that benefit everyone. More at http://research.uiowa.edu, and on Twitter @DaretoDiscover. 
Photo: Clinical Laboratory Technical Specialist Cynthia Cass with the State Hygienic Laboratory shows legislators and other guests equipment used to process tests for COVID-19 during the Nov. 9 Legislators in the Lab tour.