Friday, February 11, 2022
On a frigid morning in mid-January, tiny flurries swirled outside the University of Iowa State Hygienic Lab building as an unusual sight, an eighteen-wheeler UPS semi-truck, slowly backed up to the loading dock with a daily delivery of samples.
Inside the truck was a record-breaking haul: fifty-five 4' x 4' bags containing COVID-19 test kits from Iowans across the state. Each bag contained approximately 100 saliva samples carefully packaged in small white cardboard boxes, for a total delivery of approximately 5,500 tests. The truck would return every day for the next week with a similar haul.
As SHL staff worked to unload, open, and log the UPS deliveries, tests continued to flow into the building from other sources. Outside, a steady stream of personal vehicles pulled up to drop off individual samples at the accessioning window on the east side of the SHL building. Several daily couriers unloaded boxes of tests from healthcare providers, long-term care facilities, and Test Iowa at Home drop-boxes, including from communities on the far west and north sides of the state.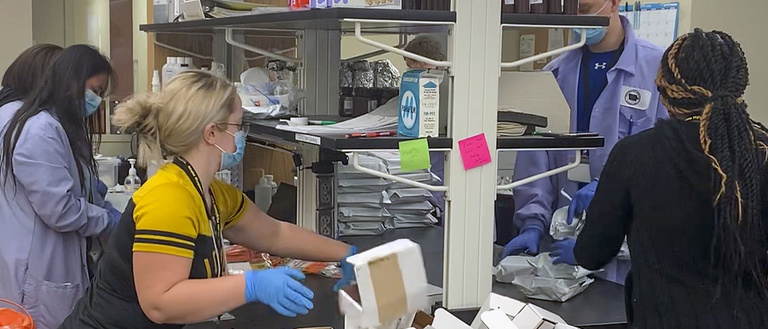 Inside the building, multiple teams with assembly-line precision processed the influx of COVID-19 tests, carefully moving each sample through several stations in the building — demonstrating the well-orchestrated choreography honed through nearly two years of responding to the COVID-19 public health crisis.
Testing surge
"Since Omicron was first confirmed in Iowa on December 11, it has rapidly become the dominant variant in the state," said Mike Pentella, director of the State Hygienic Lab. "Due to its increased transmissibility, within three weeks time, omicron made up nearly 60% of cases in the state. Now we're at almost 100% omicron. This has created a significant increase in the demand for timely and accurate COVID-19 test results."
Since mid-December, the State Hygienic Lab has tested over 133,000 samples for COVID-19. For the week beginning with January 10, SHL staff tested over 30,000 COVID-19 samples, a three-fold increase over the over the week of December 6, before omicron was confirmed in the state. During the omicron surge, the highest daily total of tests received at the lab was 7,024 specimens on January 11.
"SHL staff and our partners have shown remarkable commitment and resilience in the face of this omicron surge, and throughout the COVID-19 pandemic," said Pentella.
The State Hygienic Lab has completed analysis of more than 1.7 million COVID-19 tests since the pandemic began in early 2020. This includes PCR testing of nasopharyngeal swabs, as well as all saliva tests in the State of Iowa's Test Iowa at Home program, antibody tests, and sequencing.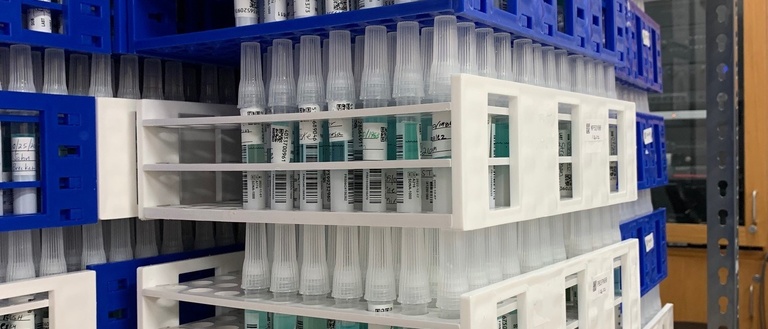 This workload is in addition to all the other SHL testing services that are always available to Iowans in all of the state's 99 counties, including newborn and maternal screening, serology, virology, mycology, bacteriology, mycobacteriology (tuberculosis), parasitology, environmental microbiology, and environmental testing services. To meet the increased testing demands, many of the SHL staff have been cross trained in other areas.
"Our lab is very committed to delivering other routine testing that is integral to the health and safety of Iowans across our state, including water quality, air quality, foodborne illness, other infectious diseases, and newborn screening tests for nearly every baby born in this state," said Pentella. "Since 1966, our lab has helped over 12,000 families by detecting inherited conditions at birth that, if left undetected and untreated, could have devastating health effects. We're not going to let the ball drop on those tests."
Test Iowa at Home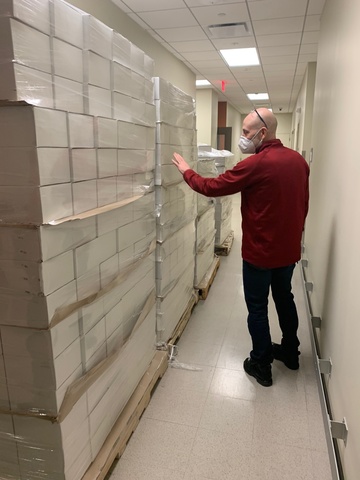 The increase in demand for COVID-19 testing has required more staff, supplies, equipment, and storage space. In addition to the tests coming in, SHL also oversees the assembly of Test Iowa at Home saliva test kits and distribution to the general public. Since the beginning of December 2021, the SHL has shipped out over 448,000 test kits to individuals and pick-up sites across the state. On January 18 alone, Iowans requested over 27,800 test kits.
"Our needs for square footage have increased substantially during the pandemic," said Michael Schueller, associate director of the environmental health division. "At the beginning of the pandemic the supply chains for testing materials were so tight we wondered if we would be able to continue testing. As the supply chains began to flow more freely we accepted all supplies we could get and began to use every square foot of free space we had to hold them."
The Test Iowa at Home saliva kit is assembled using seven different items. SHL has partnered with Iowa Prison Industries to assemble over 600,000 collection kits since September 2021, including a stockpile of 200,000 kits at the beginning of December.
"The Test Iowa at Home program has been resilient from the start and could not be successful without phenomenal partnerships and teamwork across many different organizations," said Mark Pendergast, Test Iowa project manager and SHL quality systems manager.
Rows of supply boxes stacked nearly to the ceiling have spilled out of the official storage rooms to line the corridors and fill the former conference rooms, break spaces, and open seating areas of the building. A former teaching laboratory has been converted to a full-time COVID testing lab.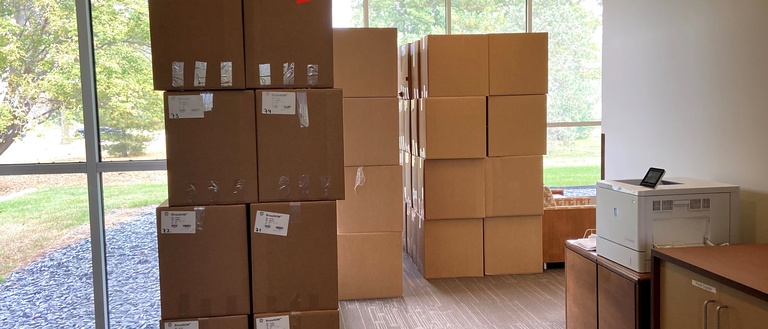 "While our teams have kept pace, the lab needs more space to increase our testing capacity, streamline workflow so we're not moving tests between multiple floors, and be better prepared for future pandemics," said Wade Aldous, associate director of the diagnostic and clinical division at SHL.
A skilled workforce
"Our staffing needs have increased significantly," said Pentella. "In order to keep up, the SHL has hired 298 temporary, part-time, and full-time positions since early 2020. "Many positions have already ended, or will end once numbers stay down or the grants that support the positions end."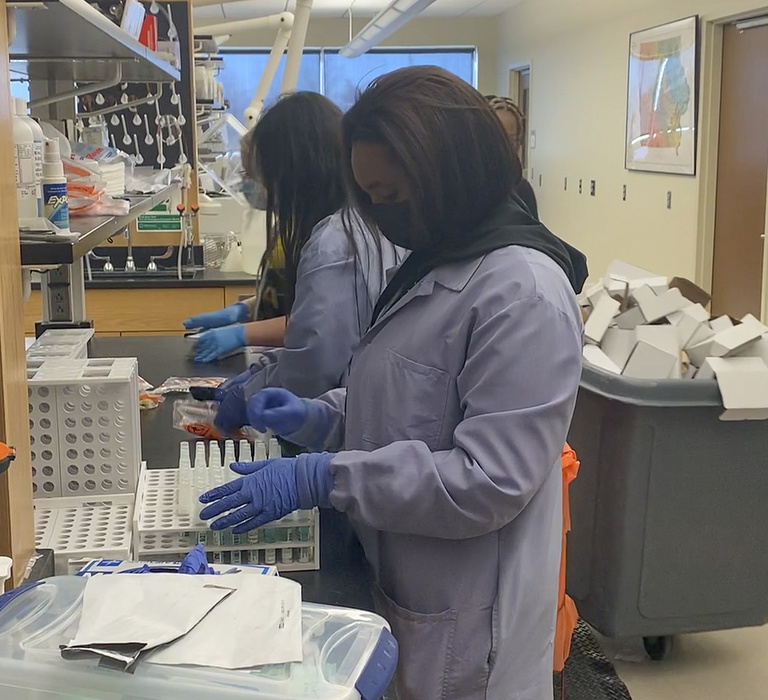 On the busiest days in mid-January, SHL deployed up to 32 staff at a time to the accessioning area of the lab, which receives, sorts, and enters samples into the system when they arrive. "The accessioning area is like the headwaters of a river," said Sherri Marine, manager of laboratory support services. "Once the staff members determine what type of sample we've received, which could be anything from well-water testing to COVID-19, they move it into the appropriate stream for testing." On a typical day before omicron, four staff managed this area.
SHL staff are also available to answer questions directly from the public and healthcare providers via the call center. From December 15 – January 31, SHL staff responded to over 7,800 calls about how to request and complete saliva tests, find results, plan for the holiday rush, and more. This was an average of 165 calls per day, a 400% increase over the first week of December 2021. This direct line of communication with the public is a new service offered during the COVID-19 pandemic.
Behind the scenes, several other teams manage data entry and verification, billing, grants and contracts, and IT. "These individuals are critical to keeping the lab operations up and running, making sure that we have the infrastructure in place to manage our equipment, apply for new sources of funding, report results and track our data," said Pentella.
"Together, our staff have managed the complex and evolving challenges of the COVID-19 pandemic, including the most recent omicron surge, with commitment and resolve, said Pentella. "They have worked extra hours, on weekends and evenings, to make sure that every step of the process is as efficient and accurate as possible, from printing labels, to working through supply chain issues, to answering the public's questions in our call center, to performing tests and reporting results."
In addition to executing over 1.7 million tests as a part of its laboratory function, the SHL has demonstrated leadership in the broader field of public health and laboratory science. SHL scientists and staff produced 42 presentations, 7 publications, and 4 scientific posters in last year alone to disseminate the new knowledge gained in their lab to the general public, other clinical laboratories, governmental agencies, and the next generation of public health professionals.