Thursday, December 15, 2022
A delegation of Iowa legislators, staffers, and state officials visited the University of Iowa campus for an immersive experience with researchers who study aggressive cancer, manufacture pharmaceuticals, test new aircraft systems, and delve into biblical studies.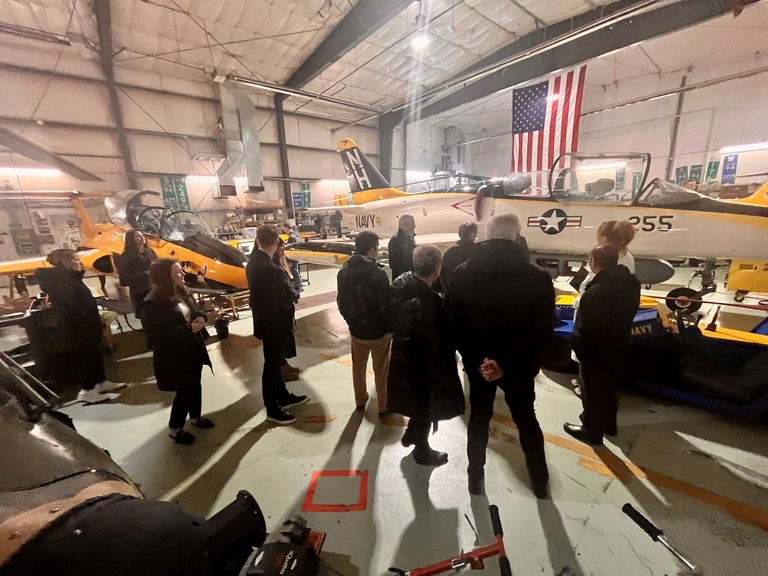 Representatives Martin Graber, Dean Fisher, Representative-elect Matthew Rinker, legislative staffers, and officials from the Iowa Finance Authority and the Iowa Economic Development Authority, joined in the Dec. 13 Legislators in the Lab tour.
The Office of the Vice President for Research hosts the annual event.
In a hangar at the Iowa City Municipal Airport, legislators toured the Operator Performance Laboratory, a world-renowned flight test laboratory that houses sophisticated aircraft emblazoned with Herky the Hawk. OPL researchers specialize in critical airborne testing and simulation research for the civilian and military sectors.
"The OPL is proud showcase our fleet seven manned and four unmanned aircraft, which allow us to conduct research on intelligent autonomous systems as well as human interaction with aircraft systems," said Tom "Mach" Schnell, PhD, Captain Jim "Max" Gross Chair in Engineering, and director of OPL.
"Through contracted projects with federal agencies and industry partners, our unit is 100 percent externally funded, and to date has brought about $31 million of research funding to the UI," said Schnell. The OPL has been in operation for 24 years and has more than 2,800 hours of flight test experience in over 400 projects or project increments.
Earlier in the day, the legislative delegation visited the cancer research laboratory of Rebecca Dodd, PhD, assistant professor of internal medicine, where she collaborates with Varun Monga, MBBS, clinical associate professor of internal medicine in the Carver College of Medicine, to study treatments for a rare cancer called soft-tissue sarcoma. Sarcomas are aggressive cancers that develop in connective tissue such as muscle, nerves, fat, or tendons.
Their collaborative project bridges basic science and clinical research to improve patient care in the clinic.
"These rare cancers have limited treatment options, and may not respond well to chemotherapy," said Monga. "Our project involves using low doses of DNA targeting drugs to make chemotherapy more effective, and hopefully to prolong life in these patients."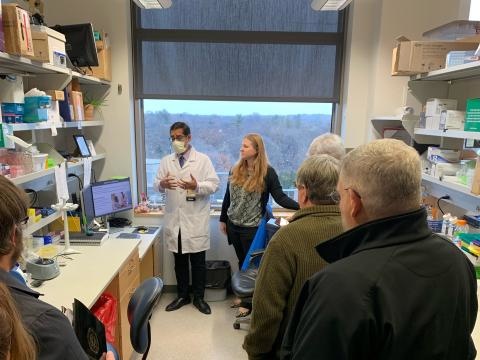 The lab is funded by the National Institutes of Health, Department of Defense, American Cancer Society, and grass roots efforts like the Courage Ride.
While on campus, the delegation also toured the UI Pharmaceuticals, which is the longest running FDA-approved, contract pharmaceutical development and manufacturing facility affiliated with a university in the country.
Led by Dennis Erb, PhD, UI Pharmaceuticals offers manufacturing services for sterile solutions, powders, tablets, capsules, and non-sterile semisolids and liquids.
Biotech companies and researchers contract with the unit to produce test products for clinical studies as well as products for commercial sale. "Our team of highly-skilled experts can work with clients through the life of their project, from developing formulations to manufacturing to analytical testing," Erb said.
"This is the only facility like this in a university anywhere in the world," said Donald Letendre, PharmD, dean of the College of Pharmacy.
Legislators had the opportunity to engage with archaeologist and biblical expert Robert Cargill, PhD, associate professor of classics in the College of Liberal Arts and Sciences. Cargill's research program focuses on Second Temple Jewish literature and archaeology from the Persian period to the rise of early Christianity.
Cargill, a digital humanities scholar, demonstrates how modern technology can enrich biblical study. He creates digital reconstructions of archaeological remains in the Holy Land, like those at Qumran, the site associated with the discovery of the Dead Sea Scrolls.
"In addition to publishing peer-reviewed research monographs, I also publish popular volumes accessible to public and non-specialists," Cargill said.
He makes regular television appearances on networks such as the History Channel, CNN, and NatGeo and serves as the editor of the Bible & Archaeology website.
Over lunch, the following undergraduate student researchers presented to guests:
Noah Gilkes, a fourth-year student majoring in neuroscience and philosophy from Robins, Iowa, who studies traumatic brain injury.
Andrew Behrens, a fourth-year biomedical engineering major from Polk City, Iowa, blends his interests in engineering and medicine by working in a orthopedics laboratory.
Regan Day, a third-year, triple-major in marketing, business analytics & information systems, and political science from West Des Moines, Iowa, who examines civil war negotiations around the globe.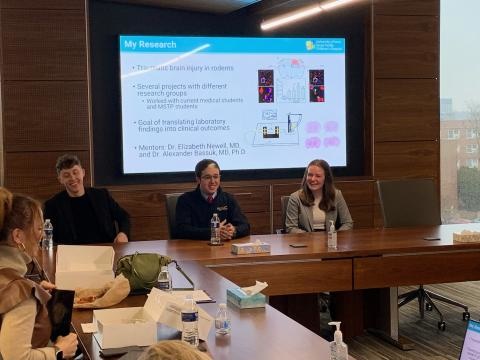 "One in four undergraduates at the University of Iowa participates in research before they graduate," said Bob Kirby, PhD, director of the Iowa Center for Research by Undergraduates. "By working closely with a faculty mentor on a research project – or on multiple research projects over the course of their degree – students are able to apply what they are learning in the classroom, and develop critical skills that they can apply immediately in their careers or in the pursuit of an advanced degree."
The Office of the Vice President for Research is committed to forging new frontiers of discovery by providing resources and support to researchers and innovators at the University of Iowa, to promote a culture of creativity that enriches the campus, the state, and the world. Learn more at research.uiowa.edu.