UI Research Council Charter Committee welcomes community engagement as national research funding receives a significant boost!
Wednesday, January 25, 2023
Hello from the Research Council! I am writing this quarterly update in the spirit of improving the presence of the  Research Council within the UI research enterprise that includes representatives from faculty, student, and staff researchers as well as research administrators. I believe that Research Council is an important unit at a R1 major research institution and am honored to be appointed to serve as the council chair for the next few years. I hope to make the council an active and impactful entity within the university's research community during and beyond my tenure as the council chair.
I'll start by sharing some updates from the council. We have reinstated monthly meetings that are supported by the OVPR's officers, including Marty Scholtz (VPR), and Ali Salem and Kristy Nabhan-Warren (Associate VPRs). We are also fortunate to have excellent administrative support from Mike Weaver and Lauren Galliart, who support coordinating the monthly meetings, among other important support activities. I am encouraged to have the presence of over 90% of the council members at these monthly meetings since we started them in September of 2022.
Who are the council members? They include engaged research community citizens from six colleges and several support units, including faculty representatives: Fatima Toor [Chair] (CoE), Yasar Onel (CLAS), Anny Curtius (CLAS), Paul Dilley (CLAS), Amanda Haes (CLAS), David Drake (Dentistry), Ariel Aloe (CoEd), Anthony Panos (CCOM), Natalie Denburg (CCOM), Jason Rantanen (Law), and Constance Berman (Emeritus-CLAS); postdoctoral staff representative: Kailey Cash (CCOM); student representatives: Jenna Yang (UGrad, CLAS), Joshua Carrizales (Grad, CoE); staff representatives: Rebecca Taugher (CCOM), Sai Ramadugu (ITS), Queena Lin (Neuroscience Inst.), Mihaela Bojin (UIRF); and ex-officio: Bob Kirby (ICRU). We all agree with the notion that we are not only representatives from our home colleges or units, but also the research community as a whole. Feel free to reach out to any of us with your ideas and concerns around research policies and procedures that may impact your research activities.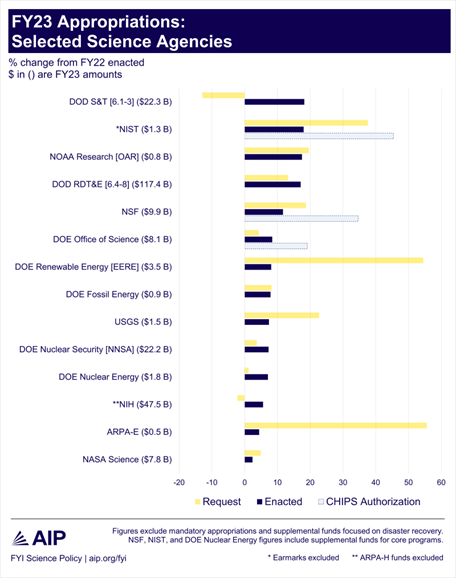 Now let me wrap up this quarter's update with positive news for the UI research community. In December 2022, the President of the United States signed the FY23 omnibus appropriations bill, which outlined FY23 funding for research and higher education. NSF's total budget is rising 12% to $9.88 billion, DOD's portfolio of Research, Development, Test, and Evaluation (RDT&E) programs is surging 17% to $139 billion, NASA's budget is increasing 6% to $25.4 billion, Department of Energy Office of Science is increasing 8% to $8.1 billion, and NIH's base budget is increasing 6% to $47.5 billion, excluding funding for the new Advanced Research Projects Agency for Health to which Congress appropriated $1.5 billion, a 50% increase over its inaugural budget, through an account external to NIH. For more on this news, please visit the AAU and APLU websites.
With this piece of good news, I wish the UI research community much success in their research grant/contract proposal submissions and hope that they are able to take advantage of a favorable time for winning federal research funding dollars.