The anti-plagiarism tool helps researchers proactively check their work for originality
Until now, the University of Iowa research community hasn't had access to a one-stop-shop to screen scholarly work for originality and proper citations before submission.  
Starting March 22, the University of Iowa has a new license for iThenticate. This easy-to-use tool is designed for researchers and scholars to check their original works for any instances of potential plagiarism before the submission of manuscripts, dissertations, journal articles, grant proposals, and other forms of research and scholarly work. It is now available for free to the UI research community.
With iThenticate, users can check their document against an expansive database of 140 million major periodicals and books, 89 million works from top publishers, 99 billion webpages, and 975,000 thesis and dissertations.
iThenticate is also used by federal agencies, such as the National Science Foundation and Centers for Disease Control and Prevention, to check submitted grant proposals for instances of plagiarism.
"This allows authors to proactively remediate any potential plagiarism, including self-plagiarism," said Mike Andrews, research integrity officer in the Office of the Vice President for Research. "Plagiarism of research and scholarly work, even if inadvertently, is a form of research misconduct and can potentially taint an individual's reputation and undermine the credibility of research and scholarship with the general public."
The UI obtained this license, which is offered by the same company that operates the coursework checking tool Turnitin, in direct response to requests of researchers. The license is co-sponsored by the Office of the Vice President for Research, Office of the Executive Vice President and Provost, and Carver College of Medicine, in partnership with Information Technology Services Office of Teaching, Learning and Technology.
Appropriate use of iThenticate
iThenticate is intended for use by faculty, research staff, postdocs, and graduate students to check for originality of academic publications, theses, dissertations, grant applications, and other research and scholarly work, prior to submission.
It is not intended to check classroom work. The university also has a license for Turnitin, which is an automatic plagiarism detection service for checking coursework. Learn more about using Turnitin.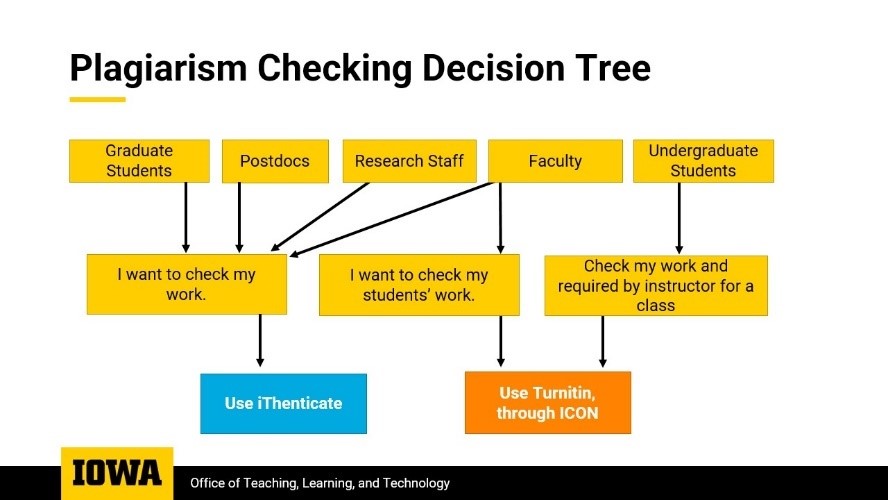 The university has a limited number of user accounts and document uploads for iThenticate. Inappropriate use of iThenticate could result in suspension of access.
Privacy
iThenticate is a proactive, anti-plagiarism tool to assess for originality prior to submission. It is solely for the benefit of those who use it.
Submissions are added to a private, secure database that is only accessible to you. Your results will not be reported to the university, and are not searchable from any other account, nor used by any other Turnitin service.
Getting Started
iThenticate is available to UI faculty, research staff, postdocs, and graduate students. To request an account, submit a request via Workflow. The University of Iowa's current license allows for up to 500 users or 4,500 documents reviewed. The license agreement will be reviewed periodically to determine if the university needs to update the license to add more users or documents.
iThenticate offers step-by-step instructions for submitting documents and understanding similarity reports. Visit the iThenticate FAQ page and the iThenticate video guide demo to learn more.
For further assistance, contact the ITS Help Desk: its-helpdesk@uiowa.edu
Plagiarism resources
iThenticate resource page by the Office of Teaching, Learning, and Technology
UI Policy on Ethics in Research
Avoiding Plagiarism, Self-plagiarism, and Other Questionable Writing Practices: A Guide to Ethical Writing, a guide from the HHS Office of Research Integrity
Responsible Conduct of Research training
Citation help from the UI Libraries
Turnitin, an automatic plagiarism detection service for checking coursework