Wednesday, November 18, 2015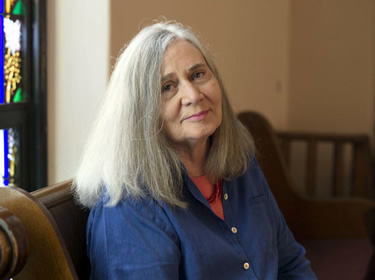 Renowned author Marilynne Robinson will deliver a lecture at the Englert Theatre on Wednesday, Dec. 9, as part of the Creative Matters lecture series sponsored by the University of Iowa Office of Research and Economic Development.
Robinson is a creative writing professor in the Iowa Writers' Workshop and the recipient of a National Humanities Medal, awarded by President Barack Obama, for "her grace and intelligence in writing." She is the author of Lila, the winner of the National Book Critics Circle Award for fiction, Gilead, winner of the 2005 Pulitzer Prize for Fiction and the National Book Critics Circle Award, and Home, winner of the Orange Prize and the Los Angeles Times Book Prize.
Robinson is also an essayist, and her nonfiction books include When I Was a Child I Read Books, Absence of Mind, The Death of Adam, and Mother Country.
Her talk, titled "The American Scholar Now," was first delivered at Stanford University's 2015 Presidential Lecture in the Arts and Humanities, examining the changing landscape of higher education and calling for an educational culture preparing students for citizenship and democracy, rather than turning solely toward utilitarian training.
The event is free and open to the public. Please RSVP to attend at https://creativematters.research.uiowa.edu/. Seating is available on a first-come, first-served basis.
The Creative Matters lecture series seeks to demonstrate that creativity is not only at the core of all research and discovery, but is also central to our human experience. The lineup of invited speakers includes artists, thinkers, builders, and doers who challenge conventional thinking about creativity, science, and artistic expression, borrowing from a range of influences and disciplines in their work.
The Office of the Vice President for Research and Economic Development provides resources and support to researchers and scholars at the University of Iowa and to businesses across Iowa with the goal of forging new frontiers of discovery and innovation and promoting a culture of creativity that benefits the campus, the state, and the world. More at http://research.uiowa.edu, and on Twitter: @DaretoDiscover.