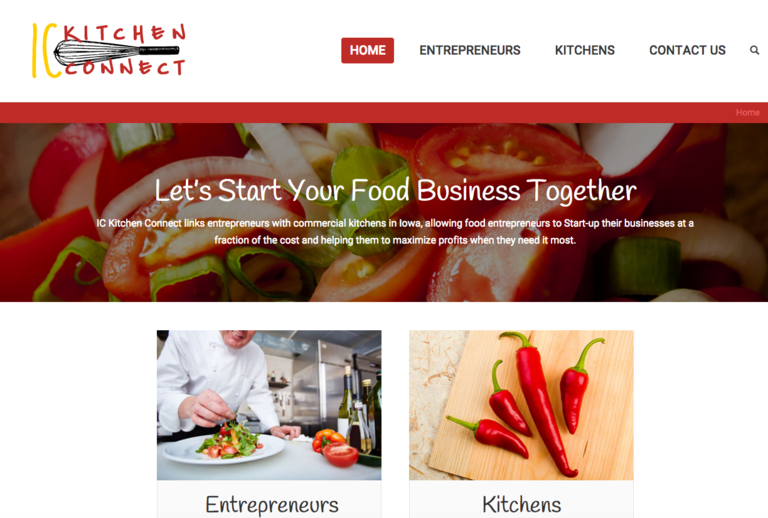 UI Partners, part of the University of Iowa Office of Research and Economic Development, recently launched a new website for IC Kitchen Connect, a toolkit for connecting food entrepreneurs and shared-use kitchen facilities in the area.
"The directors of IC Kitchen Connect came to UI Partners looking for a simple website," said Adam Engel, UI Partners' Director of IT Operations. "We were able to evaluate the business goals and provide a solution that surpassed their original request and streamlined the business process."
IC Kitchen Connect provides information and sample documents to food entrepreneurs and commercial kitchens in order to boost the number of local food businesses in the area.
"UI Partners was able to design a framework for us to import our content," said IC Kitchen Connect founder Jason Grimm. UI Partners also helped choose appropriate widgets to improve users' experience on the website.
For entrepreneurs, IC Kitchen Connect has information on insurance, licensing, food safety, labeling, pricing, market research, and other business resources. It also lists shared-use kitchens in the area, allowing users to search based on location and available equipment.
So far, there are two shared-use kitchens making use of IC Kitchen Connect—the 1105 Project Kitchen, owned by the Johnson County Crisis Center, and the Hillel House owned by the University of Iowa Louis Shulman Hillel Foundation.
Users can easily add their kitchen to the site's kitchen directory to increase visibility. For those looking to start a shared-use kitchen, the site offers sample documents, such as kitchen rental applications, scheduling and facility use policies, sanitation and cleaning procedures, user checklists, and more.
"We want IC Kitchen Connect to be a virtual hub between kitchens and entrepreneurs starting their businesses," Grimm said. "Our goal is that IC Kitchen Connect becomes a resource that fellow entrepreneurs direct their peers to, business service organizations direct clients to, and the Iowa Department of Inspections and Appeals uses as a resource as individuals ask questions while starting their business."
The Office of the Vice President for Research and Economic Development provides resources and support to researchers and scholars at the University of Iowa and to businesses across Iowa with the goal of forging new frontiers of discovery and innovation and promoting a culture of creativity that benefits the campus, the state, and the world. More at http://research.uiowa.edu, and on Twitter: @DaretoDiscover.