Wednesday, December 2, 2015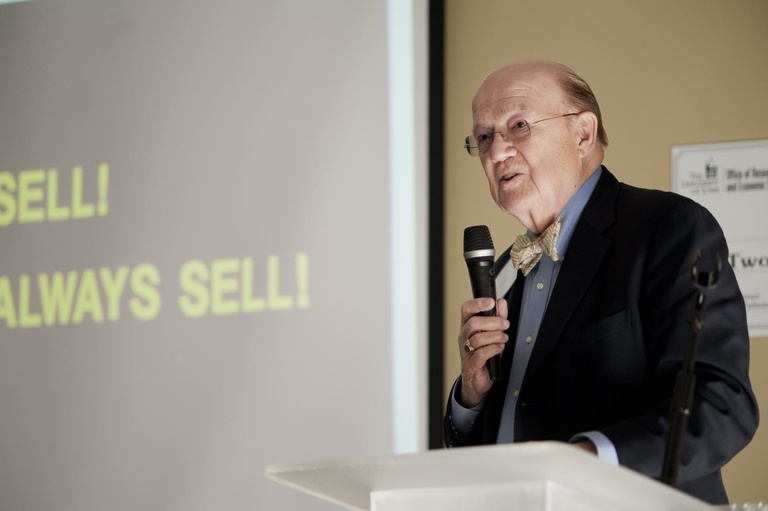 UI Ventures hosted Manny Villafaña as the keynote speaker for the Iowa Connect Medical Technology Symposium last month at hotelVetro in downtown Iowa City. A sold-out crowd turned up for the half-day event, which provided education and networking opportunities for medical technology-based startups in the area.
​Villafaña, founder of St. Jude Medical, ATS Medical, CPI/Guidant Corps, and most recently Kips Bay Medical, has more than 50 years of experience in the medical device industry. His most notable contributions to the cardiovascular field include the first bi-leaflet heart valve and the first lithium pacemaker. Villafaña's technology has impacted millions of lives around the world. 
"UI Ventures is very fortunate to have someone like Manny talk with our startup community," said Jordan Kauffman, UI Ventures' Director of Startups. "He has incredible insight, especially into medical device companies, and has seen both great success and failure. It is encouraging to see someone of his caliber go back to bat after a disappointing outcome. We can all learn from his perseverance."
Over the course of his career, Villafaña has received numerous awards and honors for his accomplishments, including the "Living Legend of Medicine" award from the World Society of Cardiothoracic Surgeons, the Ellis Island Medal of Honor, a Grand Prize from the Mediterranean Institute of Cardiology, and many more.
Villafaña's talk addressed the successes and challenges of a med tech startup.
Kent Lee, of Inspire Med Systems, who attended the event and spoke at a round-table discussion on "Navigating the Regulatory Process," started his own career at CPI/Guidant, where he frequently heard about Villafaña.
"To actually meet him in person and hear his perspective on his experience and the industry was a fantastic opportunity," Lee said. "I hope the others in the audience realized how influential he was in starting the whole cardiac pacemaker, interventional cardiology ecosystem in the Twin Cities area."
Villafaña's talk was followed by a panel discussion on strategies for high tech startups in low profile geographies and round table discussions on issues such as finding public funding, commercialization strategies, and strategies for protecting intellectual property.
A pitch competition concluded the symposium, with six companies taking part, including Advanced Silicon Group, iotaMotion, iTracking Diagnostics, SantosHuman, Synder Bio, and Immortagen. iotaMotion won the first-place prize of $2,000 for its cochlear implant accessory to improve hearing quality.
UI Ventures, part of the UI Office of Research and Economic Development (OVPR&ED), assists University of Iowa faculty and staff inventors in creating new ventures based on their research. They provide education and mentoring to advance entrepreneurs and emerging growth companies by linking them with the capital, talent and other critical resources they need for success. 
OVPR&ED provides resources and support to researchers and scholars at the University of Iowa and to businesses across Iowa with the goal of forging new frontiers of discovery and innovation and promoting a culture of creativity that benefits the campus, the state, and the world. More at http://research.uiowa.edu, and on Twitter: @DaretoDiscover.