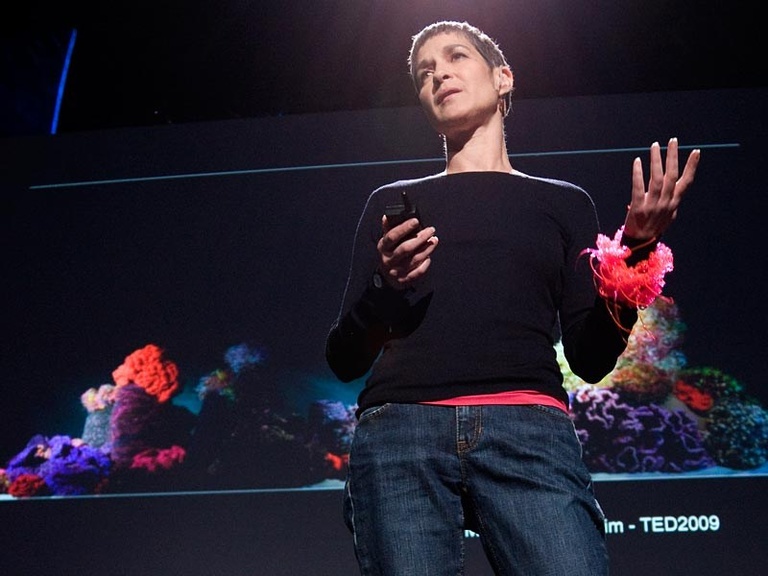 The University of Iowa Office of Research and Economic Development will host a lecture on "The Poetic Enchantments of Science" by Margaret Wertheim, internationally noted science writer and exhibition curator, at 5:30 p.m. on Feb. 11 as part of the Creative Matters lectures series in collaboration with the UI Arts Advancement Committee.
Wertheim is the founder and director of the Institute For Figuring (IFF), a Los Angeles-based institution for exploring creative engagements with topics ranging from geometry and topology, to physics, computation, and biological form. The IFF is a new kind of "play tank," structured around the belief that abstract ideas can often be embodied in physical practices, engaging audiences with kindergarten-like activities such as paper folding and crochet. By inviting audiences to play with ideas, the IFF offers a radical approach to science and mathematics that is at once intellectually rigorous and aesthetically aware.
The IFF's Crochet Coral Reef project, spearheaded by Wertheim and her sister, is now the largest participatory science-and-art endeavor in the world. The Crochet Coral Reef offers a window into the foundations of mathematics while simultaneously addressing the issue of oceanic degradation resulting from global warming. The exhibit has been shown at the Andy Warhol Museum in Pittsburgh, the Science Gallery in Dublin, New York University Abu Dhabi in the United Arab Emirates, and elsewhere.
Wertheim is the author of six books, including The Pearly Gates of Cyberspace, a groundbreaking exploration of the history of Western concepts of space from Dante to the Internet. She has also written for the New York Times, Los Angeles Times, The Guardian, and many other publications.
During her visit, Wertheim will meet with educators, engineers, and artists across campus and in the community.
The lecture is free and open to the public. Please RSVP to attend at https://creativematters.research.uiowa.edu/. Seating is available on a first-come, first-served basis.
The Creative Matters lecture series seeks to demonstrate that creativity is not only at the core of all research and discovery, but is also central to our human experience. The lineup of invited speakers includes artists, thinkers, builders, and doers who challenge conventional thinking about creativity, science, and artistic expression, borrowing from a range of influences and disciplines in their work.
The Office of the Vice President for Research and Economic Development provides resources and support to researchers and scholars at the University of Iowa and to businesses across Iowa with the goal of forging new frontiers of discovery and innovation and promoting a culture of creativity that benefits the campus, the state, and the world. More at http://research.uiowa.edu, and on Twitter: @DaretoDiscover.