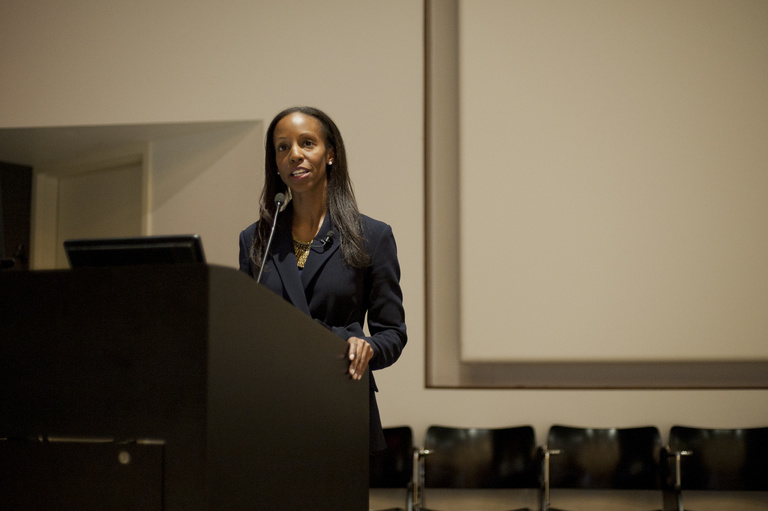 For the final Creative Matters event of the 2015-2016 academic year, author Sarah Lewis delivered a talk dedicated to the memory of her grandfather, Shadrach Emmanuel Lee.
In the eleventh grade in 1926, Lee was expelled from his public high school in New York City after asking where the African Americans were in the history books. When the teacher told him that African Americans had done nothing to merit inclusion, he refused to take this answer as fact, and he never returned to high school. Instead, Lee became a jazz musician and a painter, inserting African Americans into genre scenes where he knew they did, in fact, exist.
Lewis, a professor in the History of Art and Architecture and African and African American Studies Departments at Harvard University, is the author of The Rise, a book she wrote alongside her dissertation as a new understanding of what enables creative endeavors, arguing that from Nobel Prize-winning discoveries to new inventions and works of art, many creative triumphs are not achievements but rather conversions—corrections after failed attempts. What many refer to as failure, Lewis would more accurately assess as a necessary step on the road to mastery.
For the past 18 months, Lewis has given talks on the gift of failure for creating iconic works. However, for this event, she turned her attention to the question of why creativity is so important and made the case that creative works exist not merely to honor individual expression but also to foster global citizenship.
Lewis drew upon a speech given by Frederick Douglass in the midst of the Civil War titled "Pictures and Progress," in which Douglass spoke about the transformative power of images to affect a new vision of the nation. He said the "key to the great mystery of life and progress" was the ability of men and women to fashion a mental or material picture and let his or her entire world, sentiments, and vision of every other living thing be affected by it. Lewis would agree.
"Art is one of the few technologies we have that allows us to shift intractable perceptions about those who we consider to be unlike ourselves," she said.
Lewis also acknowledged a possible roadblock to progress in our digital age, which is the saturation of images available through the internet and social media. Today, the power of images is so self-evident and common, it is easily dismissed. The wide dissemination of images of injustice may even be desensitizing us, creating something similar to the bystander effect. The presence of a crowd gives individuals the sense that someone, somewhere must already be doing something to help.
Yet, Lewis called on the audience to remember the power of stillness and focus on a single image. In London in 1789, the intolerable image conjured by an abolitionist print and description of a slave ship served as evidentiary proof of slavery's inhumanity, dealing the final blow to the legalization of the slave trade.
Similarly, many Americans traveled to Selma, Ala., during the Civil Rights Movement because they were moved by the images of injustice displayed on their television.
According to Lewis, images of injustice remain as important today in our increasingly polarized climate, where most people live, work, and play with others like themselves.
"What we lose when we underestimate the power of the aesthetic act is the avenue to see up and out of our collective failures we didn't even know we had," Lewis said.
These ideas are the subject of Lewis's second book, which she is now in the process of writing. It has become a personal commitment for her to honor artists, writers, playwrights, and filmmakers, like her grandfather, who see the connection between art and citizenship.
"The endeavor to affirm the dignity of human life cannot be waged without pictures, without the arts, without representational justice," Lewis said.
Lewis's full talk is available below:
The Creative Matters lecture series seeks to demonstrate that creativity is not only at the core of all research and discovery but is also central to our human experience. The lineup of invited speakers includes artists, thinkers, builders, and doers who challenge conventional thinking about creativity, science, and artistic expression, borrowing from a range of influences and disciplines in their work.
The Office of the Vice President for Research and Economic Development provides resources and support to researchers and scholars at the University of Iowa and to businesses across Iowa with the goal of forging new frontiers of discovery and innovation and promoting a culture of creativity that benefits the campus, the state, and the world. More at http://research.uiowa.edu, and on Twitter: @DaretoDiscover.