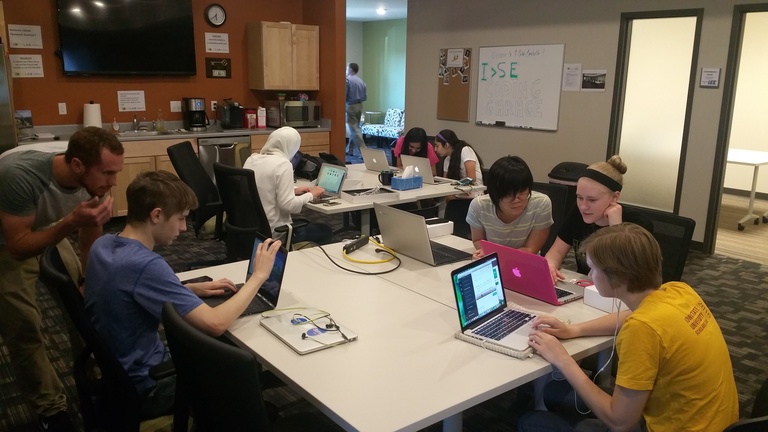 By the time they enter high school, 51 percent of all students bring a smartphone to school every day—engaging in social media, texting, and using apps for fun and, occasionally, education. So it's little surprise that some of those students would develop an interest in creating their own mobile apps.
Thanks to a partnership between Coralville-based Innovative Software Engineering (ISE) and the University of Iowa Dev/Iowa program, more than 20 students are spending the summer doing just that.
Now in its second year, the Coding Garage kicked off June 15 and runs through Aug. 10, when final projects will be presented. This year's event drew 21 students (six of them girls), up from just four participants total last year.
At a special event 5 p.m. Aug. 19 in the Coralville CoLab, 2852 Coral Court in Coralville, awards will be given to the top app developers.
ISE developed the program to encourage students to consider tech careers.
Working with ISE's interns, including a UI undergraduate student, students are taken step by step through the process of creating an Android mobile app. Students take an online development class during the first four weeks of the program and then spend the next four weeks developing their own apps.
"The Wednesday meetings are to assist with issues the students are having or answer any questions," said ISE's Daniela Williams, who manages the program.  "We also have activities each night to keep them engaged and to get them started thinking of what app they will create for the judging."
ISE founder and CEO Hass Machlab came up with the idea of the ISE Coding Garage as a way to "prime the pump" of STEM students, who are needed by regional tech companies as interns and—eventually—employees.
"The ISE Coding Garage students are part of our future and this experience gives them a glimpse of what is available in our community from high tech companies like ISE to coworking spaces like the Coralville Colab, to the great resource that is the University of Iowa," Machlab said. "The ISE Coding Garage gives students the opportunity to creatively convert the programming they learn in the classroom to actual Android Apps in a fun, creative, and collaborative environment. Of course the final competition for Best Apps help build excitement."
Machlab added, "The interaction with the ISE Interns has benefited all involved. Not only do the students get to comfortably exchange ideas with our interns, but our Interns have an opportunity to build on their leadership skills. All in all, my hope is to continue to contribute to building our community's technical capabilities and talents."
The UI Office of the Vice President for Research and Economic Development provided financial support and equipment, including Google Cardboard sets (which can be used to view virtual reality content on Android phones), use of laptops and phones during the summer, pizza, cash prizes, and shirts for students and volunteers. Dev/Iowa is also providing one of its paid student interns to help on Wednesday nights.  
"Every student in Iowa should have the opportunity to learn to code," said David Conrad, UI Assistant Vice President for Economic Development. "However, many junior high school students, particularly girls, lose interest in computer science because of social pressures, as well as lack exposure and access. The Coding Garage is a welcoming space where diverse students can work together to build apps of their own design. It's fun, creative and empowering."
The Office of the Vice President for Research and Economic Development provides resources and support to researchers and scholars at the University of Iowa and to businesses across Iowa with the goal of forging new frontiers of discovery and innovation and promoting a culture of creativity that benefits the campus, the state, and the world. More at http://research.uiowa.edu, and on Twitter: @DaretoDiscover.