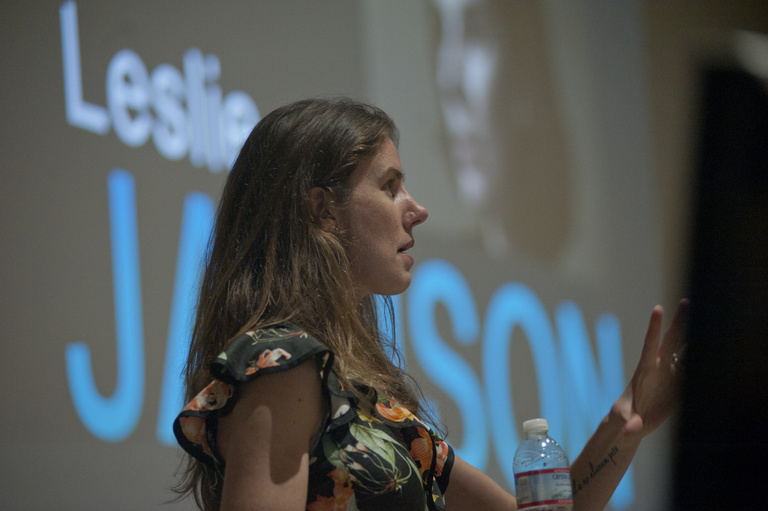 There is an assumption, said author Leslie Jamison, that art is apart.
"I insist it is a part of," she said.
At the third Creative Matters lecture on Oct. 6, Jamison described her move from fiction writing into a niche role as artist ethnographer. At the center is her struggle with how to stay true to her craft when narrating the lives of others while not abusing and betraying her subjects.  
"I knew I couldn't write with integrity if I wrote to please everyone I wrote about," said Jamison, a 2006 graduate of the Iowa Writers' Workshop. "But I also knew I wanted to find a way to write about people that felt guided by the spirit of appreciation and empathy."
Jamison said she has long been drawn to writers and reporters who felt deeply obligated to the people they reported. Her recent body of work including her book of essays, The Empathy Exams, is largely about finding those on the extreme margins of society and telling their stories in such a way as to drag them a little closer to a reader's sympathy and understanding.
However she struggles with what obligation she has to her subjects particularly in situations where she just can't see something from their perspective. This came to a head in an essay she wrote on a community of people suffering from Morgellons disease, a skin disorder where patients believe their skin is infested with bugs or fibers.
"I felt increasingly I didn't agree," said Jamison. "Compassion is not the same thing as belief. I wanted to be a different kind of listener. But wanting to be different doesn't make it so."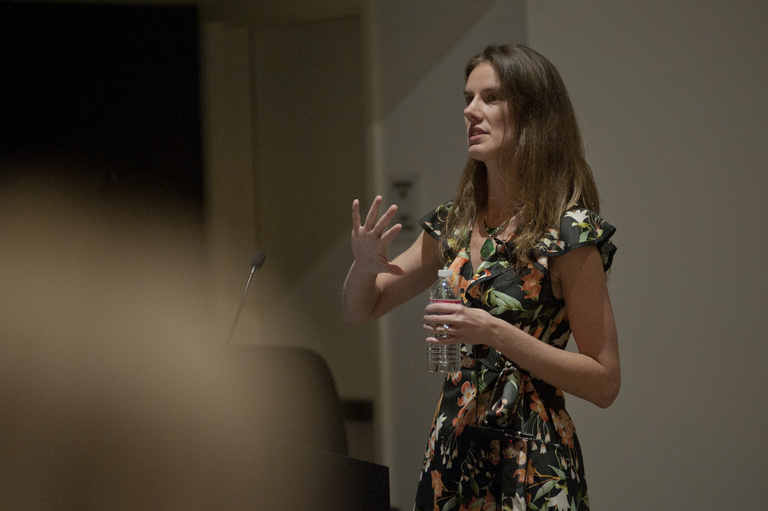 As she wrestled with what constituted betrayal of her subjects, Jamison came to the conclusion her obligation is to be honest with the people she was working with and to offer up more than a one-dimensional portrait of them.
"I don't owe them the story they would have told about themselves," said Jamison. "I don't owe them perfection on the page. But I owe them clarity around the terms of our relationship and the terms of my telling. I owe them most importantly the dignity of complexity on the page. I owe them the chance to contradict themselves. The chance to be more than evidence supporting a thesis statement I've devised for them to serve."
By reporting on her own response to her subjects in her writing, Jamison places herself in the story in a way that can seem foreign. What at first blush could feel a bit like narcissism, Jamison suggests it is rather an acknowledgment of how her point of view affects the framing of the story and thus produces a telling that is truer and more nuanced.
Pursuing a question, Jamison said, often requires a writer to assume multiple roles such as reporter, critic and historian. While it's been suggested that adding criticism to reporting is like a burglar pontificating about the ethics of stealing while breaking into a house, "I'm interested in the ways that discussing the burglary while it's still going on can actually humanize a piece, can Illuminate the human reporter at its center; a living breathing person, relating [to] the living breathing people she is interviewing."
In the Q&A after the lecture, Jamison and the audience had a lively discussion about the craft of interviewing a subject, how her experiences will inform future projects and, finally, how to handle the writing of a shared personal experience when the other person rejects a vital part of the retelling. Jamison recounted experiences where, in the discussions she had with the other party, she found that her version of the truth was often complicated by the other person's perspective, and ultimately their back and forth over a draft ultimately added to the complexity and subtly of the retelling.
"[There are] ways in which that negotiation process hasn't just played out as a compromise of the creative process," Jamison said, "but has really deepened and complicated pieces that have made if feel much richer and more nuanced."
To watch the full lecture, please visit https://www.youtube.com/watch?v=d-mmfxryqfM&feature=youtu.be
For a full listing of other events in the 2016-17 Creative Matters lecture series, please visit https://creativematters.research.uiowa.edu/.
The Creative Matters lecture series seeks to demonstrate that creativity is not only at the core of all research and discovery, but is also central to our human experience. The lineup of invited speakers includes artists, thinkers, builders, and doers who challenge conventional thinking about creativity, science, and artistic expression, borrowing from a range of influences and disciplines in their work.
The Office of the Vice President for Research and Economic Development provides resources and support to researchers and scholars at the University of Iowa and to businesses across Iowa with the goal of forging new frontiers of discovery and innovation and promoting a culture of creativity that benefits the campus, the state, and the world. More at http://research.uiowa.edu, and on Twitter: @DaretoDiscover.