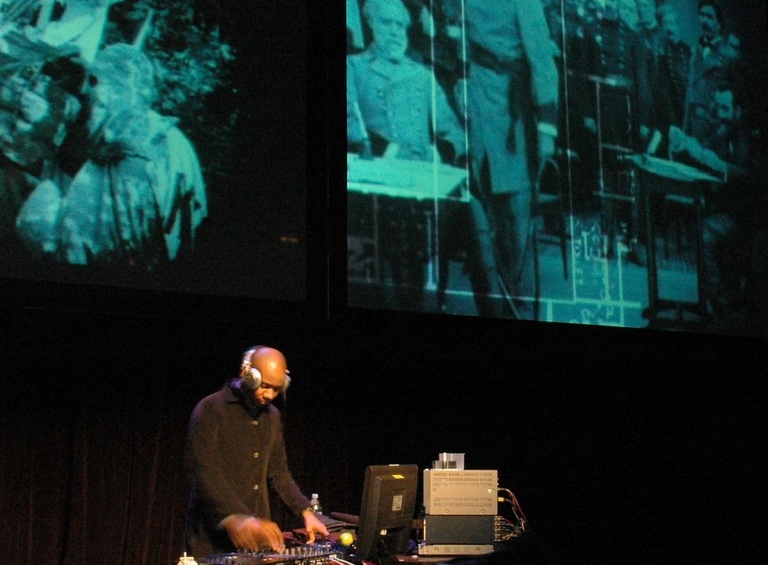 Paul D. Miller (aka DJ Spooky) composer, multimedia artist, editor and author will give a lecture/demonstration exploring how technology has shaped creativity throughout history and continues to guide how we actualize the future, 5:30 p.m., Wednesday, Oct. 12 in the UI Art Building West.
His talk is part of the Creative Matters lecture series sponsored by the UI Office of Research and Economic Development in collaboration with the UI Arts Advancement Committee.
Those familiar with the UI's great scientific achievements in space—highlighted currently at the UI Old Capitol Museum's Hawkeyes in Space exhibit—will be able to enjoy an original electronic score by Miller titled EXPLORER I REMIX, which will premiere at the UI in spring 2017. The score has been commissioned by the UI and incorporates newly restored audio and visual data from the historic 1958 satellite mission that led to the discovery of the earth's radiation belts by the late UI physicist James Van Allen.
The event is free and open to the public. Seating is available on a first-come, first-served basis. To RSVP visit https://creativematters.research.uiowa.edu/.
The Creative Matters lecture series seeks to demonstrate that creativity is not only at the core of all research and discovery, but is also central to our human experience. The lineup of invited speakers includes artists, thinkers, builders, and doers who challenge conventional thinking about creativity, science, and artistic expression, borrowing from a range of influences and disciplines in their work.
The Office of the Vice President for Research and Economic Development provides resources and support to researchers and scholars at the University of Iowa and to businesses across Iowa with the goal of forging new frontiers of discovery and innovation and promoting a culture of creativity that benefits the campus, the state, and the world. More at http://research.uiowa.edu, and on Twitter: @DaretoDiscover.