Thursday, November 17, 2016
Recrafting the iconic ballet The Nutcracker for one of the most renowned ballet companies in the country is no small feat.
The creative team reimagining the Christmas classic will join members of the Joffrey Ballet to discuss the process at 5:30p.m., Nov. 28 at Hancher Auditorium. The event is co-sponsored by the Creative Matters lecture series.
The panel discussion is free and open to the public. Tickets are not required to attend.
Hancher and the University of Iowa are producing sponsors of The Nutcracker and will present preview performances of the ballet Dec. 1-4 ahead of the world premiere performance in Chicago on Dec. 10.
The panel discussion will include Christopher Wheeldon, one of the most sought-after choreographers working today. Award-winning scenic designer Julian Crouch will also be on the panel, as will Joffrey Ballet Artistic Director Ashley Wheater and Joffrey dancer April Daly.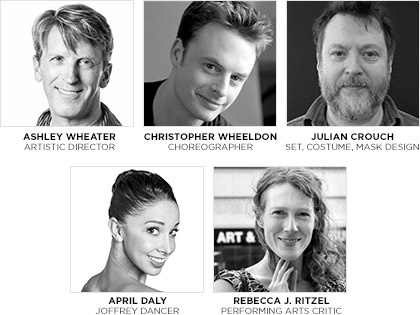 The panel will be moderated by Rebecca J. Ritzel who recently joined the Minneapolis Star Tribune staff as a performing arts critic and reporter. Prior to arriving in Minneapolis, she spent eight years as a freelance dance critic for The Washington Post.
Hancher and the Joffrey Ballet have enjoyed a long collaborative relationship dating back to the ballet company's first Hancher appearance in 1974 and including a series of major commissions and special projects.
Individuals with disabilities are encouraged to attend all University of Iowa-sponsored events. If you are a person with a disability who requires a reasonable accommodation in order to participate in this program, please contact the Hancher Box Office in advance at 319-335-1158.
The Creative Matters lecture series seeks to demonstrate that creativity is not only at the core of all research and discovery, but is also central to our human experience. The lineup of invited speakers includes artists, thinkers, builders, and doers who challenge conventional thinking about creativity, science, and artistic expression, borrowing from a range of influences and disciplines in their work.
For a full listing of other events in the 2016-17 Creative Matters lecture series, please visit https://creativematters.research.uiowa.edu/.