Wednesday, November 16, 2016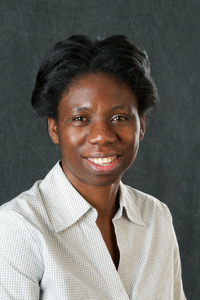 Honored for her cutting-edge research fighting breast cancer and HIV, Chioma Okeoma, Assistant Professor of Microbiology, University of Iowa Carver College of Medicine, won the 2016 Research Innovation and Leadership Award at The Technology Association of Iowa's 9
th
annual Des Moines Area Community College Iowa Women of Innovation Awards Nov. 9.
The awards recognize and celebrate Iowa women in business, government or academia who are leaders in the fields of science, technology, engineering, and math (STEM). The 2016 finalists in the Research Innovation and Leadership category included women from the University of Iowa, Iowa State University, and Rockwell Collins.
"Iowa women in STEM fields are making incredible contributions in their communities, in Iowa and around the world," said Okeoma. "This award is such an honor."
Okeoma leads a team at the UI committed to research that extends the limits of our understanding of host restriction factors, and the unraveling of the antiviral and protumor functions of the gene BST-2. Her research has profound implications for understanding breast cancer growth and metastasis. Okeoma's team has identified an anti-adhesive agent that prevents breast tumor growth and is patented by the UI Research Foundation. Okeoma's UI Ventures-supported startup company, ResTrictOmics, is pursuing de-risking and commercialization of this invention and is located at the UI Research Park.
The Technology Association of Iowa is a professional organization that works to accelerate the success of Iowa's technology industry and tech-based economy. Its members include organizations involved in technology creation, production, application and education in Iowa. More at https://www.technologyiowa.org/
The University of Iowa Research Foundation (UIRF) is a 501C3 corporation that commercializes UI-developed technologies and inventions through licensing and new venture formation, and manages the subsequent revenue stream. The UIRF's primary functions include identifying and developing new ventures, finding partners for commercializing and intellectual property services. More at https://research.uiowa.edu/uirf/
UI Ventures, part of the UI Office of the Vice President for Research and Economic Development, assists university inventors in creating new ventures based on their research. UI Ventures provides education and mentoring to advance entrepreneurs and emerging growth companies by linking them with the capital, talent and other critical resources they need for success. More at http://uiventures.uiowa.edu/ 
The Office of the Vice President for Research and Economic Development provides resources and support to researchers and scholars at the University of Iowa and to businesses across Iowa with the goal of forging new frontiers of discovery and innovation and promoting a culture of creativity that benefits the campus, the state, and the world. More at http://research.uiowa.edu, and on Twitter: @DaretoDiscover.