Tuesday, November 15, 2016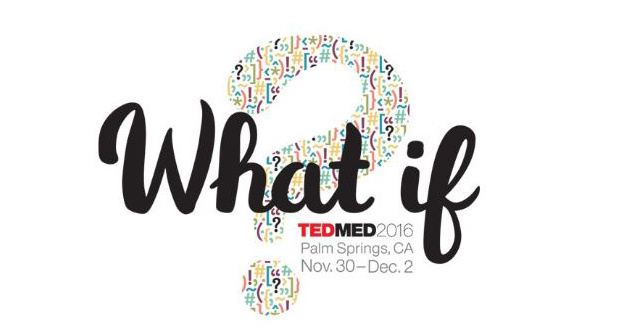 A little inspiration is often what drives big change.
In that spirit, the University of Iowa Office of Research and Economic Development, through an agreement with the Association of American Universities, will once again make available to the UI campus community free live and on-demand streaming of the TEDMED 2016 talks. 
"TEDMED is a great opportunity to see and hear some of the world's leading thinkers discuss in compelling and accessible language the future of health and medicine," said Dan Reed, UI Vice President for Research and Economic Development. "It's also a chance to glean practical ideas for sharing your own stories with stakeholders, whether you're a researcher, a student, a teaching assistant, or an administrator."
The sessions will air live from Palm Springs, Calif., Nov. 30 to Dec. 2 and feature more than 50 speakers, from transformative scientists, innovators, artists, athletes, and others seeking to create a healthier world. Video of the talks may be viewed immediately after each session's airing through Dec. 4, 2016. University of Iowa faculty, staff and students may stream the talks to their desktops, laptops, tablets, or mobile devices. To watch, visit tedmedlive.org, and use the Affiliate ID L62573. (Note: The linked site won't be active until the event.)
The theme of this year's talks is "What If?" and they include a wide range of topic categories, from exposing and confronting hidden health threats and reframing health challenges, to becoming architects of our own aging and death, and addressing the social and environmental factors around health and wellness. More details, including speaker bios, are available at http://tedmed.com/event/stage2016
TEDMED is the health edition of TED Talks, which have been viewed online 2 billion times around the world. TEDMED is a global community of leading doers and thinkers dedicated to unlocking imagination in service of health and medicine. Its goal is to seed the innovations of today, making possible the breakthroughs of tomorrow...for a healthier, more vibrant humanity.  
The Office of the Vice President for Research and Economic Development provides resources and support to researchers and scholars at the University of Iowa and to businesses across Iowa with the goal of forging new frontiers of discovery and innovation and promoting a culture of creativity that benefits the campus, the state, and the world. More at http://research.uiowa.edu, and on Twitter: @DaretoDiscover.