Wednesday, January 25, 2017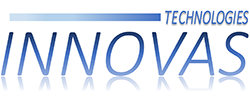 The National Science Foundation (NSF) recently awarded
Innovas Technologies
, located at the University of Iowa Technology Innovation Center in the UI Research Park, a Small Business Innovation Research (SBIR) seed funding grant to conduct research and development on mobile micro-sensors aimed at eliminating $40 billion in waste in equipment used in industries such as power generation, oil and gas, industrial manufacturing and commercial cooling.
Chuck Dirks, President of Innovas Technologies, said the mobile, submersible micro-sensors would continuously monitor temperature, vibrations, tube health and flow speed inside heat exchangers used in a range of industrial equipment. This close monitoring will translate into reductions in energy use, much less required maintenance, improved environmental health and large savings to companies.
"The National Science Foundation supports small businesses with the most innovative, cutting-edge ideas that have the potential to become great commercial successes and make huge societal impacts," said Barry Johnson, Director of the NSF's Division of Industrial Innovation and Partnerships, in a press release. "We hope that this seed funding will spark solutions to some of the most important challenges of our time across all areas of science and technology."
The Technology Innovation Center in the UI Research Park is part of the Office of the Vice President for Research and Economic Development, which provides resources and support to researchers and scholars at the University of Iowa and to businesses across Iowa with the goal of forging new frontiers of discovery and innovation and promoting a culture of creativity that benefits the campus, the state, and the world. More at http://research.uiowa.edu, and on Twitter: @DaretoDiscover.