The University of Iowa is ramping up its efforts to identify, protect, and translate promising research into commercial ventures and launch more faculty startup businesses.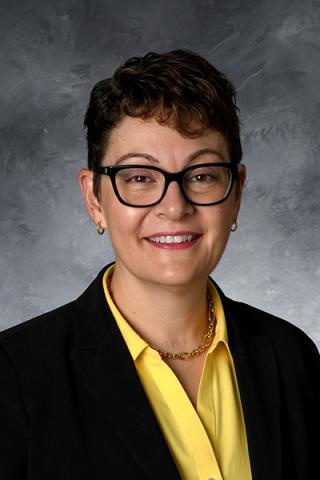 Effective May 23, Marie Kerbeshian, Vice President of Technology Commercialization at Indiana University Research & Technology Corporation, will lead efforts to develop, patent, and license promising inventions and other intellectual property as Assistant Vice President for the UI Research Foundation (UIRF). Kerbeshian replaces Zev Sunleaf, who was named Vice President for the Office of Technology Transfer, Commercialization & Innovation at Children's Hospital of Philadelphia last fall.
Reed said Kerbeshian will be a key player in the OVPR&ED's strategy to take innovative UI research to market. This strategy includes working with a trio of state and national economic development consultants to strengthen relationships with economic development stakeholders and mobilize the UI's resources toward finding new avenues to meet the UI's mission to serve the public good with its research.
In addition to this and the traditional role of IP protection and licensing guidance, the UIRF under Kerbeshian's leadership will work closely with UI Ventures and a broad-based IP Evaluation Council to nurture a small number of promising disclosures for strategic investment prior to licensing or establishing a startup.
"Marie will enhance and accelerate our ongoing efforts to translate the groundbreaking research and scholarship produced at the University of Iowa into successful startups, IP licenses and services that have economic value and societal impact that extend far beyond our institution," said Dan Reed, Vice President for Research and Economic Development.
Since 2009, Kerbeshian has served as Vice President of Technology Commercialization at Indiana University Research & Technology Corporation, where she managed technology transfer and IP licensing for both the Bloomington and Indianapolis campuses.  Prior to that, she worked at the University of Virginia Patent Foundation in various roles, including Interim Executive Director and CEO, for more than a decade.
"From cochlear implant advances to the Ponseti method for treating clubfoot, the faculty, staff and students of the University of Iowa are well-known for their pioneering research," said Kerbeshian. "I'm looking forward to streamlining the movement of their ideas and discoveries out to the people of Iowa and all around the world." 
The UI Research Foundation is part of the Office of the Vice President for Research and Economic Development, which provides resources and support to researchers and scholars at the University of Iowa and to businesses across Iowa with the goal of forging new frontiers of discovery and innovation and promoting a culture of creativity that benefits the campus, the state, and the world. More at http://research.uiowa.edu, and on Twitter: @DaretoDiscover