Think of it as research development support at warp drive.
This spring, the University of Iowa Office of the Vice President for Research & Economic Development (OVPR&ED) is launching the Research Development Office (RDO), offering a concierge service to help faculty submit more ambitious, more collaborative, and more successful research and scholarship project proposals.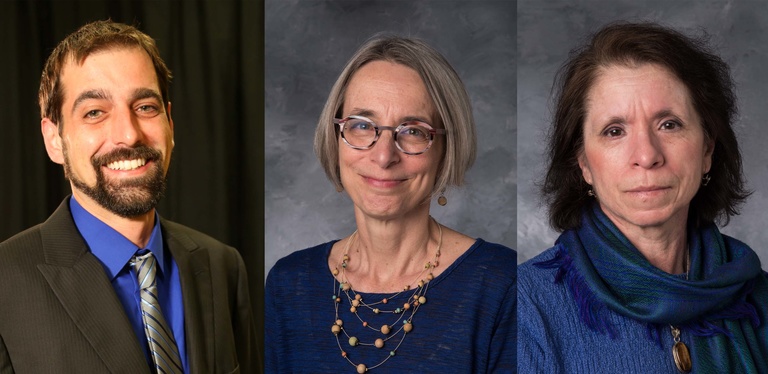 Led by recently hired Research Development Coordinator Aaron Kline, the RDO will give special attention to cultivating large-scale, cross-disciplinary, and potentially multi-institutional grant proposals to create centers and research projects that seek to answer some of the world's most pressing questions. RDO's efforts will build on the activities already under way through OVPR&ED's Strategic Research Leadership Program, launched last fall to provide proposal development, mentoring, assistance with ideation and formation of collaborative teams, intensive engagement with funding agencies, and budget development, among other types of assistance.

Additionally, the office will work to establish and extend a network of campus grant development professionals to share best practices and expertise; develop a resource library; provide project management support on select proposals; and connect faculty across campus interested in forming cross-disciplinary teams.

Assisted by Marta Gomez, a Research Development Coordinator, and Cheryl Ridgeway, Research Support Coordinator, the RDO will also work to promote existing proposal development services and resources within OVPR&ED, including:
The Division of Sponsored Programs' monthly Grant Bulletin, which lists the latest funding opportunities and requests for proposals.

Limited submissions (called Winning Institutional Nomination System, or WINS, at the UI),

competitive funding programs that restrict the number of submissions allowed from an institution.  

Grant writers' seminars and workshops and other faculty development activities.

Communicating Ideas, a summer workshop that teaches faculty how to talk about their work in language non-experts can understand.
"The Research Development Office and Strategic Research Leadership Program are new initiatives to elevate our support for investigators to find and secure funding for their research and scholarship. They will also help forge partnerships that lead to the creation of multi-discipline, multi-institution projects and centers of excellence," said Dan Reed, Vice President for Research and Economic Development. "As the landscape for research and scholarship support becomes ever more competitive, our faculty need assistance as they develop creative, bold, and collaborative strategies for discovery and innovation. We're here to help them do that."
Kline comes to his position with more than 10 years of research support experience at the University of Iowa. In his previous position as the Iowa Social Science Research Center's (ISRC) Associate Director, Kline assisted with the submission of more than 100 proposals to both private and federal funding agencies and coordinated many multidisciplinary, multi-partner teams. Prior to the ISRC, he successfully coordinated six federally funded grant programs as well as Iowa's Center for Agricultural Safety and Health.
Kline holds a master of science degree in Urban and Regional Planning and a bachelor of arts degree in political science, both from the UI. He is coauthor of a number of papers on agricultural safety and health as well as public policy issues, and he is a member of the National Organization for Research Development Professionals (NORDP) Conference Evaluation Committee.
Kline may be reached at 319-335-4142 or aaron-kline@uiowa.edu. More information about the Research Development Office is available at https://research.uiowa.edu/researchers/research-development-office.
The Office of the Vice President for Research and Economic Development provides resources and support to researchers and scholars at the University of Iowa and to businesses across Iowa with the goal of forging new frontiers of discovery and innovation and promoting a culture of creativity that benefits the campus, the state, and the world. More at http://research.uiowa.edu, and on Twitter: @DaretoDiscover.
Photo (left to right): Aaron Kline, Cheryl Ridgeway, Marta Gomez.