Wednesday, January 17, 2018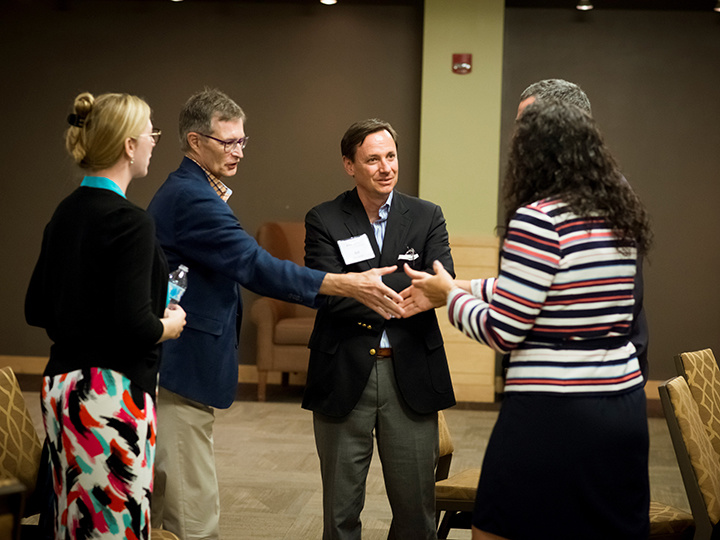 Partnerships between university researchers and industry representatives are attractive for people on both sides, but forming effective partnerships—and taking into account sometimes differing values and interests—can make them tricky to manage.
A seven-part webinar series offered by the University-Industry Demonstration Partnership will explore how to create better research partnerships between corporations and universities. Over the lunch hour starting on Feb. 7, the series will explore the most critical considerations for creating win-win relationships, including managing expectations, establishing contacts, preparing proposals, negotiating IP, and addressing contracting issues.
University of Iowa faculty, staff, and students are invited to attend the webinars in the Northwestern Room (345) of the Iowa Memorial Union (IMU) and ask questions of UI staff in the Division of Sponsored Programs and UI Research Foundation after the presentation. Registration is not required and sponsorship is provided by the Office of the Vice President for Research and Economic Development.
Dates and details are below.
Session 1: Understanding the Benefits and Challenges of Working with Industry/Research Institutions, Wednesday, Feb. 7, 12-1:15 p.m. 345 IMU – Jessica Boyle, Associate Director, Division of Sponsored Programs (DSP), and Marie Kerbeshian, Assistant Vice President and Executive Director, UI Research Foundation (UIRF).
Session 2: Managing Expectations and Creating Long Term Relationships, Wednesday, Feb. 21, 12-1:15 p.m. 345 IMU – Collin Davis, Contracts Administrator, DSP, and Mihaela D. Bojin, Senior Licensing Associate, UIRF.
Session 3: Establishing Contacts with Industry and Research Institutions and Dealing with Confidential/Proprietary Information, Wednesday, March 7, 12-1:15 p.m. 345 IMU – Jessica Boyle, Associate Director, DSP, and Marie Kerbeshian, Assistant Vice President and Executive Director, UIRF
Session 4: Preparing Proposals and Budgeting, Wednesday, March 21, 12-1:15 p.m. 345 IMU – Staff is TBD
Session 5: Addressing Compliance, Contracting and Consulting, and Outside Activities, Wednesday, April 4, 12-1:15 p.m. 345 IMU – Patricia Cone-Fisher and Loren LeClair, Compliance Specialists – Export Control Coordinators, DSP
Session 6: Managing Intellectual Property (IP) Issues, Wednesday, April 25, 12-1:15 p.m. 351 IMU – Adwin Hesseltine, Senior Sponsored Research Specialist, DSP, and Marie Kerbeshian, Assistant Vice President and Executive Director, UIRF
Session 7: Benefiting from University-Industry Collaborations with Government Engagement, Wednesday, May 2, 12-1:15 p.m. 345 IMU – Patricia Cone-Fisher, Compliance Specialist – Export Control Coordinator, DSP