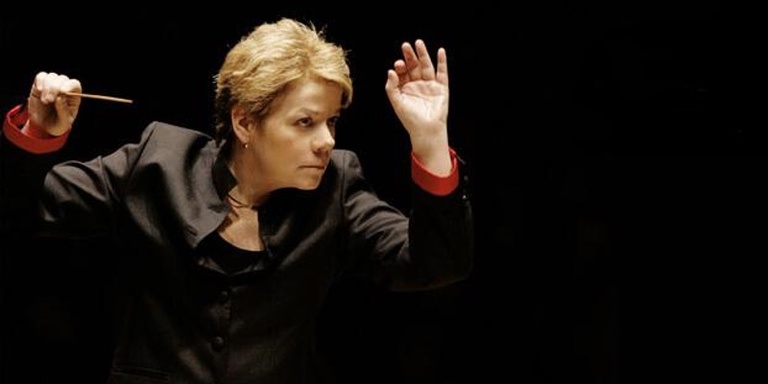 NOTE: This event was originally scheduled in April 2017, but cancelled due to illness. It will now be held on March 28, 2018 at 5:30pm.
The idea that "music has the power to change lives" is the organizing principle behind conductor Marin Alsop's approach to her profession and her public service. In that spirit, she will offer a lecture titled at 5:30 p.m., Wednesday, March 28 in the University of Iowa's Voxman School of Music Recital Hall.
Alsop's talk is part of the Creative Matters lecture series sponsored by the UI Office of the Vice for Research and Economic Development (OVPR&ED) in collaboration with the UI Arts Advancement Committee. A question and answer session will follow her talk.
Alsop, music director of the Baltimore Symphony, made history in 2007 as the first woman to head a major American orchestra. She has cultivated a reputation of offering innovative programing: from the contemporary works to almost forgotten classics.
"Marin has pushed all kinds of boundaries–notably those that have defined the social and leadership structures around classical music, but also those related to artistry and collaboration," said David Gier, director of the UI School of Music, Erich Funke Professor in the College of Liberal Arts & Sciences, and OVPR&ED Administrative Faculty Fellow.
In 2005, Alsop was awarded the prestigious MacArthur Fellowship, given to U.S. residents in recognition of exceptional creative work. The roughly half million-dollar fellowship is given without warning, application or unsolicited nomination so the recipient can pursue projects with no strings attached. Alsop applied part of the funds to assist with the development of OrchKids, a program that gives music instruction, instruments and meals to a population of Baltimore's most disadvantaged children.
Aware of the women who helped forge her path to the conductor's podium, Alsop actively seeks to develop other female conductors in the profession. In 2002, she founded the Taki Concordia Conducting Fellowship to instruct and mentor budding female conductors.
The event is free and open to the public. Seating is available on a first-come, first-served basis. To RSVP visit: https://www.eventbrite.com/e/creative-matters-lecture-marin-alsop-conductor-registration-27258151866?aff=website.
The Creative Matters lecture series seeks to demonstrate that creativity is not only at the core of all research and discovery, but is also central to our human experience. The lineup of invited speakers includes artists, thinkers, builders, and doers who challenge conventional thinking about creativity, science, and artistic expression, borrowing from a range of influences and disciplines in their work.
The Office of the Vice President for Research and Economic Development provides resources and support to researchers and scholars at the University of Iowa and to businesses across Iowa with the goal of forging new frontiers of discovery and innovation and promoting a culture of creativity that benefits the campus, the state, and the world. More at http://research.uiowa.edu, and on Twitter: @DaretoDiscover.