Wednesday, December 12, 2018
Starting in January, more than 40 undergraduate and graduate students will be recognized for their important contributions to research, scholarship, and discovery at the University of Iowa.
The students will be featured on large Dare to Discover banners that will be displayed throughout downtown Iowa City and in the University Capitol Centre through March 2019. The campaign is sponsored by the Office of the Vice President for Research.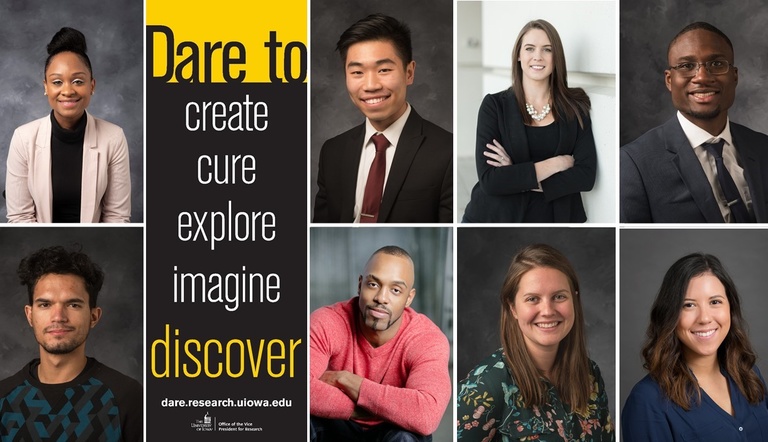 Nearly all graduate and professional students, and 30% of undergraduates, participate in research before they graduate.
"Research galvanizes my interest in my coursework subject matter and gives me a sense of purpose as a student," said Maggie Carolan, a Ph.D. student in Civil and Environmental Engineering. "I appreciate the interdisciplinary framework of the Sustainable Water Development program to help me investigate new questions about my current research and provide opportunities outside of the lab and classroom to interrogate environmental issues in Iowa and around the world."
The students represent a wide range of disciplines, including the arts and humanities, social sciences, engineering, public health, business, education, and medicine. More than 160 students were nominated for the campaign by their mentors.
Starting in January, follow the students' stories on Twitter @DaretoDiscover and #DiscoverUI.
The University of Iowa Office of the Vice President for Research provides researchers and scholars with resources, guidance, and inspiration to secure funding, collaborate, innovate, and forge frontiers of discovery that benefit everyone. More at http://research.uiowa.edu, and on Twitter: @DaretoDiscover.