The record-setting $588.8 million in external funding to the University of Iowa in FY19, which includes $467 million for research and scholarship, is helping faculty improve treatments for military veterans wounded in battle and develop better ways to teach K–12 students science and math, as well as fueling other areas of innovation and discovery.
The UI saw particularly large increases in funding from the Department of Defense (DOD) and the National Science Foundation (NSF), as well as to the Colleges of Education and Nursing, in FY19.
[Register now for Oct. 25 Write Winning Grant Proposals seminar]
Jason Wilken, associate professor of physical therapy and rehabilitation science in the Roy J. and Lucille A. Carver College of Medicine, is collaborating with Walter Reed National Military Medical Center and other universities and veterans' organizations on a $2.4 million DOD grant to evaluate the outcomes of two custom carbon fiber braces for service members, veterans, and civilians who have experienced traumatic injury to their lower leg. The work builds on Wilken's prior work with the DoD to improve function in injured service members.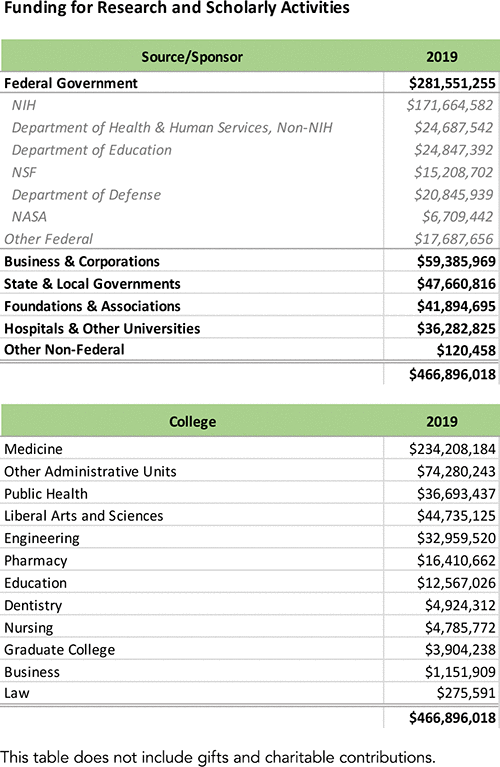 Meanwhile, a $1.4 million NSF renewal (part of a multi-year, $2.8 million grant) is being used by Professor Brian Hand and Assistant Professor Gavin Fulmer in the College of Education's Teaching and Learning division for a study to help elementary school educators become more adaptive and innovative in their approaches to teaching STEM subjects. 
Susan Assouline, executive director of Connie Belin and Jacqueline N. Blank International Center for Gifted Education and Talent Development, won a $386,369 renewal from the U.S. Department of Education (part of a five-year, $2.1 million grant) to further develop an integrative model to broaden the participation of students from underrepresented groups in gifted-and-talented programs.
And Allison Bruhn, an associate professor in Iowa's Teaching and Learning program, secured a renewal grant of $384,500 from the Department of Education for Project SCORE IT, which will explore how interactive technology can support the self-monitoring and decision-making of students with challenging classroom behavior.
Of course, not all funding comes from federal agencies. Private organizations also help support the work of discovery at Iowa.
The Obermann Center for Advanced Studies in the Office of the Vice President for Research was awarded two grants from the Andrew W. Mellon Foundation totaling $1.6 million. One is being used to bring speakers to campus for a yearlong seminar on Latina/o/x identities and cultures; the other funds cross-disciplinary opportunities for humanities graduate students.