As a young medical resident at Baylor College of Medicine in the Texas Medical Center in Houston in the 1980s, Richard Smith, M.D., saw a number of toddlers with large, disfiguring cysts on their face or necks.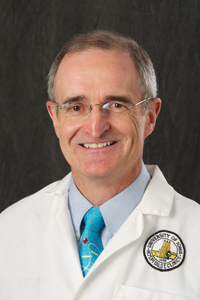 The cysts, called lymphatic malformations, or LMs, are gossamer thin veils of tissue filled up like water balloons. They're usually benign but can have a profound impact on everything from swallowing and talking to breathing.
At the time of his residency, Smith says, the only effective treatment for LMs was to remove them surgically, which was exceedingly difficult and disfiguring and could cause permanent nerve damage.
"I thought, 'There's got to be a better way'," recalled Smith, now a otolaryngologist at the University of Iowa and director of the Molecular Otolaryngology and Renal Research Laboratories and the Iowa Institute of Human Genetics.
In fact, Smith would soon learn, there was a better way. Shuhei Ogita, a pediatric surgeon in Japan, had discovered that carefully introducing a freeze-dried dose of the bacterium group A Streptococcus pyogenes into LMs triggered the body's immune response, dramatically shrinking or even completely eliminating the cysts. [Similar research has been done in the field of cancer research, using the body's immune system to target malignant cells.]
Ogita eventually developed a pharmaceutical treatment, OK-432, for treating LMs. However, because of vastly different regulatory processes for drug development between Japan and the United States, and because Japan requires certain drugs to be made available at no cost to patients, there was no clear or easy path for making the drug—or some version of it—readily available in this country.
The economics of drug development also worked against the effort. LMs are benign and affect relatively few children—an estimated one out of every 4,000—which means there isn't much incentive for pharmaceutical companies to invest in the costly human subjects studies required to win approval for the therapy from the Food and Drug Administration (FDA).
That didn't stop Smith from researching Ogita's treatment over the next 20 or so years, first as a physician at Baylor College of Medicine and Texas Children's Hospital and later at the UI. He wrote to Ogita and invited him to visit several times to give presentations about his research.
"Dr. Ogita's results were outstanding," Smith said. "The response in his patients was truly remarkable."
So remarkable, Smith, said, that he applied to the FDA through the investigator-initiated Investigational New Drug (IND) program to conduct limited human clinical trials, not once but twice, in the United States. Smith also secured an FDA grant (similar to the National Institutes of Health Research Project Grants) to support his efforts.

Smith also saw remarkable results, with about 90 percent of patients with larger forms of the cysts experiencing "clinically significant outcomes."
With grant funding, Smith and a national team, amassed considerable data, but no U.S. company was interested in manufacturing the drug here.
That luck changed recently when ArTara Therapeutics, a clinical-stage biopharmaceutical company developing treatments for rare diseases, learned about Smith's research. Working with the UI Research Foundation, ArTara signed a license with the UI to access and aggregate Smith's data with the hope of developing TARA-002, a "bio similar" treatment for LMs based on OK-432, which has been a standard of treatment in Japan and Taiwan for two decades. The UI Division of Sponsored Programs has also assisted with the collaboration.
"We are enthusiastic about the potential of TARA-002 to change the lives of pediatric patients around the world suffering from LMs," ArTara Chief Medical Officer Julio Casoy said in a June 2019 press release about the licensing agreement with the UI. He added that the company is doing parallel research on the use of OK-432-like drugs for treating cancer patients.
In addition to licensing the UI research, ArTara has acquired its own IND approval and Orphan Drug Designation from the FDA. In partnership with Novex Innovations, a
a contract development and manufacturing organization that supports small and startup life science companies in the development of their products, ArTara plans to build a U.S.-based manufacturing facility for TARA-002 and win regulatory approval to market TARA-002 in the United States.
"We are grateful to Dr. Richard Smith and the University of Iowa for their collaboration and generosity of time as we build on their excellent work with this mechanism in LMs," ArTara Chief Executive Officer Jesse Shefferman said.
The UI Research Foundation and Division of Sponsored Programs are units of the University of Iowa Office of the Vice President for Research, which provides researchers and scholars with resources, guidance, and inspiration to secure funding, collaborate, innovate, and forge frontiers of discovery that benefit everyone. More at http://research.uiowa.edu, and on Twitter: @DaretoDiscover. 
Photos (from top): Richard Smith, M.D., professor of otolaryngology in the University of Iowa Carver College of Medicine and director of Molecular Otolaryngology and Renal Research Laboratories and the Iowa Institute of Human Genetics; a young lymphatic malformation patient in a clinical trial at the University of Iowa sees marked improvement after treatment with OK-432.