Wednesday, August 7, 2019
The second annual Research Services Fair Oct. 10 will offer University of Iowa faculty, staff, postdoctoral scholars, and students more experts, resources, and opportunities to succeed in research and scholarship—all under one roof.
The event starts at 1 p.m. at Hancher Auditorium and concludes with a special edition of the Research Development Office's (RDO) Science on Tap lecture series, featuring Bruce Gantz, M.D., head of the Department of Otolaryngology—Head and Neck Surgery in the UI Carver College of Medicine, from 5:30-6:30 p.m. Gantz's talk is titled "Hybrid Cochlear Implants: Improving Hearing in Noise and Music."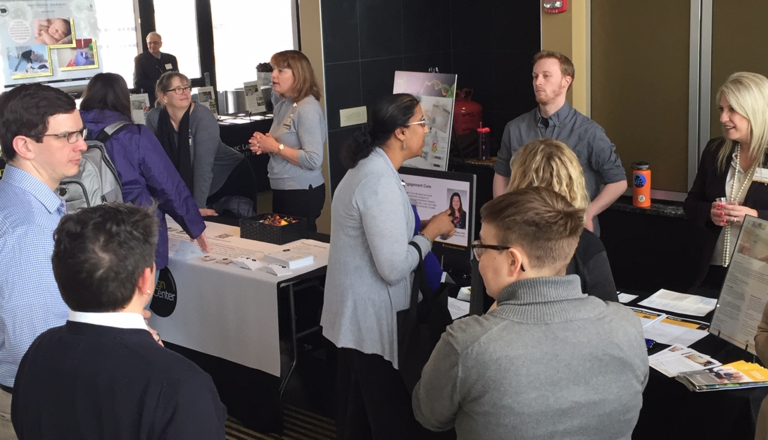 Fair attendees will have an opportunity to learn about campus' cutting-edge instruments and technology and the many services available to support funding applications and research programs; interact with UI centers, institutes, core facilities, and other service units in a vendor-style setting; and network with colleagues while enjoying hors d'oeuvres and beverages.
More than 60 units are expected to participate, and round-table discussions have been added to the schedule to stir in-depth conversations about the broader impacts of research, community engagement, and other research-related topics.
RDO Director Aaron Kline said the fair will be especially useful to researchers at all levels, as well as research support staff, although anyone is welcome.
"The fair provides in a single location everything researchers and administrators need to enhance their research activities by growing campus connections, and it gives research service providers an opportunity to highlight their capabilities," Kline said. "It's a win-win for everyone."
He said he's excited about the fair's growth this year over last spring, with more than 60 vendors (50 percent more than last fall) and more than 30 round table discussions, and with the addition of Science on Tap as the event finale. He said the new venue, Hancher Auditorium, provides "the perfect backdrop for inspiring creativity and discovery."
More information is available on the https://research.uiowa.edu/ui-research-services-fair - centers. Registration is strongly encouraged; to register visit the fair Eventbrite page. Direct questions to vpr-rdo@uiowa.edu.
The Research Development Office is a unit of the University of Iowa Office of the Vice President for Research, which provides researchers and scholars with resources, guidance, and inspiration to secure funding, collaborate, innovate, and forge frontiers of discovery that benefit everyone. More at http://research.uiowa.edu, and on Twitter: @DaretoDiscover.