Thursday, November 14, 2019
Eight Iowa state legislators visited the University of Iowa campus Nov. 7 as part of the Office of the Vice President for Research's annual Legislators in the Lab tour of research and scholarship activities.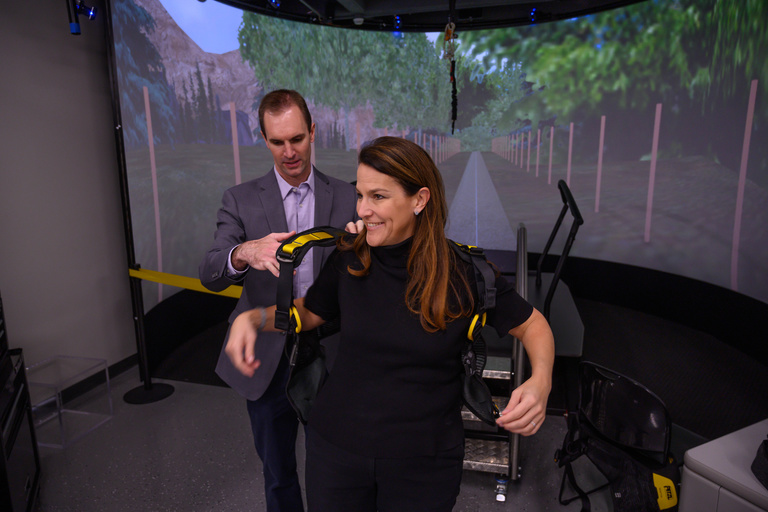 Participants included Sen. Chris Cournoyer, R-LeClaire, and Reps. Ross Wilburn, D-Ames, Mary Mascher, D-Iowa City, Cindy Winckler, D-Davenport, Dean Fisher, R-Montour, Art Staed, D-Cedar Rapids, Jeff Kurtz, D-Fort Madison, and Bob Kressig, D-Cedar Falls.
Following a welcome by Vice President for Research Marty Scholtz, legislators visited the labs of and spoke with Department of Physics and Astronomy Professors Craig Kletzing, whose team recently won a $115 million grant to study the powerful interactions between the magnetic fields of the sun and Earth, and David Miles, who has built a unique furnace to manufacture a critical space-instrument component that is in short supply in the United States.
Legislators visited the Human Performance and Clinical Outcomes lab in the Roy J. and Lucille A. Carver College of Medicine's (CCOM) Department of Physical Therapy and Rehabilitation Science, founded by Professor Jason Wilken. Wilken and his collaborators—Dr. Joseph Buckwalter IV, Arthur Steindler Chair of Orthopaedic Surgery in CCOM; Barbara Rakel, professor in the College of Nursing; and James Marchman, professor emeritus in the College of Liberal Arts and Sciences Department of Psychological and Brain Sciences—shared how they're leveraging Department of Defense and National Institutes of Health funding to improve orthotics for soldiers wounded in battle and help them recover from their injuries without becoming addicted to opioids.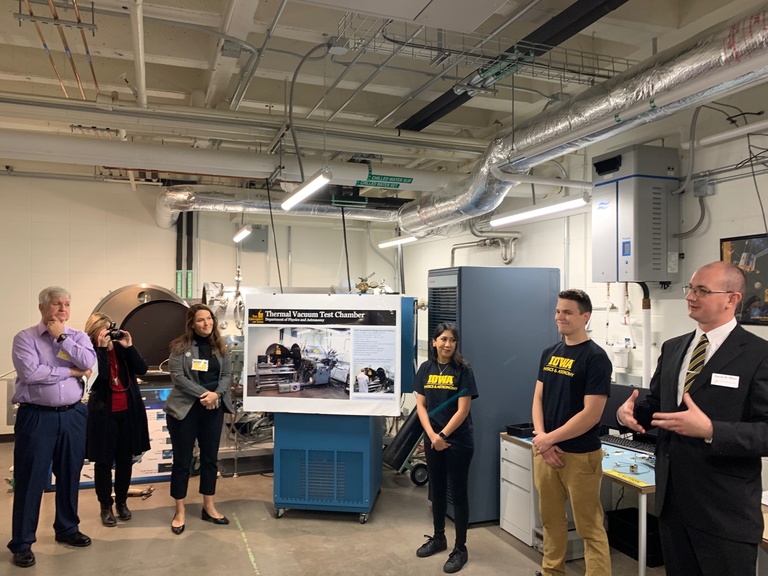 The legislators also met with a team of faculty and students that's led by Jun Wang, professor of chemical and biochemical engineering, and is working with Iowa State University to develop inexpensive sensors and advanced weather prediction models to support precision agriculture. During the same stop, Professors Ned Bowden in the Department of Chemistry, Erin Irish in the Department of Biology, and Aliasger Salem, Bighley Chair and Professor of Pharmaceutical Sciences and Head of the Division of Pharmaceutics and Translational Therapeutics in the College of Pharmacy, shared their work on developing a fertilizer expected to significantly boost the harvest yields of corn and soybeans.  
Legislators also heard presentations by four undergraduate students working in faculty labs across campus, with support from the Iowa Center for Research by Undergraduates: geology student Tori Cassady, physics and astronomy student Hannah Gulick, biomedical engineering student Olivia Powers, and mechanical engineering student Anvay Pradhan.
The University of Iowa Office of the Vice President for Research provides researchers and scholars with resources, guidance, and inspiration to secure funding, collaborate, innovate, and forge frontiers of discovery that benefit everyone. More at http://research.uiowa.edu, and on Twitter: @DaretoDiscover.